---
FAST FACTS HAWAII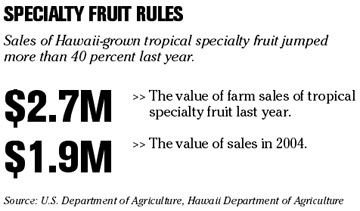 ---
HAWAII
Hoku reaches milestone in Navy demo project
Hoku Scientific Inc.
announced yesterday it has finished installing the last of 10 fuel-cell power plants in its demonstration project for the U.S. Navy.
The systems, manufactured by IdaTech LLC, are part of a contract with the Navy to test Hoku components intended to boost efficiency. They produce about 1.5 kilowatts each.
Hoku Chairman Dustin Shindo called the start of the demonstration a key milestone for the company.
Hoku, based in Kapolei, has several companies evaluating its membrane electrode assembly components for possible integration into commercial fuel-cell systems. Hoku also has a collaboration agreement with Nissan Motor Co. Ltd. and is conducting tests with Sanyo Electric Co. Ltd.
Virgin Blue offers Hawaii flights
SYDNEY »
Virgin Blue Holdings Ltd.
, Australia's second-biggest airline, is offering members of its loyalty program flights from Hawaiian Airlines.
Hawaiian, owned by Hawaiian Holdings Inc., joins Emirates and Virgin Atlantic Airways as an international carrier Virgin Blue customers can redeem services from.
"Effective from today, members of the Velocity program will be able to use their loyalty points to travel on scheduled flights by Hawaiian Airlines to and within the U.S. and the Pacific," Brisbane, Australia-based Virgin Blue said yesterday.
Virgin Blue's offer comes one day after Qantas Airways Ltd.'s Jetstar unit, its nearest rival, won regulatory approval to fly five weekly services to Honolulu. Jetstar announced in April its plans to begin flying to Honolulu from Sydney and Melbourne in November.
NATION
Northwest apologizes over tips
Northwest Airlines Corp.
is apologizing to workers offended by company suggestions on how to save money, including buying jewelry at pawnshops, getting auto parts at junkyards and taking shorter showers.
The list, entitled "101 Ways to Save Money," was part of a booklet for employees being laid off as bankrupt Northwest reorganizes. The Eagan, Minn.-based carrier gave out 60 of the booklets before it began getting complaints, and it cut the list from remaining copies, spokesman Roman Blahoski said yesterday.
Fewer doctors taking Medicaid
WASHINGTON » Many people who rely on government health insurance for the poor have to search harder to find a doctor and increasingly are going to large practices, a study shows.
Officials say Medicaid's reimbursement rate is the biggest reason that it is getting more difficult to locate doctors who take new patients under the program. On average, reimbursements are 69 percent of what Medicare pays and even lower compared with what private insurers pay.
Groupe Danone may get eaten
NEW YORK » After a decade-long reorganization,
Groupe Danone SA
is hungry for acquisitions. But many say the French dairy, beverage and biscuit firm remains itself a tasty morsel, according to a published report.
Danone plans to spend between about $640 million and $1.3 billion a year over the next three to five years on acquisitions, the Wall Street Journal reported on its Web site yesterday, citing an interview with Danone Chief Financial Officer Antoine Giscard D'Estaing.
HP shares rise after earnings skyrocket
SAN JOSE, Calif. >>
Hewlett-Packard Co.
beat Wall Street's expectations yesterday, when the computer maker reported that fiscal third-quarter profit surged on strong printer and laptop sales. The company's shares gained nearly 6 percent in after-hours trading.
For the three months ended July 31, HP earned $1.38 billion, or 48 cents a share, compared with $73 million, or 3 cents per share, in the same quarter last year.
The year-ago numbers were dramatically lower because of a tax charge that resulted when the Palo Alto, Calif.-based company pulled $14.5 billion from foreign earnings and "repatriated," or reinvested, those profits in the United States.
McAfee to restate results over options
McAfee
, the second-biggest maker of anti-virus software, said it is likely to restate financial results for the three years ended 2005 after an internal review found discrepancies in the dates of stock-option grants.
Dates listed for certain options granted to employees differed from the actual dates the grants were made, the company said in a regulatory filing yesterday. The effect of the restatements is likely to be material, the company said.
McAfee, whose options practices are being scrutinized by the Securities and Exchange Commission in a formal investigation, is among at least 108 companies to disclose federal or internal probes into whether they improperly backdated grants to boost their value. McAfee warned of a possible restatement July 27 when it reported second-quarter results.
In other news ...
» Former online gambling executive David Carruthers was freed on a $1 million bond yesterday after spending nearly a month behind bars following his arrest on racketeering and fraud charges. Carruthers, 48, was freed after a hearing before U.S. District Judge Mary Ann Medler.
---
BUSINESS PULSE