---
FAST FACTS HAWAII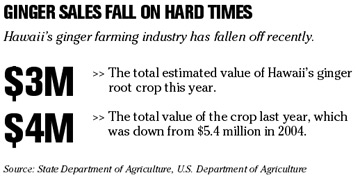 ---
[HAWAII INC.]
NEW JOBS
»
Griffith Construction Consultants Inc.
has hired
Karis Kukonu
as a project management assistant. She will provide support for the company's project and construction managers. She has over six years of experience in the property management and accounting fields.
» Kapalua Land Company Inc. has hired Debra Schonewill as Kapalua Design's interior design director. She will be responsible for planning, design and furnishing the interiors of properties at the Kapalua Resort. She has over 21 years of interior design experience.
» ResortQuest Hawaii has appointed Robert Oneha as Waikiki property manager. He will serve as a liaison between the company's corporate sales team and the general managers of its Waikiki properties. He has 20 years of hospitality industry experience.
>> Russell Beecher has been appointed acquisitions director for the Shidler Group and its new Pacific Office Properties Trust. He will be responsible for helping the company acquire $1.5 billion in office properties over the next 18 months. He previously served as the acquisitions director for the Principal Financial Group.
» Aon Risk Services has hired Daniel D. Gick as a Honolulu-based administrator for wrap-up insurance programs in its construction services group. He previously served in the U.S. Army Corps of Engineers.
» First Magnus Financial Corp. has hired Seila Kim to work on the sales team. She has five years of experience in prime and subprime lending.
» Maui Divers Jewelry has appointed Boris Milgram vice president. He will be responsible for store planning and assisting the president/CEO. He previously held merchandising management positions at Neiman Marcus.
» Wilson Homecare has hired Virg Park as human resources manager. She will be responsible for developing and administering human resources plans, developing goals for various departments, starting new compensation programs and overseeing all other personnel policies and issues. She has over 16 years of human resources experience.
» Castle & Cooke Realty Inc. has hired Realtor Associate Ronald M. Harris. He previously worked for 25 years as a Longs Drug Stores pharmacist.
>> Bennet Group Strategic Communications has promoted Angie Flaherty to account executive. She previously served as an assistant account executive for the company.
» The Kapalua Land Company Ltd. has appointed Robert J. Ciborowski executive chef. He will be responsible for opening and managing the new Bay Club restaurant. He has over 14 years of experience in the culinary field.
» Molokai Properties Ltd. has appointed John Sabas community affairs general manager. He has 30 years of experience working for the state and the City & County of Honolulu. He most recently served as deputy director for the city Department of Community Services.
» Haleakala Waldorf School has appointed Michael Mancini as chairman of school. He previously worked for Kamehameha Schools. He has more than 10 years of experience in education, from teaching to administration.
» Hawaii Arts Alliance has hired Erik M. Takeshita as director of the ARTS at Marks Garage. He previously served as senior policy aid/project coordinator under Minneapolis Mayor R.T. Rybak.
» Hawaiian Waters Adventure Park has appointed Tana Samuelu sales representative for the youth and nonprofit markets. He has several years of management experience with local attractions including Navatek Cruises and Royal Hawaiian Cruises.
---
NATION
Ford seeks to trim ranks of dealers
DETROIT >>
Ford Motor Co.
said yesterday it plans to trim the number of dealerships it has in 18 metropolitan areas across the country, blaming sliding car and truck sales for the decision.
Most of the metro areas are east of the Mississippi River, but the company would not identify exactly what markets would be targeted.
The consolidation would be done voluntarily through negotiations, with stronger dealerships buying out weaker ones, said company spokesman Jim Cain.
In some urban markets, Ford dealers compete against each other rather than other automotive brands, Cain said. Some of those dealerships aren't profitable, he said.
Ford has about 4,300 Ford and Lincoln-Mercury dealerships nationwide. Its market share has declined from around 26 percent in the early 1990s to 17 percent at the end of July.
Google hooks up neighbors
Google Inc.
today plans to offer free, high-speed Internet access to everyone in its Silicon Valley home town -- a hospitable gesture that the online search leader hopes to see spread to other parts of the country. About 72,000 people reside in Mountain View, about 35 miles south of San Francisco.
Applied Materials' profit rises
SANTA CLARA, Calif. »
Applied Materials Inc.
, the world's biggest maker of semiconductor-production equipment, reported third-quarter profit increased 39 percent as the company benefited from a peak in demand.
Net income rose to $512 million, or 33 cents a share, from $369.6 million, or 23 cents, a year earlier, the company said yesterday. Sales jumped 56 percent to $2.54 billion in the three months ended July 30. Profit excluding some items was 32 cents, beating the 31-cent estimate of Jay Deahna, an analyst at JPMorgan Chase & Co.
AOL prepares to dig for gold
WASHINGTON » AOL is preparing to dig for buried gold and platinum on property in Massachusetts owned by the parents of a man it sued for sending millions of unwanted spam e-mails to its customers.
AOL said yesterday it intends to search for gold and platinum bars the company believes are hidden near the home of Davis Wolfgang Hawke's parents on two acres in Medfield, Mass. The family said it will fight in court to oppose AOL's plans.
AOL won a $12.8 million judgment last year in U.S. District Court in Virginia against Hawke but has been unable to contact Hawke to collect any of the money he was ordered to pay.
Peggy Greenbaum, Hawke's mother, said she has not talked with her son in more than a year and complained about the embarrassment and humiliation he brought to the family.
Owners sue BP over Prudhoe Bay
ANCHORAGE, Alaska » Senior executives at
BP PLC
face a lawsuit filed by shareholders who claim the oil giant's poor maintenance practices at Prudhoe Bay led to the partial shutdown of the nation's largest oil field.
The suit alleges that BP has known for years about the severe pipeline corrosion that led to last week's shutdown, but took no substantial steps to properly monitor and repair the transit lines that ferry oil straight into the 800-mile trans-Alaska pipeline.
The closure has more than halved the field's daily 400,000-barrel output. Oil from Prudhoe Bay makes up about 8 percent of domestic oil supply.
WORLD
Filipino remittances near record
MANILA » Philippine overseas nationals sent home $1.1 billion in June, close to the month-earlier record, as more people left the country to seek higher-paid work abroad, the central bank said.
The number of Filipinos working overseas rose 8.9 percent in June. As many as 8 million Filipinos work abroad.
---
BUSINESS PULSE