WEEKEND: AUGUST 11/12/13
Second hand helping of Black Eyed Peas
The group returns after 5 years and this time it is expected to sell out the Blaisdell Arena
After almost five years since their last appearance, the Black Eyed Peas return to Honolulu next week for what's expected to be a sold-out show at the Blaisdell Arena.
Black Eyed Peas
With opening act Lyrics Born

Place: Blaisdell Arena

Time: 7:30 p.m. Monday

Tickets: $45 to $58.50

Online: www.blackeyedpeas.com
It's a far cry from the group's 2001 concert, held at the now-defunct World Cafe with a ticket price of just $18. Fans in the house on Monday will have spent at least $45 for the opportunity to get retarded with the Peas -- an amount that just might have some of them asking, "Where is the love?"
IRONICALLY, it was gangsta rap heavyweight Eazy-E who first supported the Peas in the early '90s.
William "will.i.am" Adams and Allen "Apl.de.ap" Pineda were originally members of the crew Atban Klann (Atban stood for "A Tribe Beyond a Nation"), which signed with Eazy's Ruthless Records in 1992. But socially conscious "backpack rap" had taken a backseat to the rise of its decidedly more vulgar musical cousin at the time, and Ruthless decided not to support the group's debut album. When Eazy died in 1995, so did the Atban Klann's chances with their label.
At that point, Adams and Pineda renamed the group and added a third member, Jaime "Taboo" Gomez, and signed with Interscope Records. The trio of MCs were backed by vocalist Kim Hill, and proceeded to release "Behind the Front" in 1998 and "Bridging the Gap" in 2000.
While neither album was especially successful, the Peas did build their street cred with club bangers like "Joints & Jam" and "Weekends." A third single, "Request Line," brought the most mainstream success yet for the Peas, with singer Macy Gray stepping in for a guest appearance.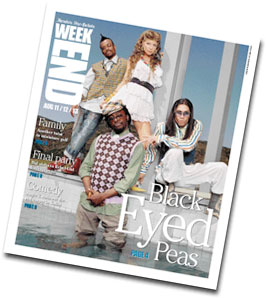 IT'S BELIEVED that Hill decided things were getting a little too commercial for her taste at this point, and decided to focus on her solo career (the group denied multiple interview requests for this story). She was replaced by Stacy "Fergie" Ferguson in 2002, who joined the Peas after leaving the group Wild Orchid and overcoming a nasty crystal meth addiction.
"I don't want to be the poster girl for crystal meth, but it's very addicting, and people don't know just how addicting it is," she said in the August 2006 issue of Cosmopolitan. "I started going a little nuts and hit rock bottom."
At 31 years of age, the former "Kids Incorporated" star has since overcome her drug habit and helped catapult the Peas into the pop stratosphere. "Elephunk" in 2003 spawned Billboard chart-toppers like "Where is the Love," "Hey Mama" and "Let's Get it Started." And who doesn't recognize "My Humps," the mind-numbing ditty from 2005 that continues to whip 20-something crowds into a frenzy every time its played in a Honolulu nightclub?
Ferguson has also parlayed her success into a blossoming solo career -- her new single, "London Bridge," is currently the most downloaded song on Apple's iTunes Music Store, with the video in high rotation on MTV and VH-1.
OPENING UP for the Peas is another artist who is no stranger to the islands. Two years after performing at the Wave Waikiki, San Francisco rapper Lyrics Born will start things off on Monday.
Half-Japanese and half-Italian, Lyrics Born (real name Tom Shimura) is a founding member of Quannum Projects, a familiar source for conscious hip-hop and music that exists slightly outside the mainstream. His last album, "Later That Day," received quite a bit of support, earning him appearances in a Diet Coke commercial and a MTV "You Hear it First" feature.
Now he's back with "Same S- Different Day," which boasts guest appearances by E-40, KRS-One, Casual and Evidence from the Dilated Peoples. Teaming up with the Peas in Honolulu will not only provide him access to a new group of fans, but will add to the night's diversity -- a mix of African-American, Filipino-American, Japanese-American and Caucasian cultures.