---
FAST FACTS HAWAII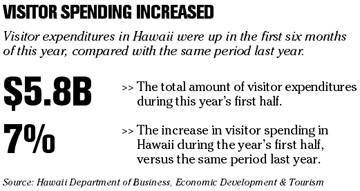 ---
HAWAII
Hilton to manage The Wyland Waikiki
Hilton Hotels Corp.
said yesterday it has completed a multiyear agreement to manage The Wyland Waikiki -- A Doubletree Hotel that is in the final stages of renovation.
The upscale, 404-room hotel, formerly known as the Ohana Waikiki Surf, will be decorated with the artwork from marine life artist Wyland. The hotel's development team is making the finishing touches on the multimillion-dollar transformation of the hotel at 500 Royal Hawaiian Ave. It is scheduled to open later this summer. The agreement to manage the property was made with WB-LCP Kuhio Owner LLC, an affiliate of Lodging Capital Partners LLC and Westbrook Partners.
With The Wyland Waikiki, Hilton will own, manage or franchise 10 hotels, resorts and vacation ownership properties in Hawaii under the Hilton, Doubletree, Embassy Suites Hotels and Hilton Grand Vacations flags.
---
[HAWAII INC.]
NEW JOBS
»
The Hilton Waikoloa Village
on the Big Island has appointed
Terra Montero
senior sales manager. She will be responsible for all groups in the West Coast territory. She previously served as sales manager for Harrah's Entertainment in Las Vegas.
» Island Insurance Co. Ltd. has appointed Valerie Katz vice president of claims. She will be responsible for the overall strategic direction of the claims division. She has more than 30 years of experience in the property-and-casualty insurance industry.
» Pacific Allied Products Ltd. has hired Naim Abu-Laban as division manager for expanded polystyrene. He will be responsible for overseeing day-to-day operations of the company's polystyrene foam division. He brings over 20 years of managerial experience in plastic and foam products.
» The Kahala Hotel & Resort has appointed Charles Lennox food and beverage director. He will oversee the areas of banquet, catering, culinary, room service and restaurant operations. He most recently served as the operations director at the Regency Club in Los Angeles.
» Castle & Cooke Realty Inc. has hired Shelley-Ann AhNee, a Realtor associate. She previously worked for Century 21 All Islands, Kailua Branch.
» Team Vision has hired Jean Kawamoto as an account group director. She will be responsible for the growth and development of account teams, among other duties. She has more than 16 years of experience in marketing.
» Turtle Bay Resort has appointed Hector J. Morales Jr. executive chef. He will be responsible for management of the award-winning resort kitchens and the Palm Terrace, Hang Ten Grill and 21 Degrees North restaurants. He previously served as the banquet chef for the king of Norway.
» Help-U-Sell Real Estate has hired Jon Meschke as franchise sales vice president. He will be responsible for directing and developing new franchise sales in the company's growth regions. He has more than 15 years of sales experience.
» The USS Missouri Memorial Association has appointed Kelli Alvarez its volunteer programs assistant. She will be responsible for coordinating and scheduling volunteers at the Battleship Missouri Memorial. She previously worked for the Navy Region Northwest Community Support Business Office in the state of Washington.
PROMOTIONS
»
First Hawaiian Bank
has announced management promotions at three branches.
Gayle L. Pingree
has been appointed vice president and area manager for the Makiki and Ward branches. Pingree replaces
Edwin Siu
, who retired on June 30.
Jeffrey S. Ventura
has been promoted to assistant vice president and area manager, Waipahu branch. He will be responsible for overseeing the operations of the Waipahu, Ewa Beach, Kapolei and Waianae branches.
Donna A. Kojima
has been promoted to branch manager, Ward branch. She will replace Ventura.
» UHA has promoted two associates. Sarah Luz Hosaka has been appointed manager, employer services. She will be responsible for enrollment, billing and collections. She previously served as the department's premium billing supervisor. Earline Frandsen has been appointed administrative supervisor, health care services. She will be responsible for supervising and training the department's administrative support staff. She has more than 16 years of administrative and operational experience.
» Edward Pei has been named to the board of directors of the Kaiser Foundation Health Plan and Kaiser Foundation Hospitals. He is First Hawaiian Bank's consumer banking group executive vice president.
---
NATION
Mortgage rates dip for third week
WASHINGTON » Mortgage rates around the country dipped for a third week in a row, pushing 30-year mortgages to their lowest level since April.
Mortgage giant Freddie Mac said yesterday that 30-year, fixed-rate mortgages fell to 6.55 percent this week, down from 6.63 percent last week. That was the lowest level for 30-year mortgages since they averaged 6.53 percent the week of April 20.
Rates on 15-year, fixed-rate mortgages, a popular choice for refinancing, averaged 6.20 percent this week, down from 6.27 percent last week.
For one-year adjustable-rate mortgages, rates held steady at 5.69 percent, the same as last week, after having been at 5.78 percent the week of July 27.
IBM to buy FileNet for $1.6 billion
BOSTON »
IBM Corp.
took another step to build out its software portfolio yesterday by announcing a $1.6 billion acquisition of FileNet Corp., a maker of software which helps companies route data through business applications.
The all-cash deal values FileNet at $35 a share, a slim premium to FileNet's $34.65 closing price on the Nasdaq on Wednesday. If shareholders approve, the deal would close in the fourth quarter.
WORLD
Four Seasons' earnings decline
TORONTO »
Four Seasons Hotels Inc.,
the world's largest operator of luxury hotels, said second-quarter profit fell 42 percent as the Canadian dollar's rise against the U.S. dollar increased costs. Among the Hawaii properties currently managed by Four Seasons are The Four Seasons Resort Lanai at Manele Bay; Four Seasons Resort Lanai, The Lodge at Koele; Four Seasons Hualalai on the Big Island; and Four Seasons Maui at Wailea.
Net income fell to $9.1 million, or 24 cents a share, from $15.8 million, or 42 cents a share, a year earlier. Revenue fell 9 percent to $67.8 million from $74.5 million after the Four Seasons sold its interest in the Pierre hotel in New York last year.
Japan extends GDP growth streak
TOKYO » Japan's economy grew at a weaker-than-expected 0.8 percent annual rate during the second quarter as exports faltered, but strong company investments kept the expansion going, the government said today.
Also crimping growth was a plunge in public spending, reflecting reform efforts toward smaller government, but the bulk of the bad news appeared to come from a slowdown in the U.S. economy that chiseled away at Japanese export growth, which had been booming in previous quarters.
Japan's gross domestic product, the value of goods and services it produced, grew 0.2 percent during the April-June period from the previous quarter, marking the sixth straight quarter of expansion, the Cabinet Office said. If that pace continues for a year, the economy would expand 0.8 percent. Those numbers were worse than the average 0.4 percent on-quarter rise or 1.7 percent annual gain forecast by economists.
---
BUSINESS PULSE