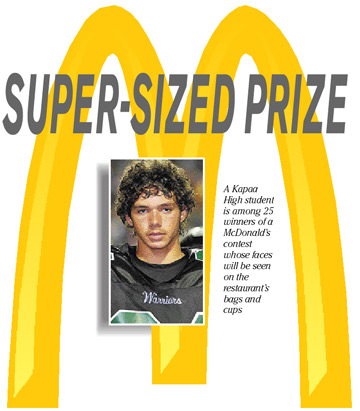 Super-Sized Prize
A Kapaa High student is among 25 winners of a McDonald's contest whose faces will be seen on the restaurant's bags and cups
KAPAA HIGH SCHOOL senior Nick Mortell has become one of 25 winners of the McDonald's Global Casting Call. The Kauai resident's visage and those of the other "stars" will adorn millions of McDonald's bags and cups that will be seen by tens of millions of people worldwide each day starting next year.
The Kapaa Warriors wide receiver entered the contest earlier this year with a picture of himself and a brief, humorous essay about his passion in life, football. He was chosen from more than 13,000 entries from more than 100 countries.
NICK'S WINNING ESSAY
My passion? Football. Football. And more football. My favorite things in the world are playing football, watching football and playing football on-line. NFL football, college football, high school football, arena football, European League football. When I can't get new games, I watch classic football games. Oh yeah, did I mention I love football!
---
On the Net:
mcdepk.com/ globalcastingcall/stars.html
The most exciting thing about winning is "being able to go to a different country," he told the Star-Bulletin yesterday afternoon between school and football practice.
Mortell has won an expenses-paid trip for two to England the week of Aug. 20 for tons of sightseeing and a photo shoot with famous photographer Nick Clements.
The resulting picture of Mortell will make a bigger splash than getting his name on the Goodyear Blimp during the Super Bowl or on a Broadway marquee.
The contest, which ran in April and May, is meant to advance McDonald's "I'm Lovin' It" advertising campaign, which stars everyday people doing what they love.
Mortell has played football since his sophomore year and ran track last year. He is "usually" on the honor roll and was on it "all last year," he said.
He was notified in June that he was a finalist.
His football teammates were told by their coach that Mortell would be missing a game or two and some practices because of the contest win and trip to London.
Some of his friends asked him for an autograph.
"I don't want to be a celebrity," Mortell said, but he appreciates that his friends are happy for him.
There's no sense trying to butter him up to accompany him on the trip. He will be taking his mother, Jalene Huff, according to his father, Mark Huff.
Jalene Huff works with the Head Start early childhood education program, while Mark Huff is program director for H. Hawaii Media's radio stations on Kauai, Maui and Oahu.
"My wife is particularly excited to be going back to England," Mark Huff said. Jalene Huff visited a friend there 30 years ago, and she has always wanted to go back "and see what she didn't see," he said.
Mortell's portion of the photo shoot will last about two hours. "The rest of the days, they have dinner cruises on the Thames (River), castle tours, one thing after another," Huff said. Winners and their guests also will see the award-winning play "Mama Mia" and meet the cast. Huff wants his son and wife to get, among their pictures, a snapshot of themselves in front of a McDonald's in London.
The trip is valued at $17,000.
The prospect of having his face seen around the world as a McDonald's star has not put stars in Mortell's eyes or thoughts of stardom in his career plans.
"I don't think I want to pursue a modeling career," he said.
"My dream job would be doing something related to football or sports," he said, such as a job with NFL Films. But if he were given the chance to play football, "I would go."
He plans to go to college but has not yet locked in a school or even a region of the country. He has family on the East and West coasts, so his options are open.
Mortell is one of only nine winners in all of North America. The others are from Florida, Illinois, Texas, Ohio, California, Nevada, Maryland and Canada.
Asia-Pacific region winners hail from China, South Korea, Singapore and Australia; Latin American winners are from Brazil, Puerto Rico and Argentina; and the European winners are from France, Spain, Italy, Germany, Austria and the United Kingdom.
The winners range in age from 5 to more than 60, and they will be shown lovin' everything from swimming to teaching sign language to cross-country cruising on a motorcycle.