---
[ STYLE FILE ]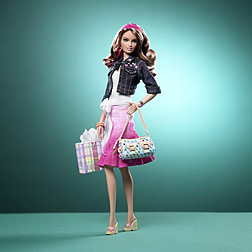 WWW.BARBIECOLLECTOR.COM
It's a Barbie world
Quick! Parents hide your little girls!
No predator has escaped from prison as far as we know, but Mattel has been teaming up with designers to make Barbie -- and designer clothing -- even more desirable to girls with a budding sense of style.
Boho Barbie, outfitted by Anna Sui, hit the market in spring for $160, and a Dooney & Bourke Barbie has just debuted, at right.
The brunette doll is dressed to shop in a drop-waist ombré print dress and a cropped denim jacket, pink wedge sandals, a hot pink head scarf, over-sized golden hoop earrings and bracelets, and of course, a mini version of DB's signature initial-covered, confetti-hued "It" bag.
The collectible doll retails for $34.95 at www.BarbieCollector.com.
If you want the life-size version of Barbie's handbag, find it at DB stores for $215.
While at the site, also check out the "Project Runway" Best Models Barbies outfitted in designs by Robert Best, one of the Bravo TV show's competing designers.
Aloe at The Body Shop
Get relief for dry summer skin with a touch of aloe. If you can't find the plant itself, The Body Shop has introduced a new Aloe skincare line based on the aloe vera plant, recognized for centuries for its cooling, soothing and healing properties.
Products for the face include a facial cleanser, calming toner, exfoliator and SPF 15 moisture lotion. For the body, there's a body lotion, bath oil and specialized balms for dry or itching skin.
"Love Your Body" Club members who visit a Body Shop tomorrow through Sunday will receive a free, full-size Vitamin C Facial Spritz ($14 value) with any purchase.
Club membership is $10 and entitles members to a 10 percent discount at any Body Shop. For more information, call the Kahala Mall shop at 739-5488.
Lauder event at NM
Neiman Marcus is hosting the Estee Lauder Dream Event through Wednesday, during which shoppers can experience the newest treatments from the Perfectionist Line, as well as view new World Treasures fragrance solids and compact collections designed for NM.
Those who purchase $50 in Estee Lauder will receive a beige sueded totebag and matching cosmetic pouch filled with an exclusive face palette, full-size Pure Color lipstick, travel-size Lash XL mascara and deluxe samples of Re-Nutriv Intensive Hydrating Creme Cleanser and Ultimate Lifting Cream.