---
FAST FACTS HAWAII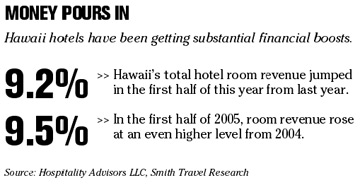 ---
HAWAII
Justice Kennedy to speak at luncheon
The American Bar Association's annual meeting, which will feature a talk by U.S. Supreme Court Justice Anthony Kennedy, kicks off six days of programs beginning today at the Hawaii Convention Center and other sites around Waikiki.
The events are expected to draw 10,700 participants and generate $38 million in total spending from delegates, organizers and exhibitors, and $3.7 million in tax revenue, according to the Hawaii Visitors and Convention Bureau.
Kennedy is expected to speak for about 10 minutes during the ABA International Rule of Law Luncheon from noon to 2 p.m. Saturday at the convention center's Kalakaua Ballroom. Kennedy and Hilario Davide Jr., former chief justice of the Philippines Supreme Court, will receive the ABA-Asia Rule of Law Award. Adm. William J. Fallon of the U.S. Pacific Command will be the keynote speaker.
For more information, go to www.hsba.org or call 537-1868.
State to talk about tech tax credit
The state's High Technology Development Corp.will host a workshop later this month on Hawaii's research tax credits for technology companies.
Alan Schlissel and Patrick Oki of the accounting firm Grant Thornton LLP will explain the program and how to maximize its benefits. The workshop will be held Aug. 23 from 10 a.m. to noon at the Manoa Innovation Center at 2800 Woodlawn Drive. The fee to attend is $15.
Noni products will be on 'Today'
A Maui-based company is scheduled to get some big exposure on the little screen next week, when NBC's "Today Show" features
Hawaiian Herbal Blessings Inc.
as part of the series looking at health benefits of certain foods.
On Monday, "Today" will spotlight Hawaiian Herbal Blessings' products made from the fruit of the noni tree, the Maui company said. In addition to noni, "Today" is featuring such foods as yerba mate and chocolate in a series on edibles believed to have health benefits, the company said.
NATION
Pension costs worsen Ford's loss
DEARBORN, Mich. » The embattled
Ford Motor Co.
said yesterday that its second quarter loss was $254 million -- more than twice the loss it previously announced, due to pension-related costs. It also said it expects its luxury car group to lose money for the year.
The disclosure by Ford, in a regulatory filing, is the latest setback for the 103-year-old auto company, which is struggling to overcome a financial and sales crisis in its North American operations.
Mortgage volume drops to 4-year low
NEW YORK » Mortgage application volume fell to its lowest level in more than four years last week, the latest indication that the once red-hot real estate market is cooling.
The Mortgage Bankers Association reported yesterday that its market composite index, a gauge of mortgage loan application volume, fell to 527.6 last week, down 1.2 percent from the previous week's reading of 533.8. This is the lowest index reading since May 2002.
The drop in loan volume comes as little surprise to most analysts, according to Frank Nothaft, chief economist at Freddie Mac. The main cause are higher mortgage rates. Interest rates on fixed mortgages are at the highest level in four years and rates on adjustable loans are the highest in five years, Nothaft said.
WORLD
Toyota reports on recall changes
TOKYO »
Toyota Motor Corp.
delivered a report today to the Japanese government on improvements it plans to make to its vehicle recall program amid a criminal investigation, a company spokeswoman said.
The government reprimanded Toyota last month over its recall practices, weeks after police said three Toyota officials were suspected of professional negligence for allegedly shirking recalls over an eight-year period. The rare public scolding by the government came with a requirement to file a report by tomorrow on improvements to the program.
Wal-Mart to open bank in Mexico
Wal-Mart de Mexico SA, Latin America's largest retailer, plans to open a bank in Mexico to offer loans and financial services to consumers and businesses not served by the nation's banks.
Walmex, as the Mexico City-based company is known, said yesterday that it applied for a banking license and will inform investors when the permit is granted.
Walmex plans to operate the banks out of its 826 stores and provide credit charging lower fees than other banks to help boost sales, said a company spokesman in Mexico City. Walmex has agreements with lenders to service Wal-Mart credit cards in Mexico.
The move follows similar steps by parent Wal-Mart Stores Inc., which is seeking authorization in the United States to open a Utah-chartered bank. Unlike its Mexican unit, Wal-Mart said it would use the bank for the strict purpose of processing debit and credit-card transactions, responding to concerns that it would use the application to expand into branch banking.
---
BUSINESS PULSE