---
FAST FACTS HAWAII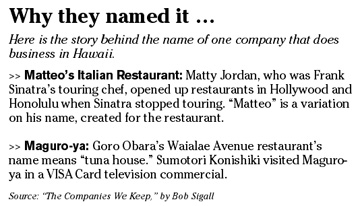 ---
NATION
How to win over your employees
Has your office door become the revolving door? Perhaps your tough management style needs some softening, according to one author.
"Some bosses became successful by trouncing the competition and having a driven nature. That type of personality often times doesn't translate well when interacting with employees," said Dr. Noelle Nelson, author of "The Power of Appreciation in Business."
Nelson offers some tips for bosses who want to mend their ways:
» Reward good work: Appreciate employees for a job well done to encourage continued good work. Make sure your compliments are spontaneous to avoid predictability. More specific comments mean more than a generic "good job."
» Make everyday heroes: For those who've consistently performed well, make sure to spread the word throughout the company about their good work. Make them examples for other employees.
» Avoid negativity: Don't indulge in office gossip or negative conversations. It's hard to create a positive environment if you're bashing others.
» Find solutions, not problems: Rather than blaming employees for mistakes or problems, motivate them to seek out solutions.
Nelson emphasizes that your management changes won't transform the office environment overnight.
"It will take a consistent, long-term commitment to win over employees, but the dividends will be enormous," Nelson said.
Few firms planning for brain drain
As Baby Boomers transition en masse from the office to retirement, the majority of companies are anticipating a brain drain. But only a third of them are planning for it, according to one survey.
While more than six out of ten companies are seeing signs of a talent shortage, only 32.1 percent have updated their selection and recruitment criteria. Nearly the same number, 29.1 percent, are continuing their normal hiring practices. Almost one-third of companies intend to mitigate the loss of their Baby Boomer employees by gradually reducing their hours before they leave the company. But almost four out of 10 companies predict that there won't be a large loss of talent when their older employees leave.
The survey was sponsored by the Novations Group and polled 3,100 senior human resource and development executives.
Tips to help you get that job
Looking for a job can be a job itself and weathering the ups and downs can prove exhausting. Before embarking on a job hunt, remember these tips from Jerald Jellison, author of "Managing the Dynamics of Change: The Fastest Path to Creating an Engaged and Productive Workforce."
» Manage your emotions: A job search is a major project and the process typically gets worse before it gets better. So, expect disappointments. While you may want to wallow in negative feelings, concentrate on action, rather than your emotions.
» Set small goals: Each day, make doable goals like sending out 10 resumes, calling five people in your network, or spending two hours searching for job openings online.
» Reward yourself: Give yourself something for each goal you achieve. After sending out a batch of resumes, take a walk or buy yourself a latte.
» Stay focused: If you're not landing any interviews, it may seem easier to give up and try a new direction like graduate school. Don't rush. Wait until the sting of rejection passes before considering new options.
---
BUSINESS PULSE