WEEKEND: JULY 28/29/30
It's Bublé's time to shine
Like his hero, the late Bobby Darin, Michael Bublé hits the stage first and foremost to entertain.
It doesn't hurt that the young man has a set of pipes compared to those of the Chairman of the Board himself, Frank Sinatra. With that kind of credit, it's no surprise that the 30-year-old Canadian is a Genuine Pop Star.
Michael Bublé
Place: Blaisdell Arena

Time: 8 p.m. Friday

Tickets: $45, $55 and $65

Call: 591-2211 or online at ticketmaster.com

Also: 7:30 p.m. Saturday, Maui Arts & Cultural Center, same ticket prices. Call 808-242-7469 or online at mauiarts.org
The effusive Bublé is looking forward to ending his world tour in Hawaii with his 12-piece band, in support of his 2005 sophomore release, "It's Time." Buoyed by such hits as the self-penned "Home" and a cover of the Drifters' chestnut "Save the Last Dance for Me," the album has collected four Junos (Canada's equivalent of the Grammy Awards).
He had just returned to his Los Angeles hotel room on a rare day off last week to talk by phone about his busy life.
Introduced to swing by his grandfather, the Vancouver-born Bublé has been a trouper since age 16, singing in talent shows and conventions back-and-forth across Canada. Now that he's hit the big three-oh, he says he may "complain a little more on and off the road, but this way of life does keep you forever young."
He was especially enthusiastic about a recent project, an NBC special honoring Tony Bennett's 80th birthday, to air around Thanksgiving.
"It's going to also have some other 'little acts' you may have heard of -- Paul McCartney, Elton John -- and it was directed by Rob Marshall, who did 'Chicago' and 'Memoirs of a Geisha.' " Other guests will include Stevie Wonder, k.d. lang, Diana Krall and John Legend, with narration by Robert De Niro, Billy Crystal and Catherine Zeta-Jones.
"It'll be tough to fill the shoes of such an iconic singer," Bublé said. "It's going to be a wonderful variety show. We just taped it a week ago. I'll be in a huge production number, doing 'Just in Time,' complete with choreography. I can't tell you how excited I am about this."
---
"I show people that I'm not just one thing. ... I recently visited a record shop here, and a young Goth kid behind the counter told me that he never saw so many different people buy my album."
Michael Bublé
Singer
---
BUBLÉ REALIZES he's in a fortunate position. "While Bobby Darin's versatility was shocking -- he went from rock 'n' roll to swing to folky stuff at the end of his life -- he didn't do it all at once. I consider myself lucky that, in this time I live in, I can kind of dabble a bit on each record that I've done. Like on 'Time,' I was able to do classic songs like 'A Foggy Day (in London Town)' and 'I've Got You Under My Skin,' and turn it around and do songs from Otis (Redding), the Beatles and George Michael. So I can do all styles and stretch out a bit.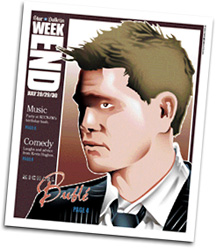 "I show people that I'm not just one thing. The people that come to my shows, I see a lot of kids, teenage girls, black and white folk, gay and straight. ... I recently visited a record shop here, and a young Goth kid behind the counter told me that he never saw so many different people buy my album. I'm trying to be all things to all people."
Bublé has been tutored by some of the best in the business. Industry veteran Tommy LiPuma helped produce "It's Time," and Bublé's also worked with Grammy-winning producer David Foster, who helped get him his recording contract after hearing him sing at the 2000 wedding of former Canadian Prime Minister Brian Mulroney's daughter.
"I also had a long talk with Tony Bennett, and he basically said 'Mike, you can't worry what other people think. So long as you can look into the audience, and the public likes what you're doing, that'll help you sleep at night."
Bublé is also encouraged that success is coming on his own terms. "My biggest hit so far has been 'Home,' something I wrote myself. Here, I'm supposed to be better known as an interpreter. I've gone on to have written a couple more songs, but I don't want to lose myself, thinking I can only repeat a formula that has made me popular. I promise you that each successive record will show growth ... and show a better perspective of myself as an artist."
the man has put together a crack band that can keep up with him.
"Four and a half years ago, I assembled these guys from all over, young jazz musicians, and chose who I thought could also bring a pop sensibility. Guys who could do Michael Jackson as well as Hoagy Carmichael. And the horn section swings really hard, inspired by both Count Basie and Earth Wind and Fire.
"When we're on the tour bus, we're not just a wanky bunch of guys. We're also listening to things like Nelly Furtado's 'Promiscuous' and country music."
He's is eager to show Honolulu what they can do together.
"I've gone to lot of concerts of big acts, and I've been bored to death. I mean, they've got great music ... but I could've just as well stayed home, had a glass of wine, listened to their CDs and been just as entertained.
"It's hugely important that people be able to take away something from my concerts. I think it's a big responsibility to both entertain people and myself. For example, a buddy of mine recently saw Crosby, Stills, Nash and Young, and he said they rocked. It was the whole package, and that's how it should be.
"My success is greatly due to the show I put on. Once you're on stage, you're naked, you can't hide anything."