| | |
| --- | --- |
| | Newswatch |
---
RIMPAC ALOHA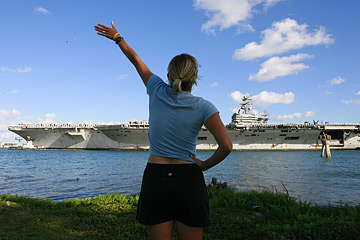 Guides sought for Arboretum
Lyon Arboretum is looking for guides to lead short informational tours of the gardens and grounds and to promote conservation awareness. Volunteers must complete an eight-week training program that runs Mondays beginning Aug. 21 from 10 to 11:30 a.m. The class will cover botany, plant conservation and Hawaii natural history. The arboretum, at 3860 Manoa Road, offers free guided tours of the 193.5-acre rain-forest garden Monday to Friday from 10 to 11:30 a.m. For more information, call 988-0461.
Queen's celebrating anniversary
The Queen's Medical Center's employees will celebrate the hospital's 147th anniversary tomorrow with Heritage Day festivities.
The center was established by Queen Emma and King Kamehameha IV in 1859. It began with 18 beds and the name Queen's Hospital, and has grown into a 505-bed medical center.
Festivities will begin at 9:45 a.m. with an opening ceremony and messages and offerings in honor of the founders, the third annual Queen's employee lei-making contest and a Hawaiian craft sale.
Entertainment at lunch time in the Nae'a Courtyard will include Natalie Ai Kamau'u, the 2006 Na Hoku Hanohano Female Vocalist of the Year.
Big Isle likely safe from weakened storm
HILO » Once a mighty hurricane, former Tropical Storm Daniel received the ultimate downgrade yesterday from the National Weather Service, which described it as "dissipating into a remnant low."
"If this weakening trend continues, Tropical Depression Daniel will pose no threat to Hawaii Island," according to the Hawaii County Civil Defense.
Both the weather service and Civil Defense said yesterday's statements would be their last on Daniel. Yesterday morning, the tropical depression was 765 miles east-southeast of Hilo with maximum winds of 35 mph and a forward speed of 12 mph.
Kaneohe man faces sex assault charges
An Oahu grand jury indicted a 33-year-old man who allegedly sexually assaulted a 13-year-old girl at his Kaneohe home.
Joseph Maxilom was indicted Tuesday on four counts of first-degree sexual assault and three counts of third-degree sexual assault. Maxilom was arrested at 9 a.m. July 19 at his home at 46-257-F Haiku Road.
The grand jury indicted Maxilom on seven counts of sexual assault, ranging from intercourse to fondling, according to the indictment. The girl's father reported July 11 that his daughter had been allegedly sexually assaulted, according to a police affidavit. He told police his daughter had befriended a man and they had sex, the affidavit said. The victim also told police Maxilom had sex with her on Feb. 14 in his bedroom, the affidavit said.
Diamond Head crater closing early for film
Diamond Head crater will close to the public early today for the filming of a Hawaii Visitors and Convention Bureau television commercial.
The park gate will close at 2 p.m. Department of Land and Natural Resources officers will escort out any hikers still on the trail at 3 p.m.
For the commercial, an actress will stand alone at the top of the crater while being filmed from a helicopter.
---
TAKING NOTICE
» The inaugural Fields Open in Hawaii, an LPGA event at Ko Olina Resort Marina, donated $83,000 to local charities through the Friends of Hawaii Charities. They included the Waianae Coast Community Mental Health Center, Special Olympics Hawaii and the Nanakuli Housing Association, among several others.
» Wayne Nakamura is the University of Hawaii's 2006 winner of the President's Award for Excellence in Buildings and Grounds Maintenance. He joined Manoa's Campus Center as a utility worker in 2003. Nakamura's expertise in electrical, plumbing, masonry, carpentry and other areas of general construction has resulted in saving the facility about $40,000 during the last year.
» Glenn Y.M. Lung and his wife, Julina E. Lung, of the Kaimuki Ward of the Church of Jesus Christ of Latter-day Saints, received the Brigham Young University Hawaii Distinguished Service Award. Glenn Lung, who has been an active member of the Kaimuki Ward since 1941, was region representative from 1977 to 1985 and president of the Laie Hawaii Temple from 2001 to 2004. Julina Lung served as matron of the Laie Temple at the same time.
| | |
| --- | --- |
| | Police, Fire, Courts |
---
NEIGHBOR ISLANDS
Driver is arrested in woman's death
Big Island police arrested a 62-year-old Kona man yesterday who allegedly struck and killed an 88-year-old woman with a sport utility vehicle near the Honalo transfer station.
The man, from the Captain Cook area, was driving south on Route 180 when the SUV apparently ran off the shoulder of the road, police said.
The SUV allegedly struck the woman, who was working in her yard near the shoulder of the road between the 1- and 2-mile markers, sometime before 2:43 p.m., police said.
The woman's identity is being withheld pending notification of family.
The driver was arrested at the scene on suspicion of negligent homicide. Officers took him to Kona Community Hospital, where he submitted to a mandatory blood test to determine whether he was driving under the influence.
Police shut down Route 180 between the Kona Coffee Villas and the Tanaka junction for about 4 1/2 hours while police investigated the accident.
HONOLULU
Mo-ped crash victim ID'd as Honolulu man
The Medical Examiner's Office identified a mo-ped rider who died Monday as Dennis Askey, 28, of Honolulu.
Police said Askey collided head-on with a truck that had swerved into oncoming traffic to avoid rear-ending another Ewa-bound vehicle on Kapiolani Boulevard at 5:12 p.m.
Askey died a short time later at the Queen's Medical Center.
Suspect sought in Kapiolani bank heist
Police are looking for a man who robbed the Kapiolani branch of First Hawaiian Bank yesterday.
Police said the man entered the bank at 1580 Kapiolani Blvd. at about 10:40 a.m., gave the teller a demand note and fled toward Kapiolani with an undisclosed amount of money.
The suspect is described as in his late 30s to 40s, 5 feet 8 inches to 6 feet tall, weighing about 140 to 160 pounds, with a tan complexion. He was wearing a dark blue tank top, blue denim shorts and dark work shoes.
Anyone with information is asked to call CrimeStoppers at 955-8300 or *CRIME on a cell phone.
WEST OAHU
Girl, neighbors help prevent fire's spread
Fire officials credit the quick action of a 12-year-old girl in preventing a duplex fire from spreading to a neighbor's home in Iroquois Point.
The girl went to visit her 11-year-old friend at 4741 West Ekahi Way, Unit B, on Tuesday, said Capt. Kenison Tejada.
She knocked on the door but no one was home. When the girl heard the smoke alarm going off, she opened the door and found the couch on fire, Tejada said.
She ran next door and warned the neighbor about the fire.
Meanwhile, another neighbor, using a garden hose, shot water on the window, which broke inward, Tejada said.
Firefighters were called at 4:09 p.m. and had the fire contained by 4:29 p.m.
Damage was estimated at $125,000. Friends assisted the woman and girl who lived at the duplex, Tejada said.
Bragging gets man arrested for theft
Police arrested a 52-year-old Waipahu man after his neighbor heard him bragging about stealing a motorcycle.
Police said the neighbor called 911 at about 5:30 p.m. Tuesday and provided an address and description of the motorcycle, based on what he had heard his neighbor say.
Responding officers saw the suspect and a motorcycle on the property. The suspect told officers that he had just bought the motorcycle, police said. But the officers then learned that the motorcycle was reported stolen.
Police arrested the suspect on suspicion of second-degree theft.
CENTRAL OAHU
Man is arrested in freeway threats
Police arrested a 25-year-old man who allegedly threatened another man with a pellet gun on the H-2 freeway in Mililani.
Police said a 30-year-old man was driving home from work toward Mililani on the H-2 at about 10:30 p.m. Tuesday when the car in front of him stopped suddenly.
Police said the man in the car that stopped confronted the other man, pointing what appeared to be a handgun at him.
Both cars then got off the freeway and onto Meheula Parkway in Mililani.
Police said the suspect made a U-turn and came up alongside the victim's car and again pointed the gun toward the victim.
The victim called 911 and provided a description of the vehicle and the suspect.
Police arrested the suspect on suspicion of first-degree terroristic threatening. Officers recovered a black pellet gun that resembled a semiautomatic Glock handgun, police said.
WAIKIKI
Couple's argument leads to knife attack
Police arrested a 43-year-old woman who allegedly assaulted her husband with a kitchen knife.
The husband, 39, told police that his wife cut him with a knife while they argued at about 9 p.m. Tuesday along Aloha Drive in Waikiki.
Police arrested the wife on suspicion of second-degree assault.
2 caught stealing bag left on sidewalk
Police arrested a man and a woman for allegedly stealing an unattended bag on a sidewalk along Kalakaua Avenue on Tuesday.
Police said officers witnessed the suspects, a 26-year-old man and a 30-year-old woman, take an unattended bag containing $353 in cash and traveler's checks at about 11:45 a.m.
Police arrested the pair on suspicion of second-degree theft.