---
FAST FACTS HAWAII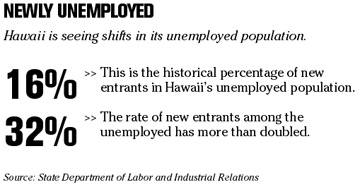 ---
HAWAII
Local 5 holds rally at Hilton Hawaiian Village
About 800 members of the hotel workers union Local 5 and their supporters held a rally yesterday afternoon at Hilton Hawaiian Village over labor contract negotiations.
At the "Moving the Union Forward Rally," workers were to discuss wage, pension and retiree issues. Local 5 is in contract talks with several Waikiki properties, though it has ratified a new labor agreement covering workers at the Turtle Bay Resort on the North Shore.
Central Pacific gets downgrade
Central Pacific Financial Corp.
, whose second-quarter earnings missed analysts' estimates by 2 cents, was downgraded to "hold" from "buy" yesterday by analyst Michael McMahon at
Sandler O'Neill & Partners LP
.
The 12-month price target is $40 a share.
---
NATION
Senate poised to pass energy production bill
WASHINGTON » The Senate moved closer yesterday to passing a bill that would expand energy production in the Gulf of Mexico.
A procedural vote of 86-12 allowing the debate to begin signaled wide support for opening up large new tracts for drilling. Thirty-one Democrats and one independent joined all but one Republican, Olympia J. Snowe of Maine, in the early test vote, usually a strong indicator of a bill's potential to pass with bipartisan support.
But the consensus may be fragile, and the bill, if approved in a final vote that is expected next week, would still have to be reconciled with a very different drilling bill approved by the House.
The bill identifies 8.3 million acres for new energy development in the gulf, four times the area sought by the Bush administration through its lease program for 2007-12. It would also create protections for Florida's western coastline and establish a program that gives gulf states -- Texas, Louisiana, Mississippi and Alabama -- 37.5 percent of royalties from energy production that now accrue to the federal government, potentially a shift of billions of dollars in revenues.
Republicans as well as some Democrats from energy-rich states have long sought efforts to increase domestic supplies of oil and natural gas as a way to reduce the high costs of gasoline and home heating fuel and to reduce the nation's dependence on foreign oil.
Democrats generally favor conservation and the development of alternative fuels as part of any major energy legislation. But many of them followed Sen. Harry Reid of Nevada, the minority leader, in voting for the bill as a way to support Sen. Mary L. Landrieu of Louisiana, one of just two Democratic senators from the South, whose re-election prospects in 2008 would be enhanced by the revenue-sharing provisions for a state still recovering from last year's hurricanes.
Conoco profit jumps by two-thirds
ConocoPhillips
, the first major American oil company to report results for the second quarter, said yesterday that its profits leapt by nearly two-thirds, a windfall it owes largely to soaring oil prices.
The company, based in Houston, said it earned $5.19 billion in the second quarter, compared with $3.14 billion in the period last year. Nearly all of its businesses, which include offshore oil drilling, natural gas exploration and operating oil refineries, reported profit growth.
Conoco's results, which exceeded the expectations of many analysts, are expected to set the pace for what oil analysts predict will be another round of reports of soaring profit from the industry.
Boeing stock falls on outlook
CHICAGO » Steep costs to settle a government investigation and pay for delays to an airborne surveillance system sent
Boeing Co.
to its first quarterly loss in three years.
Boeing strengthened the outlook for its resurgent commercial airplane business at the same time it announced the $160 million second-quarter deficit yesterday. But it also reduced its 2006 earnings guidance, and its stock fell.
While the $1.07 billion in charges were expected, Wall Street showed disappointment that the aerospace company chose not to write off any of its Justice Department settlement and increased its 2007 outlook less than many anticipated.
Boeing shares closed down $3.85, or 4.6 percent, to $79.90 on the New York Stock Exchange after sinking as much as 5 percent in the wake of the report. The stock has traded in a 52-week range of $62.01 to $89.58.
---
WORLD
Leader calls for 'forceful measures'
BEIJING » China's premier called for urgent steps to prevent economic overheating, state media reported today, highlighting the increasing concern about keeping the nation's soaring growth from igniting a financial crisis.
"We must take forceful measures to resolve prominent problems to prevent the economy's rapid growth from turning into overheating," Premier Wen Jiabao said yesterday in a teleconference with officials nationwide, according to news reports.
Wen, China's top economic official, told officials to "resolutely control" an investment boom that drove economic growth in the second quarter to 11.3 percent, its highest rate in a decade, the Communist Party newspaper People's Daily and the official Xinhua News Agency, among others, reported.
---
BUSINESS PULSE