| | |
| --- | --- |
| | Newswatch |
---
SILENT MARCH FOR SILENCED VICTIMS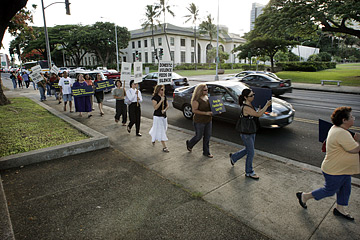 Concert to benefit UH Lab School
Top musicians, such as HAPA, Na Leo Pilimehana and the Brothers Cazimero, will perform at a benefit concert from 4 to 10 p.m. Aug. 19 at the Andrews Amphitheatre for the University of Hawaii Laboratory School, which was heavily damaged by fire. Tickets -- $30 in advance, $40 at the door -- will be sold on a first-come, first-served basis from 9 a.m. to 2 p.m. Saturday and Aug. 5 at the UH Lab School Multi-Purpose Building, 1776 University Ave.
Man indicted in death of Pearl City resident
An Oahu grand jury indicted yesterday a 39-year-old man on second-degree murder charges in the death of his girlfriend, 39-year-old Zenaida Dumaslan of Pearl City.
Ronante G. Aquino, who turned himself in to Pearl City police Saturday, is being held in lieu of $150,000 bail.
A Circuit Court judge also issued a no-contact order in the event Aquino should be released on bail. The order prohibits him from contacting her son, Jean Claude Dumaslan, and her father, Jose Remigio Dumaslan, or anyone else "significantly" related to them.
After Aquino surrendered to police, he accompanied officers to the house to show them where Dumaslan was, a police affidavit said.
Zenaida Dumaslan was found lying motionless in a pool of blood on the kitchen floor of her 1520 Hooli Circle home early Saturday morning, according to police.
New exemptions for jury duty take effect
Emergency medical service employees, residents who live more than 70 miles from the courthouse or people 80 years old and above are now exempt from jury duty under a new bill that became law and went into effect this month.
Act 313 -- House Bill 386 -- became law July 11 without Gov. Linda Lingle's signature. The exemptions are voluntary and there is nothing to stop the newly exempt from serving if they choose to.
The intent of the new law is to ensure that public health or safety is not jeopardized by requiring certain people to serve on jury duty, said Rep. Blake Oshiro, who introduced the bill and is vice-chair of the Judiciary committee.
Also under the new law, the following individuals are no longer exempt from jury duty: attorneys; head of an executive department; elected officials (except when the Legislature is in session); minister or priest; dentist; and active-duty military (except while deployed out of state).
Restriping work to close Kailua lanes
Lanes near Mokapu Boulevard and Oneawa Street in Kailua will be closed tomorrow from 8:30 a.m. to 3 p.m. for restriping work. The work should take one to two days.
A double left-turn lane will be installed to help alleviate traffic congestion from Oneawa Street on to Mokapu Boulevard.
Motorists are advised to allow for extra travel time and to use caution while driving through the work area.
| | |
| --- | --- |
| | Police, Fire, Courts |
---
HONOLULU
2 suspects sought in game room stabbing
Police are looking for two men who allegedly attacked another man at a Honolulu game room Monday night.
The incident took place about 11:45 p.m. near Alapai and Kinau streets. Police said the 43-year-old victim was at the game room when the two suspects came in and attacked him, one armed with a baton and the other with a knife.
The suspects then fled the scene, police said. The suspect who was armed with a baton was described as being in his late 30s, about 6 feet 4 inches tall, with a thin build and brown hair. The second suspect who allegedly stabbed the victim with a knife is described as also in his late 30s, 5 feet 6 inches tall, with a slim build and black hair.
Police said the victim was taken to an area hospital where he was treated and released. The case is being investigated as an attempted murder.
NEIGHBOR ISLANDS
Maui home fire deals $624,000 in damage
WAILUKU » Fire officials are investigating the cause of a fire yesterday that did $624,000 in damage to the content and structure of a home in west Maui.
The fire that destroyed the two-story house at 1386 Komohana Place in Lahaina is suspected of starting in a storage area, Fire Battalion Chief Jeff Shaffer said.
Shaffer said 16 people lived in the six-bedroom house, including two who had minor injuries and were treated at the scene.
Firefighters took more than 50 minutes to control the blaze after the initial alarm at 1:41 a.m.