---
FAST FACTS HAWAII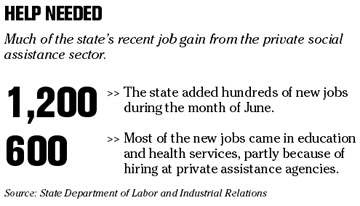 ---
HAWAII
ATA plans to add capacity between Hilo, Oakland
ATA Airlines
said it will add capacity to its route between Hilo and Oakland, Calif., by 50 seats a day beginning Aug. 4 by replacing its Boeing 737-800 with a 757-200.
The additional seats will increase capacity daily by 16 percent, ATA said. The lowest one-way ATA fare between Hilo and Oakland is $159, excluding fees and taxes.
SBA events aim to help business
The U.S. Small Business Administration will hold a Business Loan Blitz and Banking Expo tomorrow from 11 to 2 p.m. at Kapolei Hale.
The event will connect prospective borrowers with SBA lenders to talk about financing and get loan applications underway. For loans under $50,000, the SBA offers a streamlined application with no requirement for collateral, financial statements or business plans. Online registration is available at www.sba.gov/hi.
The agency also plans a free workshop called "Credit = Cash" to help small-business owners understand credit and untangle the red tape of commercial financing. The event will be held from 9 a.m. to 12:30 p.m. on Aug. 9 at the Waianae Worklinks Office at 85-670 Farrington Highway. To reserve a seat, call 541-2983 or 541-2969. The deadline for registration is Aug. 4.
[HAWAII INC.]
ON THE BOARD
» Skal International Hawaii has installed new officers for the 2006-2007 term: Richard Oshiro, president; Ron Hee, vice president; Mike Miller, treasurer; and Phil Sammer, secretary. Directors include Deems Narimatsu, Steve Winter, Earl Loo, Shauna Hyswick, Duke Ah Moo, Susan Weander, Ethan Lynette, Brian Crawford and Renee Cochran.
AWARDS
» The North American Retail Hardware Association has selected
Charlie Nakama
as a 2006 Young Retailer of the Year. He serves as
City Mill
's Pearl City store manager.
» Certified Real Estate Brokers - Hawaii Chapter has announced that the following Realtors have earned the Certified Real Estate Brokerage Manager Designation: Mary Begier, Mary Begier Realty, Hilo; Ramona J. Biho, Ramona J. Biho Realty Inc., Koloa; Walt L. Harvey, East Oahu Realty Inc., Honolulu; and Allen Perkins, Century 21 All Islands - Hilo.
NATION
Amazon profit falls on higher costs
Amazon.com Inc.
, the world's biggest online retailer, said second-quarter net income fell on higher technology spending and toy-related costs. Shares dropped 12 percent as the company reduced its full-year profit forecast.
Net income declined 58 percent to $22 million, or 5 cents a share, from $52 million, or 12 cents, a year earlier, Seattle-based Amazon.com said yesterday.
House delays debate over business taxes
Facing vocal opposition from governors and state legislatures, House Republicans retreated yesterday from a bill prohibiting states from taxing mail order houses and other companies that do business in their states without local employees or offices.
GOP leaders could not amass enough votes to pass the bill amid some misperceptions about its effect on states.
WORLD
Australia prices rise fastest in 6 years
Australian consumer prices rose at the fastest pace in almost six years in the second quarter, breaching the central bank's inflation target. Bonds and stocks fell as investors bet an interest-rate increase is certain next week. Higher oil and fruit prices sparked a 1.6 percent increase in the consumer price index for the three months ended June 30.
Time is running out for Yukos
MOSCOW » The
Yukos
oil company's fight for existence neared its end yesterday when creditors rejected its plans for recovery and recommended that Yukos, once Russia's largest and most successful oil concern, be declared bankrupt.
The vote by creditors all but ensures that Yukos will be liquidated, the final chapter in a story that began nearly three years ago when the founder of Yukos, Mikhail B. Khodorkovsky, was arrested by government security agents and jailed.
Khodorkovsky is in a Siberian labor camp, having been convicted last year of tax evasion and other crimes in what he and his supporters called a show trial orchestrated by the Kremlin to punish him for his political ambitions. President Vladimir V. Putin has denied those accusations.
---
BUSINESS PULSE