---
FAST FACTS HAWAII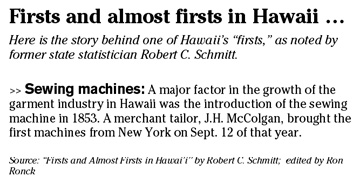 ---
NATION
How to organize your cables mess
Are you spending more time navigating through cables and cords than working at your desk? A desk of tangled wires not only hampers your work output, but can be dangerous too.
"Whether in a home or a workplace setting, getting your office organized and under control is not only aesthetically pleasing, but also makes the environment safer and often helps people increase their productivity," said Paul Holstein, co-founder and COO of CableOrganizer.com.
Holstein offers a few tips to untangle the mess at your desk:
» Cable control: Bundle cables and cords using translucent split tubes under your desk. Cable ties or Velcro can also gather unruly wires and cords behind computers and under tables. Invest in desk grommets, so cables, cords and wires can neatly thread through your desk to power outlets.
» Outlets out-of-the-way: Keep power strips and surge protectors off the floor by using Velcro to attach them to the wall. Or, add a pop-up outlet to your desk to avoid stretching cables across the floor.
» Label liberally: Labels are most often used for storage containers, folders and drawers. But labels on cords and cables can keep them from getting mixed up and can save time when you uncoil them.
GenX women battle debt, too
Even though Generation X women understand the importance of saving for the future, most are still battling debt, according to one survey.
More than two-thirds of female respondents said they live paycheck to paycheck, while 40 percent carry a credit card balance of $5,000 or more. One in five owe more than $10,000 in credit card debt.
"It's very difficult for Gen Xers to start to think seriously about saving and investing when excessive debt is a pressing issue for them," said Lauren Coulston, an assistant vice president at OppenheimerFunds Inc.
While saving for retirement ranked higher than finding a spouse, buying a home or having nice clothes, 62 percent of Gen X females have not bought any investment products.
Part of their reluctance could stem from their lack of information. Six out of ten don't feel knowledgeable about investing, and 65 percent said they don't understand how a mutual fund works.
"There is a tremendous opportunity for financial advisers to work with this demographic to develop a financial plan to promote good spending and saving habits," Coulston said.
The survey was conducted in March by OppenheimerFunds, which polled 215 female and 85 male investors between the ages of 26 and 39.
---
BUSINESS PULSE