A moment of impact, a lingering tragedy
Three years ago today, a police officer and girl died in a crash. The courts are still trying to clean up the mess.
FIRST OF TWO PARTS
Tomorrow: Colliding interests
"Some say ... that to the gods we are like flies that the boys kill on a summer day, and some say, on the contrary, that the very sparrows do not lose a feather that has not been brushed away by the hand of God."
-- Thornton Wilder "The Bridge of San Luis Rey"
HONOLULU POLICE OFFICER Nate O'Sullivan gunned his department-issue BMW motorcycle westward on the H-1 freeway.
Because of problems with his radio, he had missed a mid-morning breakfast at Sizzler Steakhouse in Waipahu with five other "solo bike" patrolmen. With the radio fixed, he was hurrying to catch up with them on their way to Waianae, where they would finish out their shift.
Now, just before 10 a.m., a distress call came in. There had been a collision. "Three solo bike officers down."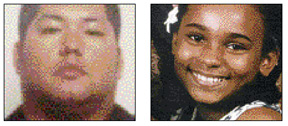 Motorcycle police officer Ryan Goto and Alacia Williams, 10, died in the crash.
Up ahead, near where H-1 became Farrington Highway, black smoke billowed into the air.
A grim, almost surreal scene greeted O'Sullivan as he pulled up.
A green Dodge Stratus sedan, its windshield and passenger door smashed, had come to a stop sideways to traffic in the lane near the grass medial strip. Three police motorcycles were lying on their sides and burning in the brush off the right side of the road. Two of his squad members, David Bega and Paul Javier, were injured and moaning, but able to walk.
A third officer, Ryan Goto, was lying motionless on the grass.
Three other officers and a civilian were administering cardiopulmonary resuscitation. O'Sullivan charged up the portable defibrillator.
"Clear the patient!" O'Sullivan told the others. "Everybody clear!"
They halted CPR.
O'Sullivan shocked Goto's chest. ... Nothing.
They resumed their efforts as sirens signaled the arrival of more help.
---
EXACTLY THREE years have passed since that hellish accident, the worst ever involving HPD officers. But while the facts in the case have been largely established, there remains no consensus on who or what was to blame for the crash that killed one officer and a 10-year-old girl.
The chain-reaction crash of July 23, 2003, which started when a cardboard box flew off a pickup truck, generated a slew of lawsuits that only now is starting to clear.
On Tuesday, Circuit Judge Elizabeth Hifo approved a tentative settlement ending the suits against the pickup driver. Separate actions against his insurance company, United Services Automobile Association, also have been settled.
Last month, various plaintiffs including the state of Hawaii agreed to end their case against the Girl Scout Council of Hawaii, embroiled because one of the cars carried three girls and a volunteer leader on an outing.
But several other lawsuits remain active, including a consolidated complaint against the state, which owns that stretch of highway.
Attorney Jim Leavitt says research shows the state should have known that the grass median was not enough to prevent cars from crossing over into oncoming traffic.
Although tire marks indicated one of the drivers was speeding, the city Prosecutor's Office opted not to pursue charges of negligent homicide.
At a deeper level, the accident resonates as an example of how lives can end or change radically in a matter of seconds. What if the box had been secured? What if the other drivers had been half a minute earlier in their journeys? Or later? Or in another lane? Those questions, ultimately unanswerable, still nag at anyone who examines the events of that morning.
---
PATCHES OF CLEAR sky punctuated high clouds and a light breeze rustled palm fronds along the Waianae Coast as Karin Williams loaded her daughter, Alacia, 10, and two other Girl Scouts into her four-door Stratus.
Wearing "aloha dresses," the four were bound for Headshots, at Pearlridge mall, for a Girl Scout group photo.
Williams, then 45, a scouting volunteer and in-home care worker for elderly clients, and her husband, Lon, a network technician for Verizon, had lived in Hawaii since December 1998. Karin declined to be interviewed for this story, but agreed to answer a few basic questions through her lawyer, Charles Ferrera. The remaining information comes from court papers and police reports.
Alacia, who would have been a fifth grader at Maili Elementary School, was by all accounts a personable and friendly child.
"She was always smiling, always willing to share whatever she had," said her fourth-grade teacher, Juli Patten. When the Girl Scouts went camping at Kalaeloa, Alacia was the only one who didn't mind staying in a tent by herself. "She was very brave," Patten recalled. Alacia also once helped Patten's 7-year-old daughter pass a swimming test.
Lon Williams is quoted in court papers as saying his daughter loved to read. "You'd give her a book and she'd read it again and again and tell you about it," he said.
As the car headed east on Farrington Highway, Alacia occupied the front passenger seat, while two sisters, Mabel-Lynne Priddy, 11, and Maeghan Priddy, 9, also Maili Elementary students, sat in the back.
Directly behind them in the eastbound traffic was Lorrie Ann Moniz, 45, a waitress at the Cathay Inn Chop Suey restaurant in Waianae, driving a white Mustang. Next to her sat her boyfriend.
Some distance ahead on Farrington was Eric Henderson, 49, a pilot for Continental Airlines. In the bed of his white GMC pickup rested a white box, 4 feet long and 3 by 3 feet at the ends. When he loaded up, according to court documents, Henderson figured that the box would be secure if he pushed up against the back of the truck cab. About a third of a mile past Laaloa Street, between Honokai Hale and Hawaiian Adventures Water Park, the box flew off Henderson's pickup and landed behind him in the fast lane.
He pulled over onto the wide grassy median strip and started to back up to retrieve it.
At that point, with traffic approaching at 45 mph, events started to move fast, but witness accounts, taken together, mimic a slow-motion film.
Eastbound in the slow lane, Randy Ramos, 37, a Tesoro Hawaii maintenance technician, caught sight of the box, which he described as "some kind of big object."
Chalsey Breault, 30, of Waianae, estimated she was two seconds behind Moniz's Mustang when she also noticed a "large white box in the left lane" ahead. In front of the Mustang was the green Stratus carrying Karin and Alacia Williams and the Priddy sisters. Breault quickly changed lanes, but the Mustang and Stratus did not.
"I noticed a green car in front of the white Mustang," Breault recalled. "Brake lights come on and it appeared like (the green car) was slowing ... like it was trying to maneuver around to the left of the box."
Inside the box, a police officer later noted, were a few pieces of paper and scraps of cardboard. If Karin Williams had hit it, the box probably would have just skittered off the road without even denting her bumper. But Williams couldn't know that the box was nearly empty. She slowed and turned to avoid it.
With a screech of brakes, the Mustang slammed her from behind.
---