Kapahulu man gets 5 years for sex crime
A Kapahulu man who admitted to fondling a 10-year-old boy he met at a Moiliili electronic game room has been sentenced to five years' imprisonment.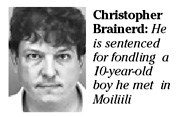 Christopher Brainerd, 42, pleaded guilty under a plea agreement in May, avoiding a potential 60-year term for five counts of third-degree sexual assault.
Circuit Judge Karol Sakamoto found on Monday that Brainerd fit the profile of a classic pedophile and ordered him to serve five five-year terms concurrently.
Brainerd apologized to the victim and his family, noting that he was taking responsibility and admitted his need for help, said defense attorney Myles Breiner.
Breiner had argued that Brainerd's conduct was the result of being molested when he was a child and because he did not receive help.
Under the agreement, Brainerd has agreed to serve the full five-year term and not seek parole.