| | |
| --- | --- |
| | Newswatch |
---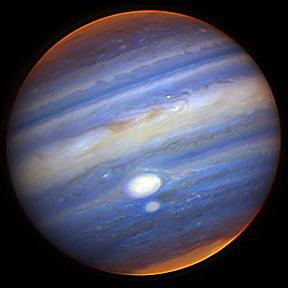 GEMINI OBSERVATORY PHOTO
Spots of Jupiter seen passing
Jupiter's Great Red Spot, white in this false-color, infrared image, is seen passing "Red Spot Junior" in this July 13 composite photo from the Gemini Observatory on Mauna Kea. Red Spot Junior, about the size of Earth, formed in 1998-2000 as a white spot, but amateur Philippine astronomer Christopher Go discovered on Feb. 27 that it had turned red. This was the first time the two spots, moving in opposite directions, have been photographed together. The spots are actually giant storms.
---
What's inside your Star-Bulletin this weekend:
Sunday
TODAY
Colorful old Honolulu
Mark Osmun's "After The Bones" is a rollicking adventure set largely in 1866 Honolulu, a "Casablanca"-like den of foreign agents and provocateurs seeking to undermine the Hawaiian kingdom when not double-crossing each other. And Mark Twain (above) is in the midst of it all.
Bizarre safari
In "Honolulu Lite," Charles Memminger explores strange animal news. For example, the cute little two-faced kitten born in Ohio. And the four-legged duck in China. And the python that swallowed an electric blanket and had to have emergency surgery.
HAWAII INC.
Ready to build
Hokulia lot owners are now seeking permits and contractors -- and facing much higher construction costs -- following the end of a six-year legal dispute.
Un-golden years
Retiree health care has become a contentious issue as more and more companies are cutting or suspending benefits.
| | |
| --- | --- |
| | Police, Fire, Courts |
---
WINDWARD OAHU
Mentally ill man allegedly stabs in-law
A Maunawili man suffering from mental problems allegedly stabbed his 77-year-old mother-in-law multiple times at their Kailua home yesterday, police said.
They said the victim was making lunch for her 56-year-old son-in-law in their home at 1023 Maunawili Road when he began poking himself with a steak knife. The victim attempted to take the knife away but was stabbed in her stomach and lower back, police said.
Paramedics transported the victim to the Queen's Medical Center in serious but stable condition around 11:25 a.m.
Police said the suspect, who has a history of mental illness and diminished cognitive ability due to brain surgery, was arrested without incident for investigation of second-degree attempted murder.
Computer software catches laptop thief
Tracking software helped police locate a 37-year-old Waimanalo man in possession of a state Department of Education laptop computer that was stolen in June from an employee's vehicle.
Police said the Computrace software operated by a Vancouver, Canada, company was silently set off when the suspect tried to use the machine.
The suspect was arrested last week on suspicion of second-degree theft. The case is pending investigation and no charges have been filed.
NEIGHBOR ISLANDS
Dental data confirms fire victim's identity
Police confirmed a body found in the charred remains of an Ahualoa home fire earlier this month was that of 30-year-old King B. Prine.
His identity was confirmed last week through dental records, and an autopsy report two weeks ago discovered he died from thermal injuries sustained during the blaze.
On July 1, Hamakua patrol officers responded to a reported violation of a protective order at the Ahualoa home shortly after 3 p.m. They made verbal contact with a man who remained inside and warned them to leave. A short time later, the officers heard an explosion, and the home quickly became engulfed in flames.
The case will undergo a coroner's inquest.
Woman found in van was formerly of Iowa
LIHUE » The body of a woman found Tuesday in a minivan was identified as a former Iowa resident.
Jean Ann Baumler, 55, was found dead in a minivan parked in an empty lot earlier this week. She was apparently living in the van, police said.
No foul play was suspected in the death, officials added.