WEEKEND: JULY 21/22/23
Wayans' World
The multi-talented star keeps the laughs flowing
As a member of what Entertainment Weekly calls "The Most Powerful Family in Hollywood," Damon Wayans has always held onto the work ethic instilled in him by his parents.
Damon Wayans
Place: Waikiki Shell

Time: 7:30 p.m. Saturday

Tickets: $35 to $65

Online: www.laugh-factoryhawaii.com
The third of nine children born into a New York City household, with both parents holding down full-time jobs, Wayans was always a natural entertainer. He switched from performing for his siblings to making complete strangers laugh in 1982, when he got his start in stand-up. That lead to breaks in film and television, and Wayans hasn't looked back since.
With writing and directing credits in both film and television under his belt, Wayans has proven he has the necessary staying power -- "In Living Color" was a hit in the '90s, as was "My Wife and Kids" a decade later. The Star-Bulletin spoke with him via telephone earlier this week from Los Angeles, where he was finishing up work on a new cable television series.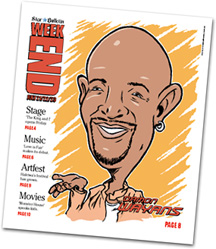 Question: Your latest project, "The Underground," is set to debut later this year on Showtime. Is it a better situation than filming for network television?
Answer: It goes down Sept. 14 at 10 p.m. and it's the wildest (show) you've ever seen. I mean, there's no censor. I have to be the censor!
Q: After your first film role in "Beverly Hills Cop 2," you went on to a role as regular cast member on "Saturday Night Live." Is it true you got fired from that job?
A: Yeah, I got fired because I switched characters. I really wanted to do a lot of stuff that I ended up doing on "In Living Color."
What happened was, Lorne (Michaels), first of all, he had his hands full with a bunch of actors that weren't funny. Then, Eddie Murphy had just left, so he was trying to protect me, I guess, from, you know, having to follow Eddie Murphy.
But my thing was, I never planned on doing what Eddie was doing. I was going to create other characters. Eventually, it just got to a point where they felt it was better that I leave.
Q: Which gave you the opportunity to move on to "In Living Color." Was that the best thing that could have happened to you professionally at the time?
A: I'm not sure, because I would have been successful either way. All I needed was the opportunity to shine. I'm really happy I got a chance to do it with my brother. He definitely ran interference for me.
Q: Looking back, which did more for your career, "In Living Color" or "My Wife and Kids?"
A: As an artist, "In Living Color." To make money, "My Wife and Kids." They were both international (successes). "In Living Color" is huge now on DVD.
Q: Some people might not realize you're a New York Times bestselling author ("Bootleg," published in 1999). Any plans to write another book?
A: Naw. I don't know what my future holds. I know that when I turn 50, I'm going to walk away from doing this as an actor, for sure. I'll definitely direct and write, I just don't want to do both.
I don't like directing stuff I'm in, (because) I always feel like I shortchange myself as an actor. But in order to get it done the way I want it done, I have to direct. Never again will I say, "Well, they never let me ..." I never use those words anymore.
Q: What about movies? Anything coming out in the near future?
A: Yeah, I wrote a movie with Marlon. I directed him, actually, a movie called "Behind the Smile," which is a drama about the world of stand-up comedy.
Q: Do you still like working with your family on different projects?
A: Well, I love it because I don't work with them a lot. So when I do, it's a lot of fun.
Q: After more than 20 years, why keep doing stand-up?
A: It's always therapeutic. And if you want to know if you're funny, get on stage. People let you know instantly. That's how you test your love of the game.
It's like (an NBA player) going to play a pickup game. TV is structured; film is structured. You can always go "cut," and do another take. Stand-up, there's no "cut" and do another take, just like in basketball where there's no referees during a pickup game.