---
FAST FACTS HAWAII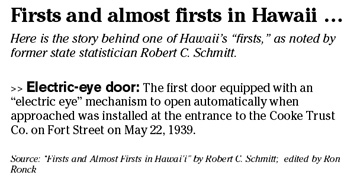 ---
NATION
Job-training programs 'often miss the mark'
Ever felt lost at a new job, even after several months?
Your bosses have noticed and they point to generic training programs as part of the problem, according to one survey.
Only 20 percent of respondents believed that more than three-fourths of their employees understood the company's strategy and what's needed to achieve success in the industry, while 40 percent said that less than half had such an understanding.
Some of the problem stems from inadequate training.
Only 36 percent of respondents said that their companies tailor human resource and training programs to support specific work functions, while 63 percent depend mostly on the same training and support for everyone.
"Not many organizations do a good job of creating HR programs that address the business's needs and goals," said Ed Jensen, partner with Accenture's human performance practice. "There's not a lot of science behind these programs and they often miss the mark."
Jensen believes the need for better training programs will grow even more as the baby boomers leave the work force en masse. "Companies are going to struggle to replace not the body, but the knowledge and expertise of these workers," he said.
The study was sponsored by Accenture and surveyed 251 high-level executives during February and April.
Avoid ATMs from other banks
If you can't find your bank's ATM, don't go to another one. Pulling money out of a competitor's ATM can add up, according to Consumer Reports.
In its August 2006 issue, the magazine said that using a foreign ATM once a week could cost you $100 a year because, often, both your bank and the competitor's bank will charge a fee.
Surcharges can run as much as $2.50 per transaction, which is what ESB Bank in Pittsburgh charges. Additionally, fees keep increasing. In the last two years, the average surcharge jumped 20 percent to a record $1.60, according to Bankrate.com.
To avoid paying fees, Consumer Reports recommends the following courses of action:
» Avoid other ATMS: Even in a crunch, don't use other ATMs. If you need cash quickly, use a debit card at a store and request cash back.
» Choose a more forgiving bank: Look for banks that don't charge fees for using a competitor's ATM. Washington Mutual waives its surcharge, but you still have to pay the competing bank's fee. Commerce Bank not only waives its fee, but it will also reimburse you for competitor's fees if you maintain $2,500 or more in your checking account.
---
BUSINESS PULSE