53 Maui dams require fixes
However, none of the facilities poses an immediate threat, a state appraisal finds
WAILUKU » A state assessment calls for corrective action on 53 dams and reservoirs on Maui but shows that none of them poses an immediate threat to life and property.
"Overall ... Maui reservoirs are in good shape," said state Department of Defense Maj. Gen. Robert Lee, noting the call for corrective actions was to make sure that there are no serious problems months or years from now.
The state found most of the owners of the dams and reservoirs did not have an emergency action plan to notify the public in case of a serious problem, Lee said, noting that the owners must create such plans in addition to corrective action.
State officials are also developing a proposal to re-evaluate the hazard classification of dams and reservoirs, especially in areas where housing has been built recently.
The release of the Maui Dam Inspection Reports completes a statewide visual assessment of 136 dams and reservoirs following the death of seven people after the Ka Loko Dam breached on Kauai March 14.
A lawsuit brought against the owners of the Ka Loko Reservoir alleges that the dam's spillway was covered up.
None of the reservoirs surveyed during the assessment was found to pose an immediate threat, and all of them had spillways to release water, state officials said.
State officials are requiring owners of many dams and reservoirs to take corrective action ranging from clearing brush and trees to investigating seepage.
---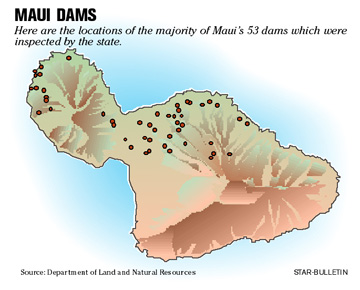 ---
"Seepage alone is not something to get alarmed at," he said. "It is just whether the water is being handled safely and removed from the structure."
Lee said that with the assessment, the state now has a good base line of the condition of dams and reservoirs. "It's unfortunate that it took an occurrence like Ka Loko and loss of life to awaken everyone," Lee said.
Lee said the owners of Maui dams and reservoirs were given the inspection reports a couple of weeks ago to review the findings before they were made public.
According to the state, the owners have about three weeks from receipt of the reports to provide a plan to take corrective action on any deficiencies. The owners have also been asked to submit an emergency action plan by Sept. 30.
The statewide assessments were based on a visual inspection of the dams and reservoirs April 3-8 by state and federal officials, including personnel from the U.S. Army Corps of Engineers.
Some major reservoir owners said they thought the assessment was fair and that they would be able to comply with the state's requests.
Mark Vaught, operations manager with East Maui Irrigation Co., an affiliate of Hawaiian Commercial & Sugar Co., said the assessments generally called for "housekeeping" actions, such as the clearing of brush. He said his company does not foresee any problems in complying with the state's requests.
Rick Fried, an attorney representing several victims of the Ka Loko dam break, said the tragedy has at least caused some positive action.
"This is a horrible tragedy that occurred on Kauai, but as a result of this, if it's forced private landowners and the governmental entities to make a detailed inspection of the other dams, at least there's some benefit to this."