---
FAST FACTS HAWAII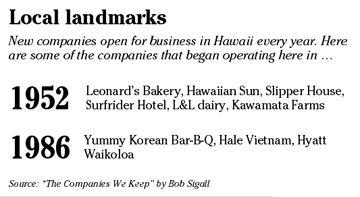 ---
NATION
Online reputation could precede you
Your online reputation may precede you during a job search, and it could keep you from getting your foot in the door, according to a survey.
More than three-fourths of executive recruiters surveyed said that they routinely use search engines like Google and Yahoo! to learn more about candidates. Even more significant, 35 percent said they have eliminated a candidate from consideration based on information discovered online.
While more than eight out of ten executives expect recruiters to research their names on the Internet, only 33 percent have conducted a search of their own name. Dave Opton, founder and CEO of executive recruiting firm ExecuNet, encourages every job seeker to perform a search on themselves monthly and using multiple search engines.
If negative information is attached to your name, Opton suggests asking the site's Webmaster to remove the content. If it can't be removed, create a brief explanation to tell recruiters, which may lessen the post's impact.
On the flip side, Opton recommends using the Internet to create a positive image. Contribute positively to online forums and blogs, especially those that are within your industry. Go on one step further and start your own blog that highlights your skills and reflects how you want to be remembered.
Summer reading at JP Morgan
Wondering which book to take along on your summer vacation?
JP Morgan Private Bank offers five of its 10 nonfiction selections based on 400 submissions from the company's employees.
» "Curry, A Tale of Cooks & Conquerors" by Lizzie Collingham. Using the country's food as historical guide, Collingham helps the reader to discover India's traditions and cultural changes.
» "Field Notes from a Catastrophe: Man, Nature and Climate Change" by Elizabeth Kolbert. Global warming is one of the hottest topics this year and this book from a New Yorker reporter will unlock the scientific mysteries behind climate change.
» "Humble Masterpieces: Everyday Marvels of Design" by Paola Antonelli. Find out the genesis of everyday objects and how each made it into our lives.
» "Judgment of Paris: California vs. France and the Historic 1976 Paris Tasting that Revolutionized Wine" by George M. Taber. Oenophiles can learn about the famed showdown between French and California winemakers that singled out Napa Valley as one of the world's leading wine regions.
» "Cirque du Soleil the Spark: Igniting the Creative Fire that Lives Within Us All" by John U. Bacon and Lyn Heward. Pull the curtain back and discover how this world renowned traveling circus finds its talent, creates its performances and designs it sets and apparatus.
---
BUSINESS PULSE