---
FAST FACTS HAWAII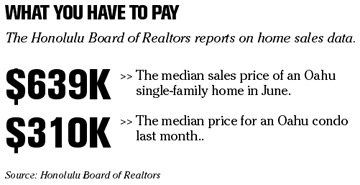 ---
HAWAII
Island Air offers free ticket with purchase of 9 trips
Island Air is offering a "Cloud 9" customer rewards program that will grant a free round-trip ticket to passengers who complete nine round trips or 18 one-way flights with the interisland carrier.
To be eligible, customers need to sign up on the airline's Web site and print their own rewards card. Island Air, which has 103 daily flights, said the free trips can be used for 12 months from the date of issue and can be used by anyone the member designates.
More information is available at www.islandair.com.
On assignment
Erika Engle is on assignment. TheBuzz will return tomorrow.
NATION
Analysts remain sour on Vonage
Vonage Holdings Corp.
's stock will remain as much as 47 percent below its $17 initial public offering price, said analysts from the banks and securities firms that took the company public in May.
UBS AG analyst John Hodulik initiated coverage of the largest U.S. Internet phone service provider today with a "neutral" rating and a $10 price target. Piper Jaffray & Co.'s Troy Jensen started his coverage with a "market perform" rating and a $9 target.
Vonage faces many challenges including competition from telephone and cable-television companies that can sell similar service in a bundle of products. It also has to cope with greater customer turnover and at least nine lawsuits after the Holmdel, N.J.-based company's stock lost half its value following the IPO, Hodulik wrote in a note yesterday.
Microsoft plans rival to Apple iPod
Microsoft Corp.
is planning to have a portable music and video player out by Christmas in a challenge to
Apple Computer Inc.
's hot-selling iPod.
The digital player will have a wireless Internet connection, enabling users to download music without being linked to a computer, a feature the iPod doesn't offer, according to people briefed on Redmond, Wash.-based Microsoft's plans.
Northwest will offer choice of meals
MINNEAPOLIS >>
Northwest Airlines
, in a move to appeal to its most frequent customers, said yesterday that it is going to give first-class domestic passengers a choice of meals. The carrier said that it will offer vegetarian and meat options for breakfast, lunch and dinner.
In May 2005, as a cost-saving measure, Northwest reduced its food choices in first class and typically gave customers a single food offering on a flight. The airline has been cutting costs in bankruptcy court, but its decision to beef up its food offerings is a sign that it is willing to spend money to retain customers for the long term.
Cisco will supply China Telecom
Cisco Systems Inc.
, the world's biggest maker of computer-networking equipment, will supply
China Telecommunications Corp.
with routers for telecommunications networks the Chinese carrier is expanding to meet rising demand.
China Telecommunications, parent of the nation's biggest fixed-line operator, will use Cisco routers to expand its ChinaNet broadband network and the CN2 service for corporate customers, San Jose, Calif.-based Cisco said.
The two networks are being expanded to meet rising demand for broadband and corporate services in the world's fastest- growing major economy. China is expected to overtake the United States to become the nation with the most broadband users by the end of the year, according to London-based research company Point-Topic Ltd.
Cisco has been criticized for providing the technology that China uses to block access to Web sites such as those of the British Broadcasting Corp. and human rights group Amnesty International.
---
BUSINESS PULSE