IN THE MILITARY
Game controllers
THE U.S. NAVY will connect via a secure computer network with seven participating navies for the first time in the 20-year history of the Rim of the Pacific naval war games. Vice Adm. Barry Costello, commander of the U.S. 3rd Fleet, said naval commanders from the United States, Australia, Canada, Chile, Japan, South Korea, Peru and the United Kingdom will be able to communicate via e-mail or have live online chats.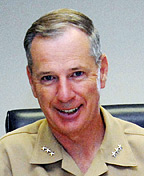 Vice Adm. Barry Costello:
Overall commander of this year's Rim of the Pacific naval exercise
RIMPAC 2006
June 26-July 28
Participants: 19,000
Nations: 8 (Australia, Canada, Chile, Peru, Japan, South Korea, United States, United Kingdom)
Ships: 35
Submarines: 6
Aircraft: 160
Repeat participants:
» Japan (14 times)
» United Kingdom (13)
» South Korea (9)
» Chile (8)
» Peru (2)
Costello said the Centrixs Coalition Maritime Forces Pacific system consists of more than 160 computer consoles set up in the command centers of the various RIMPAC warships and onshore stations to coordinate everything from ship movements to the warfighting plans of various commanders.
Pointing to his experience as commander of the aircraft carrier USS Constellation and Task Force 55 during the Iraq war in 2003, Costello said "the scenario and the facts on the ground change very rapidly."
"You have to have the ability to react almost instantaneously from intelligence to tactics to other events," Costello said. "In this day and age, changes occur instantaneously."
Costello, who serves as the overall commander of this year's RIMPAC exercise, the largest naval war games in the world, said 160 aircraft from the eight participating countries will be controlled for the first time by Air Force personnel working out of the one-year-old Kenney Headquarters at Hickam Air Force Base.
At Hickam, Air Force Lt. Gen. David Deptula will head a staff of 650 people, which includes Air Force weather and communications squadrons, that will report to Costello.
Costello said this year's naval games, the largest in recent years with 19,000 participants, will "create a center of excellence for maritime operations."
Costello, who has participated in two other RIMPAC exercises beginning in 1994, said part of this summer's naval war games will emphasize maritime security.
"The focus in this particular RIMPAC is in the area of operations that most likely will occur in the future," he added.
Like other naval leaders, Costello pointed to the need to work with other Pacific rim countries to keep international shipping lanes like the Strait of Malacca open and free from threats from aggressor nations: "It's our position to create the environment where the economic engine can succeed and so that the transportation of goods and services is allowed to occur unfettered."
One of the reasons to hold exercises like RIMPAC, Costello added, is "to create personal relationships" with his Pacific rim naval counterparts so if he has to work with these countries in the future "it won't be the first time that we work together."
Costello said this summer's RIMPAC naval war games are part of the vision that Adm. Mike Mullen, chief of naval operations, laid out two years ago at the Naval War College's strategy forum attended by naval leaders of many Pacific countries. Costello said Mullen then talked about "an interconnected community of maritime nations working together."
That idea of a 1,000-ship navy from various Pacific countries was reaffirmed this year at a follow-up session at the war college whose common goal, Costello said, is fighting terrorism and providing maritime security and humanitarian assistance and disaster relief.
Costello also said the recently completed three-carrier exercise, dubbed "Valiant Shield," near Guam was developed out of lessons learned three years ago when he commanded the carrier Constellation in the Persian Gulf.
There, the Navy had to coordinate the operations of three carriers, three flight decks, three carrier air wings and many other smaller warships.
The carriers USS Ronald Reagan, which made a one-day stopover at Pearl Harbor on Thursday, and the USS Lincoln, which will spend the next month in Hawaiian waters as the center piece of this year's RIMPAC, participated in Valiant Shield along with the USS Kitty Hawk from Japan.
The importance of Valiant Shield, Costello said, "was to practice what we will do in the Pacific," Costello said.
Four Pacific rim nations -- Ecuador, India, Malaysia and Singapore -- are only participating as observers this summer. However, by 2008, Costello hopes these nations return by as participants.
He pointed out that this is the 14th time Japan has sent sailors and warships to RIMPAC. The United Kingdom has been a RIMPAC participant 13 times, South Korea, nine; Chile, eight; and Peru, twice.