FIRE STRIKES WAIPAHU HOME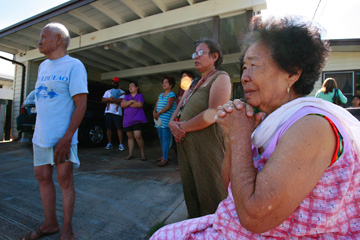 Backyard cooking fire burns home
The fast-spreading blaze in Waipahu displaces six people
Alzheimer's patient Agapito Sagisi has always led an active lifestyle, and all he wanted to do yesterday was barbecue.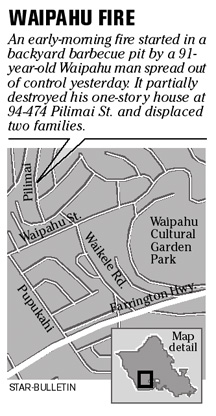 But the fire the 91-year-old Waipahu resident started in his backyard cooking pit quickly spread out of control to the house that he, his wife and a tenant family of four lived in.
"He's so used to doing things on his own, maybe he thinks he can still do it," Sagisi's daughter, Veronica Saguibo, said as she glanced across the street at the damaged home.
About 30 firefighters arrived at 94-474 Pilimai St. by 8:30 a.m. and had the blaze under control by 8:54 a.m. No one was injured.
The blaze consumed the backyard and lanai area. It caused mostly smoke and water damage to the rest of the single-story house. Honolulu Fire Department Capt. Terry Seelig said the initial damage estimate was $135,000, but the amount would probably rise.
"Everything in there was important. How can I carry it all out?" said Shirley Dela Cruz, who awoke to the sound of flames lapping at her bedroom wall.
She said she opened her window to see the fire "raised to the roof" of the covered lanai and immediately woke her 9-year-old daughter and 5-year-old son.
She said since they did not have much time to escape, they could save only their most precious belongings.
She stuffed a bag with important papers such as birth certificates and naturalization documents. Her daughter rescued the Nintendo DS she purchased the day before and her son grabbed a pair of shorts out of the drawer.
"We had everything in there. If the fire didn't get it, the water did," said Dela Cruz, whose husband had left for work earlier that morning.
After the firefighters finished, she was able to enter the house to assess the damage and grab other important belongings.
"Everything was all wet and ruined," Dela Cruz said as she set down a laundry basket of slightly damp clothes. "It's all gone."
Saguibo said her father ignited some dry wood and newspaper in the enclosed pit.
"But the fire grew too big and escaped from the pit, so he tried to use a hose, but it got too big and he went next door to tell my sister, who called 911."
Seelig said yesterday's windy conditions probably contributed to the fire's rapid spread.
"Another couple of minutes and the fire would've ripped through the whole house," Seelig said.
Saguibo said her mother, who was preparing breakfast, did not know her husband had gone outside.
"Normally we don't let him do that kind of stuff, but he go on his own," Saguibo said.
Saguibo said this was not the first time her father had tried to cook on his own. She said about a year ago, her father got up in the middle of the night, started cooking rice and then left the stove unattended after he went back to sleep.
Saguibo said insurance should cover the damage and she expects her parents will probably repair the house they have lived in for 45 years.
The Sagisi couple will be staying next door with their daughter. Red Cross officials provided food and shelter for the Dela Cruz family.
Seelig said the hazardous materials unit also responded because neighbors reported possibly smelling pesticides. However, investigators found no dangerous chemicals.