---
FAST FACTS HAWAII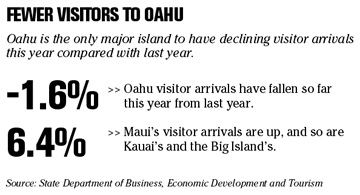 ---
HAWAII
Hawaii's bankruptcies plummeted in first half
Statewide bankruptcy filings, which spiked late last year ahead of a stricter law that went into effect in mid-October, plunged 74.4 percent during the first half of 2006, according to U.S. Bankruptcy Court.
There were only 447 people who sought financial protection during the first six months compared with 1,746 during the same period in 2005. Chapter 7 filings, which involve liquidation, declined 75.6 percent to 381 from 1,563. Chapter 13 filings, which allow individuals to set up plans to pay creditors over time, dropped 65.9 percent to 58 from 170. Chapter 11 filings, used for reorganizations, decreased 41.7 percent to 7 from 12.
In addition, there was one Chapter 15 filing. Chapter 15 bankruptcies, based on a law enacted in 2005, are companion cases to bankruptcy proceedings brought in another country, typically the debtor's home country.
First Hawaiian offers eStatement
First Hawaiian Bank
has begun offering a free electronic checking statement, called eStatement, to go along with its online check images.
The eStatement allows customers to view their checking account statements at any time. An e-mail notice is sent to customers telling them that their new statements are available for viewing. Customers can retrieve their eStatements online for up to 12 months.
The online check images allow customers to view both sides of their canceled checks so they don't have to store checks at home. Copes of the checks can be printed out if needed.
A&B buys Texas office complex
A&B Properties Inc., the real estate arm of
Alexander & Baldwin Inc.
, has acquired a two-building office complex in Texas for $25 million.
Preston Park sits on 12.1 acres in Plano, a suburb 20 miles north of Dallas.
The two-story buildings at 1800 and 1820 Preston Park Blvd. offer about 198,750 square feet of leasable space. Preston Park was developed by Hepner, Smith, Airhart & Day, a Texas-based company, between 1997 and 1999.
NATION
Ralphs reaches plea deal with feds
LOS ANGELES »
Ralphs Grocery Co.
agreed to pay $70 million in restitution and fines as part of a plea agreement involving charges of illegally hiring hundreds of workers under fake names during a 2003 strike and lockout, the company said yesterday.
As part of the deal with federal prosecutors, the chain plead guilty to conspiracy and identity fraud, and violating laws involving employee benefits and record-keeping for the Social Security Administration and Internal Revenue Service, the company said.
Forty-eight other counts in the federal grand jury indictment returned in December will be dropped if the plea deal is approved by the court.
WORLD
Japan seeks back taxes from Sony
TOKYO » Japanese tax authorities ordered
Sony
and three other major companies to pay hundreds of millions of dollars in back taxes yesterday as part of a crackdown on overseas earnings by the central government, which is hunting for more revenue sources and trying to improve corporate transparency.
In addition to Sony, the Tokyo Regional Taxation Bureau slapped the tax orders on automaker Mazda Motor Corp. and trading houses Mitsui & Co. and Mitsubishi Corp.
The assessment orders the companies to pay taxes on certain overseas earnings that the government says are liable for taxes under a 2003 agreement with the U.S. government. The accord aims to prevent parent companies from ducking income taxes in one country by booking profits under a subsidiary in another.
---
BUSINESS PULSE