---
FAST FACTS HAWAII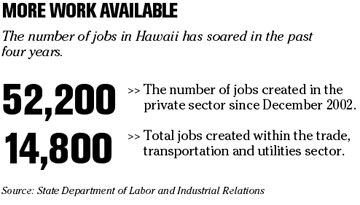 ---
HAWAII
Travel & Leisure readers stick with Hawaiian Air
Hawaiian Airlines
has been named Hawaii's top airline by readers of Travel & Leisure Magazine for the eighth straight year.
Each year, Travel & Leisure readers rate their favorite airlines. When making their selections, the survey respondents considered five categories: cabin comfort, food, in-flight service, customer service and value.
Overall, Hawaiian was ranked as the fifth-best domestic carrier following JetBlue Airways, Midwest Airlines, Southwest Airlines and Alaska Airlines.
"Our employees work exceptionally hard to keep customers happy, so it's extremely satisfying to see that Travel & Leisure's discerning readership gives Hawaiian such high marks each year," said Mark Dunkerly, Hawaiian's president and chief executive officer.
Hoku begins power-plant demos
Hoku Scientific Inc.
, the Kapolei-based maker of components for hydrogen fuel cells, said yesterday that it had begun demonstrations of two fuel-cell "power plants" at Pearl Harbor under a contract with the U.S. Navy.
The one-year demonstrations are the first of 10 such demos that Hoku and its partner, IdaTech LLC, plan to conduct under the Navy contract. Each of the stationary power plants generates 1.5 kilowatts of electricity to light about 15 100-watt light bulbs.
All Island Aviation acquires a plane
A Honolulu-based airline has doubled the size of its fleet providing interisland flights, but the move isn't likely to strike fear in the hearts of carriers like
Hawaiian
,
Aloha
and
Mesa Air Group
.
All Island Aviation said yesterday that it has acquired a second twin-engine Piper Chieftain airplane, doubling its fleet to two planes. Formerly called Eco Air Tours-Hawaii, the airline has been flying aerial tours for a decade out of Honolulu. With the addition of the new craft, the company plans to emphasize on-demand interisland charter and air taxi service.
Matson to boost Pacific service
In a move that executives said could facilitate economic growth in the eastern Federated States of Micronesia and the Marshall Islands,
Matson Navigation Co. Inc.
has announced plans to boost the frequency of its cargo service to the islands. Effective Aug. 4, the company will operate service from Guam to Ebeye, Kwajelein, Majuro, Kosrae, Pohnpei and Chuuk every two weeks. The new service will replace monthly service from Honolulu to the Marshall Islands and 21-day service from Guam to the Federated States of Micronesia.
---
Telecom consolidation may not be over yet
NEW YORK » The joint venture between European telecom companies
Nokia Corp.
and
Siemens AG
may pressure their North American rivals
Motorola Inc.
and
Nortel Networks Corp.
to finally jump into the consolidation game.
Nokia and Siemens said early yesterday that they are merging their network-equipment businesses into a joint venture. The move follows L.M. Ericsson Telephone Co.'s acquisition of Marconi and Lucent Technologies Inc.'s merger with Alcatel SA as companies increase their size and reach to more effectively compete in a market that features a glut of traditional telecom equipment players; new, more aggressive providers coming out of China; and a shrinking customer base.
Motorola and Nortel stand as the last of the major equipment providers that have yet to participate in a large deal. With consolidation all around them, the two will likely have to make some changes to their businesses.
Saks, under pressure, will bring back petites
NEW YORK » Scolded by short women across the country,
Saks Fifth Avenue
said yesterday it would re-establish its petite women's clothing department, which the luxury retailer had quietly dropped several months ago because of poor sales.
The decision, a victory for millions of women shorter than 5 feet 4 inches, came after Saks received many letters from smaller shoppers who complained they could no longer find clothing that fit and felt alienated in a store that had dressed them for decades.
Beginning this fall, the company said, it would once again carry petite sizes from popular labels like Dana Buchman, Eileen Fisher and Lafayette 148, which had been mainstays of the original Saks petite department. It was unclear what impact Saks's return to petite sizes would have on its two rivals, Neiman Marcus and Bloomingdale's, which have both cut back the size of their petite departments in the last year.