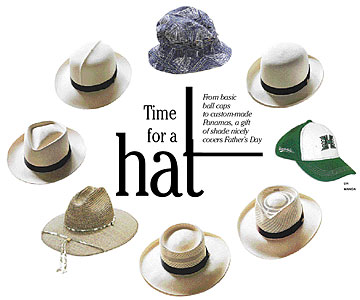 RICHARD WALKER / RWALKER@STARBULLETIN.COM
Clockwise from top: A Reyn Spooner bucket hat available at Reyn's Kahala; a Derby Panama handmade by Brent Black; a green Insanity baseball cap from the University of Hawaii bookstore; Aficionado and Monte Carlo Panamas by Black; a seagrass brim hat or "lifeguard hat" from Reyns; and Black's Italiano and Optimo Panamas. The Panama hats range from $400 to $1,000. The UH baseball cap is $16.99.
CLICK FOR LARGE
Time for a hat
From basic ball caps to custom-made Panamas, a gift of shade nicely covers Father's Day
FATHER'S DAY has got to be one of the most low-key holidays of the year.
Most dads don't want to get dressed up for a nice dinner. They would rather fire up the hibachi in the back yard and play with the kids than strap on an aloha shirt and endure a sit-down meal at a fancy restaurant.
In the spirit of simplicity, forget about the ritzy gifts in 2006. Go for the fashion accessory that some consider man's best friend: a hat.
NO MATTER what the style, hats are a fantastic gift for dads of all ages. They protect the wearer's head in a variety of situations, whether it be weather-related or just a bad hair day. Different styles provide different perspectives at price points that range from just a few bucks to $100 or more.
The easiest type of hat to get your hands on is the good old baseball cap, available in hundreds of styles islandwide. They're affordable, easy to take care of and reflect a wearer's personality.
These days, it's not just major-league teams that adorn the front (and back and sides) of baseball caps. The National Basketball Association, National Football League and National Hockey League all offer hats with team logos on them.
For the sporting dad, stores like Sports Authority and Champs Sports typically offer a wide selection of team hats. Lids, with two locations at Ala Moana Center and another at Ward Centre, is another good pick.
But its the specialty boutique, like Fitted Hawaii, that sells limited-edition caps popular among the fashionably hip. Located at 1438 Kona St., just mauka of Ala Moana Center, Fitted is the place to visit for styles the bigger stores don't have access to.
"They get whatever the mainland gives them," said Fitted's Rene Matthyssen while standing in front of a display case of New Era caps (New Era is the official manufacturer for Major League Baseball). "We customize team caps and do custom cutaways that are exclusive to our store."
Fitted carries approximately 40 styles at any given time, and Matthyssen is happy to work with customers on finding the right cap.
One of the store's biggest sellers this summer is made from linen instead of traditional wool, making them more breathable when worn outdoors. And at $52 they won't break the bank either.
ANOTHER OPTION for hat buyers is Reyn Spooner, more commonly known for its aloha shirts.
Walk into Reyn's at Kahala Mall, Ala Moana or the Sheraton Waikiki, and you won't just find reverse-print shirts and muumuus in different sizes and colors. A lifeguard or bucket hat is the perfect complement to an island-style wardrobe.
"Everyone is checking out the hats, especially now that it's summer," said Brandon Bernardino, manager at Reyn's Kahala. "A lot of people go to the beach, to soccer games, and they need something to protect them from the sun."
Styles like the "Lifeguard" ($22.50) and "Outback" ($25) are well ventilated and include cotton headbands to help absorb sweat, and leather cords to keep the hats from flying away with tradewinds. The "Safari" comes in two styles, one with a complete crown ($30) for protection from the sun, and with a mesh crown ($27.50) to let in cooling breezes.
Reyn's reversible cloth bucket hats ($20) are a great pick for dads on the mainland. They're easy to ship, and the classic aloha print brings a touch of Hawaii to those who can't be here.
CAN'T HELP but give Dad the very best, even if its a hat? Brent Black might have the perfect Father's Day gift, for next year.
Do a Google search for "Panama hat," and Black's Hawaii home-based business is the top-ranked result. The former advertising executive has worked with Ecuadorian weavers for almost two decades to bring high-quality headgear to customers around the world.
"The Montecristi Panama hats are literally legendary," he said. "Napoleon wore a Monte, (as did) all kinds of kings and presidents and so on. And they're beautiful hats!"
Black estimates there are at least 2,000 unfinished hats in his workshop, all made by hand in South America. He completes the manufacturing process by "blocking" them, or shaping the crown to the custom specifications of his customers.
APPROXIMATELY 30 different styles are available via www.brentblack.com, priced from $450 to $5,000. Not shown online are extreme high-end Panama hats, which can fetch as much as $25,000 from discerning customers.
"At the high end, the very finest hats take two months to weave," said Black. "It's just a whole lot of work."
By Black's estimate, there are less than two dozen "master weavers" left in the world, with most of them located in the Montecristi region. He works primarily with Simón Espinal, purchasing his entire yearly production run.
"I'm trying to make the guy famous," Black laughed. "And 40 percent of the retail price goes back to the artisans. I'm trying to set up a (payment) system like an art gallery's."
Celebrities including Patti LaBelle, Sylvester Stallone, Anthony Hopkins, Robert Redford, Pierce Brosnan, Mike Tyson and Keanu Reeves have all purchased Black's Panama hats.
But he's just as happy to get on the phone and help local folks design a custom hat as he is catering to the stars. It's all about fit and comfort, and he's confident that whoever buys his hats will be amazed from the first time they try one on.
"What's great about my hats is that the finished ones with the leather sweatband weigh maybe 2 1/2 ounces," said Black. "They're so soft, they just mold to your head.
"If you buy, say, a cowboy hat, it's going to be stiff. It makes a big, big difference."