---
FAST FACTS HAWAII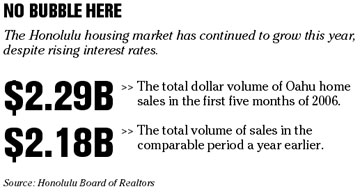 ---
HAWAII
Deal for W Honolulu in Waikiki falls apart
The 51-room W Honolulu Diamond Head will stay in the
Anekona Properties
portfolio, and get a renovation as well.
Brian Anderson, the hotel's owner, said an unsolicited offer from Diamond Head Pacific Capital to buy the hotel fell apart at the end of May, when the deal had been expected to close. The buyer had planned to change the hotel's name to Resort Hawaii Diamond Head.
Instead, Anekona Properties will begin a million-dollar renovation of the property, which includes refurbishment of all rooms.
Starwood Hotels & Resorts Worldwide will continue to manage the property. "The W has always been W, and we appreciate Starwood for sticking with us," said Anderson. "It remains the W and it's business as usual."
Anderson, who also owns Kauai Beach Resort and the Regency on Beachwalk, purchased the W Honolulu in 2004 for an undisclosed price from Colony Capital Inc. of Los Angeles.
A&B buys Sacramento building
A&B Gateway LLC, a subsidiary of
Alexander & Baldwin Inc.
, announced yesterday it has bought a two-story office building in California for $12.4 million.
A&B Gateway purchased the building -- 2890 Gateway Oaks -- from Fox Creek Fund LLC, a California-based investment group.
The building, built in 1999, has about 58,700 square feet of leasable space. It is part of the Crown Corporate Center, a 31-acre business park about three miles north of downtown Sacramento, Calif.
The purchase, which closed yesterday, is A&B's third acquisition in the Sacramento area. A&B's other Sacramento holdings include 2450 Venture Oaks and Prospect Park Center, both acquired in 1998.
NATION
United to cut 1,000 salaried jobs
CHICAGO »
United Airlines
will eliminate at least 1,000 salaried and management jobs by the end of the year as part of its efforts to reduce costs, CEO Glenn Tilton said yesterday. The employees to be laid off from the nation's second-largest airline represent about 11 percent of its 9,400 salaried workers and nearly 2 percent of the company's work force of approximately 57,000. A United spokesman later said the cuts would be systemwide but he did not have specifics on reductions in Denver.
United acknowledged last month that its costs were too high, even after the completion early this year of its three-year bankruptcy restructuring. It set a target of $400 million in additional cost reductions but had not cited the number of salaried and management jobs it plans to cut.
Ethanol producer's shares jump after IPO
SIOUX FALLS, S.D. » Shares of
VeraSun Energy Corp.
, the nation's second-largest ethanol producer, jumped more than 30 percent in their trading debut.
The shares, initially priced at $23, reached as high as $30.75 yesterday morning trading on the New York Stock Exchange before ending the day at $30.
Brookings-based VeraSun raised $419.75 million in the initial public offering as it led the renewable fuels charge onto Wall Street. The company initially expected to sell 17.25 million shares at $18 to $20 per share. It increased those numbers on Friday to 18.25 million shares at $21 to $22 a share before bumping them up again.
VeraSun will use the proceeds from the sale and other cash to build two more corn-based ethanol plants and increase its presence in the Upper Midwest.
Two other ethanol companies -- Aventine Renewable Energy Holdings Inc., of Pekin, Ill., and Hawkeye Holdings Inc., of Iowa Falls, Iowa -- also are planning to go public at a time of historically high prices for crude oil.
Re-elected auto union chief faces challenge
LAS VEGAS » With four of the most challenging years in the United Auto Workers union's history in front of him, Ron Gettelfinger was elected yesterday to a second term as UAW president.
Gettelfinger, 61, faced no opposition and was re-elected by the 1,400 delegates to the union's constitutional convention, which is held every four years.
He faces turbulent times and difficult decisions as U.S. automakers continue to reduce their manufacturing work forces and drive down union membership.
Delegates, many dressed in matching shirts, cheered after the vote amid thousands of red, white, blue and yellow balloons, some with "Elect Ron's Team" printed on them.
Gettelfinger, who joined the union as a chassis line repairman at Ford Motor Co.'s Louisville, Ky., Assembly Plant, will lead the union through what may be contentious 2007 contract talks with the Big Three domestic manufacturers.