---
FAST FACTS HAWAII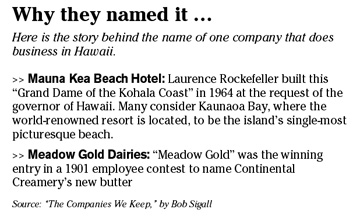 ---
NATION
Be as gracious leaving as when you arrived
Many employees may dream of doing the unthinkable on their last day like leaving a nasty letter for the boss, but the smartest decision is to act as professionally on your last day as on your first.
"Regardless of how you feel about the organization, how you comport yourself on the way out can impact your career future," said Barbara Barra of human capital consulting company Lee Hecht Harrison.
Barra points out that an employee may want to return to the same organization later on or may encounter former colleagues at other firms.
"So you should strive to be remembered for your class and professionalism," she said.
As you plan your next exit, Barra offers a few tips:
» Dress appropriately: Even if you're just packing up personal belongings or giving an exit interview, dress according to the company's dress code.
» Be gracious: Emphasize the positive experiences that you've had at the company and how your new skills will help you throughout your career.
» Stick to a statement: Create a succinct, non-defensive and honest statement about your departure for all future communications. You don't want conflicting explanations circulating about -- they may come back to haunt you.
» Give a thoughtful and constructive exit interview: Don't criticize colleagues or superiors. Instead, suggest programs or opportunities that you would have liked to have had.
» Share vital information: If you are the only one who knows how to perform a specific function, make sure to share this with your colleagues before you leave. That will make their work easier, and they will remember you for it.
Millionaires like their wine cellars
Ever wonder what the insides of McMansions look like? According to one recent survey, you're more likely to find a wine cellar than a tennis court in homes valued over $1 million.
Sixty-five percent of the homeowners surveyed already have a designer kitchen, and 37 percent have, or are considering putting in, a wine cellar.
Almost six out of ten said they have a room dedicated to entertainment, while nearly 90 percent said more than six people can comfortably fit in those rooms. Eighty-four percent have either a media system or high definition televisions measuring 50 inches or more, and more than half the homes feature a wet bar.
Other commonplace luxuries include security systems, professional landscaping, swimming pools and hot tubs. These homeowners, however, are less likely to have heated floors, tennis courts or backyard putting greens.
The survey was commissioned by Coldwell Banker Previews International in March and April of 2006. The survey polled 300 U.S. homeowners whose primary residence is worth more than $1 million.