HAVE YOU SEEN THIS MAN?
This is how the suspect looked Friday at the Kaneohe Central Pacific Bank robbery. Officials suspect the same man was involved in six other bank robberies dating back to October. See more surveillance shots below.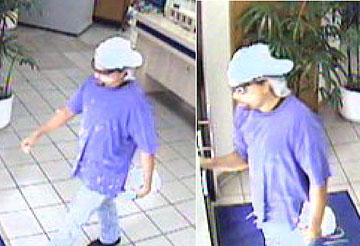 Industrious bank robber keeps Oahu police busy
An Oahu serial bank robber who changes disguises has apparently changed his operation, choosing a Windward target far from six other holdups.
Police said the man who robbed Central Pacific Bank in Kaneohe on Friday appears to be the suspect who has robbed six other banks since Oct. 24.
The bandit usually has disguised himself with wigs and fake beards. On Friday, surveillance cameras show him wearing a baseball cap on backward, sunglasses and clothes with paint on them.
"We don't know if he's trying to dress like a construction worker or if he just happened to have paint on his clothes," said Sgt. Kim Capllonch, CrimeStoppers coordinator. "We did figure that because we've mentioned he frequents Leeward Oahu that he would be forced out of his element, and he has."
The suspect is described as being in his 30s, 5 feet 8 inches tall, weighing about 150 pounds, with a fair complexion. He was last seen wearing a blue T-shirt and blue denim long pants.
He pulled a knife and demanded money in the holdup at 4:10 p.m. Friday at 45-1511 Kamehameha Highway. After receiving an undisclosed amount of cash, he fled the scene on foot and was last seen heading toward Lilipuna Street.
In earlier cases he has been seen driving away in a late-1980s or early-1990s model white sedan with a taillight that runs the length of the rear of the car.
Capllonch said detectives have compiled information from all the robberies and re-interviewed witnesses and are convinced it is a string of jobs by the same person, dating back to Oct. 24.
Capllonch said the disguises are so obvious that the man was positively identified by bank employees on two occasions in Mililani outside the banks during what she calls failed robbery attempts.
"At one bank it was already closed, and he banged on the door and the employees noticed him in his get-up," Capllonch said. "In another he was seen pacing back and forth in front of the bank and looked suspicious, so employees came outside and he left.
"They followed him, though, and that's how we got a description of what he's driving."
Anyone with information is asked to call CrimeStoppers at 955-8300 or by dialing *CRIME on a cellular phone.
SUSPECT CONNECTED TO SEVERAL HEISTS
In addition to Friday's bank robbery of the Kaneohe branch of Central Pacific Bank, police suspect the same man, in disguise, was involved in these other robberies dating back to October:
» May 18, American Savings Bank, 850 Kamehameha Highway, Pearl City. Police said he approached the teller and demanded money while wearing a fake beard and blond wig. During the robbery, the suspect jumped onto the counter and tried to grab the cash drawer. The branch manager threatened to call police, and the suspect fled.
» April 25, Hickam Federal Credit Union, 590 Farrington Highway, Kapolei. The suspect walked into the bank, brandished a knife and demanded money, then fled with it. Witnesses said he was wearing a salt-and-pepper wig, blue hospital scrubs and sunglasses.
» April 14, American Savings Bank, 1249 Meheula Parkway, Mililani. The robber took out a pocketknife, demanded money and fled. He was wearing what appeared to be blue hospital scrubs and a fake beard.
» Dec. 22, Central Pacific Bank, 94-615 Kupuohi St., Royal Kunia in Waipahu. The suspect walked into the bank and demanded money from a teller. He was described as wearing a construction worker's outfit with a dark-colored hard hat, gloves, and an orange and yellow safety vest along with a fake beard and a do-rag on his head.
» Dec. 19, Hickam Federal Credit Union, 590 Farrington Highway, Kapolei. The suspect walked into the bank, demanded money and fled with it. Witnesses said he was wearing camouflage pants, a fake beard, a do-rag and a black baseball cap.
» Oct. 24, American Savings Bank, 99-115 Aiea Heights Drive, Aiea. A robber demanded money and fled with it. Police said the suspect had bleached blond hair and wore a baseball cap and black button-down shirt.