---
FAST FACTS HAWAII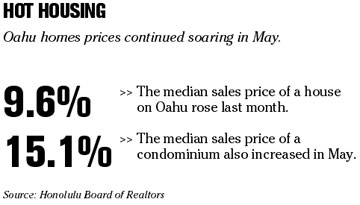 ---
FAA to impose contract on traffic controllers
WASHINGTON » The Federal Aviation Administration said yesterday it would impose its own contract on the nation's air traffic controllers, two months after negotiations on a new contract broke down.
The FAA's proposal would preserve base salaries and premiums for living in high-cost areas, but new controllers would earn 30 percent less than what the existing work force earns.
The agency will transition by operating under former work rules and pay rules, and phase in the successor terms and conditions, FAA Administrator Marion Blakey said in a statement yesterday.
The FAA began contract talks in July 2005 with the National Air Traffic Controllers Association, which says it has 14,500 members in its bargaining unit. After talks broke off April 5, the FAA sent its proposal, along with the union's proposal and objections, to Congress. Lawmakers had 60 days to intercede, after which the FAA could impose its last, best contract offer.
Money does not change concerns
MINNEAPOLIS » If you made more than $300,000 and were worth $6 million, what would you have to worry about? Try terrorism, inflation and your kids' financial future, according to U.S. Trust's Survey of Affluent Americans released yesterday.
The survey defined affluent as the top 1 percent of Americans based on household income and net worth.
Affluent investors' net worth might have a couple of more zeros on the end, but their concerns about money and the economy sound pretty familiar. The top concern, bothering 83 percent of respondents, is that their children will have a tougher financial road than they did, in spite of the large inheritance coming their way. Terrorism was second (77 percent), followed by stock market returns (69 percent) and inflation (67 percent). The findings will be available by the week's end at www.ustrust.com.
SEC targets ex-Delphi executives
WASHINGTON » The Securities and Exchange Commission has sent target letters to at least seven former
Delphi Corp.
senior executives, a sign that its wide-ranging investigation into accounting fraud at the auto supplier is gaining steam.
Two lawyers familiar with the nearly two-year-old investigation told the Detroit News that the formal target letters -- known as "Wells notices" -- had been sent to former officials under scrutiny.
A Wells notice notifies a prospective defendant of the substance of the charges that SEC investigators plan to recommend to the commission. If the commission approves, the target could be subject to fines and other civil penalties.
The targets of the investigation are given an opportunity to submit a written statement in their defense.
Las Vegas may get Maxim hotel
LAS VEGAS » Maxim, the racy men's magazine, plans to lend its name to a more than $1.2 billion hotel casino that would open in 2010 on the Las Vegas Strip, the publisher said yesterday.
"It's going to be upscale, it's going to be four-star, it's going to be sexy and flirtatious, absolutely," said Barry Pincus, New York-based director of brand development for Maxim publisher Dennis Publishing Inc. "But it'll also be fun, it'll be comfortable."
Maxim plans to partner with Los Angeles- and Las Vegas-based real estate developer Concord Wilshire Partners LLC to build the 2,300-room Maxim Hotel & Casino with a 60,000-square foot casino on nine acres just north of the Circus Circus casino hotel. Construction is expected to begin in late 2007.
Criminal case begins in Parmalat scandal
PARMA, Italy » A court opened the most important criminal proceedings in the $18 billion failure of the Parmalat dairy company yesterday, with 64 former executives, financial advisers and bankers facing possible fraud charges in Europe's largest corporate failure.
The key figures in the company's failure -- Parmalat Finanziaria SPA founder and former CEO Calisto Tanzi and his longtime right-hand man and CFO Fausto Tonna -- did not show up for the first day of the preliminary hearing, nor was their presence required.
Tonna's lawyer said his client would seek a plea bargain during the pretrial hearing, citing his "exceptional" cooperation with investigators. Tonna pleaded out in a Milan trial focusing on securities fraud, and received a 2 1/2-year sentence last June.
Sony will unveil $900 digital camera
SAN JOSE, Calif. »
Sony Corp.
, the first to market a digital camera in 1981, is making a late entry into the high-end segment of digital single-lens reflex cameras.
Today, Sony was to unveil its long-awaited digital SLR, the Alpha DSLR-A100. The 10.2-megapixel camera will work with 19 Sony lenses.
The camera will be compatible with most of the lenses from the former Konica-Minolta Maxxum line, which Sony recently acquired. The camera body of the DSLR-A100 will be available in July at a retail price of about $900.
Partners plan Macau casino complex
Las Vegas Sands Corp.
, the U.S. casino company controlled by billionaire Sheldon Adelson, and
Fairmont Raffles Holdings International
have agreed to develop a 1,500-room resort complex on the Cotai Strip in Macau, the only Chinese city where casinos are legal.
The complex will include hotels, casino facilities and a residential area, the companies said. It will be the seventh project in Macau for Las Vegas Sands, which became the first Western operator to own and run a casino in the city when it opened the Sands Macau in 2004.