---
FAST FACTS HAWAII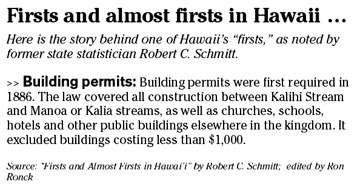 ---
NATION
Computer users urged to back up their data
As more information is stored digitally, our computers have become the lock box for our memories, diary entries and financial records. But nearly half of us don't back up our data, according to a recent survey.
Forty-six percent of respondents never make backup copies of their data to external devices or media, although 55 percent consider that data worth more than $1,000. More than one-third of those who don't back up their data find the process too technical, while 29 percent don't find it important enough to think about.
Those who do back up their data overwhelming prefer to store the information on CDs or DVDs, while nearly one quarter use thumb drives or USB keys.
Jon Van Bronkhurst, Maxtor's senior director of product marketing, warns that computer users should have backup systems both on and offsite to protect data from catastrophic events.
The poll was sponsored by Maxtor Corp. and surveyed 2,604 U.S. adult computer users.
Many teens saving for college
Parents aren't the only ones saving for college tuition. Teenagers are too, using money from their summer jobs this year, according to one recent survey.
Nearly 36 percent of teens surveyed said "saving for college" was their primary reason for getting a summer job, while "extra spending money," the top priority in previous polls, came in second at 28 percent.
Of the 1,474 teens surveyed by JA Worldwide, almost eight out of 10 indicated they planned to work this summer. Three out of 10 expect to earn more than $7.50 per hour.
More than half the teens plan to find employment in retail, restaurants or fast food joints this summer, while nearly 12 percent will babysit and almost 8 percent will lifeguard.
Survey highlights airplane faux pas
When airline passengers find their seat assignments, most pray that their three-hour seat mate won't offend the nose, according to one survey.
An overwhelming majority, 82 percent, dread most sitting next to someone who smells, while another 62 percent prefer not to share a row with someone who argues with everyone.
Three out of 10 people can't stand passengers that dominate the armrest, snore or listen to loud music on their head phones.
While half of respondents said they don't want to sit next to someone who talks too much, almost two-thirds engage in conversation with the person next to them.
But many admit to their own airplane faux pas. More than 30 percent take off their shoes during the flight, while 18 percent bring extra luggage on the plane. Nearly 20 percent drink before a flight, and 7 percent said they drink too much before or while flying.
The Airplane Quality of Life study was conducted by Yahoo! FareChase and surveyed 2,251 adults over 21 years old.