It's a ZOO out there
Botswana's spectacular wildlife and scenery attract tourists as well as government officials to this economically stable country
As our ferry lurches out of the dock and begins chugging down the Chobe River, my husband and I glance behind us and stiffen.
Why are stern-faced men, grasping rifles, trailing us in motorboats?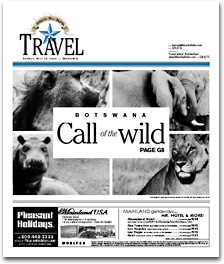 Our guide, seeing our puzzled looks, leans toward us and in a low voice confides, "The prime minister of Kenya is taking the wildlife boat tour with us today."
Indeed, as the motorboats draw closer, the men, clad in military fatigues, start "shooting" but merely with their cameras, hoping to get a photo of the prime minister.
Later, we spot a photo sporting a familiar American face on the wall of the Mowana Safari Lodge where we are staying. This spacious hotel has hosted former U.S. President Bill Clinton, as well as South Africa's former President Nelson Mandela.
Located in Southern Africa, Botswana is approximately the size of France but houses only 1.6 million people. The country has its fair share of challenges including unemployment and, at 37 percent, one of the world's highest adult HIV/AIDS infection rates. One of the taxis we take displays a sticker promoting abstinence. Yet despite these issues, Botswana is economically stable and prosperous compared with her neighboring countries. The reason? Think De Beers and diamonds.
However, more than glittering bling-bling draws visitors to Botswana. Natural scenic marvels abound, from the lush waterways of the Okavango Delta to the thirsty dunes of the Kalahari Desert. Bird watching and animal viewing are nearly unparalleled.
"Botswana is like something out of National Geographic," raved one of our acquaintances before we set off for this wildlife paradise. No wonder numerous government officials make Botswana their destination of choice.
Chobe River
Braking abruptly, our driver stops to let several elephants meander across the road. Is Botswana's population of 70,000 pachyderms a blessing or a curse? Some residents feel that the elephants, with their prodigious appetites, are a nuisance or worse, at times even fatally injuring people when disturbed.
Others believe that human-driven land development is the culprit. If only more natural space were preserved for the pachyderms, they would be able to roam freely in a nondestructive manner as they have for centuries.
Whatever the answer is, the elephants remain fascinating to observe. One uses its trunk to spray water and give itself a bath. A mother nurses its young; young bulls spar in the sand. Huge herds gather by the Chobe River in the waning afternoon to drink.
Birds, including the iridescent sacred ibis and the helmeted guinea fowl, flap overhead. Motionless cormorants perch with wings outstretched, while saddle-billed stork and cattle egret hunt for prey. A pair of African fish eagles cry out to one another, while an odd snake bird sways its elongated neck above the water, resembling a cobra. Rare puku, an elegant species of antelope, graze nearby.
Other, more fearsome animals vie for space on the edges of the Chobe River. Temperamental Cape buffalo glare menacingly at intruders. Lions lazily sun themselves, waiting for night when they do the bulk of their hunting.
Nile crocodiles, approaching 16 feet in length, blend like logs into the grassy background until they bare their insidious teeth. Hippos poke up out of the water, but our boat keeps its distance, as these harmless-looking creatures are actually responsible for more fatalities than lions.
The confluence of the Chobe and Zambezi rivers is also near the intersection of four Southern African nations: Namibia, Zambia, Botswana and Zimbabwe. As our ferry passes an immigration checkpoint, men attired in sport coats and women adorned with multicolored headdresses hoist cargo into waiting boats.
The sun descends all too soon, leaving the sky aglow with a marigold sheen as the river deepens to cobalt. Retiring to Mowana Safari Lodge, one more creature, an owl perched below the ceiling, gazes at us as we head to the buffet.
"Try some; they're good," the beaming server urges, and I look down to see a pile of cooked grubs. Although I have tried delicacies ranging from scorpion to jellyfish, from ostrich to alligator, I decide to pass this time around. The rest of the dinner is delectable, and we look forward to another fulfilling safari day.
Xakanaxa Lagoon
The tiny four-passenger Cessna glides over the Okavango Delta, touching down on a slender airstrip in the Moremi Game Reserve. Moremi is the Okavango Delta's only wildlife sanctuary, sheltering a tremendous breadth of flora and fauna.
Managed by consummate hosts Mike and Annalie, Camp Moremi houses only 22 guests at a time in luxurious tents that resemble open-air hotel rooms. Gourmet food and wine are served in the camp's elevated tree lodge. A game-viewing platform surrounded by shady ebony trees overlooks Xakanaxa Lagoon. Camping here is definitely not roughing it.
Caution prevails, however, as we are still deep in the heart of the African wilderness. Lions roam through the camp at night, so guests are always escorted after dark. During our stay, a feline mauls a baby bushbuck antelope, and we see its forlorn mother wandering around the next day. Nature can be beautiful, but survival of the fittest is a stark reality. Our guides, Lonky and Mok, carry rifles in case of an unfortunate encounter with a dangerous animal.
Thankfully, the lions we espy are lethargic from their nocturnal outings and merely regard our vehicle with half-closed eyes before nodding off. This allows Mok to drive up within 10 feet of the creatures, as close as most of us have ever been to these kings of the jungle.
Heading elsewhere, we come across a herd of elephants, who silently pad their way around us. Giraffes, baboons, hippos and zebras all make their home in Moremi, as do multifarious antelope species: the graceful red lechwe, the white-ringed waterbuck and the fleet-footed tsessebe.
Boating through the sinuous papyrus-lined waterways of the Okavango reveals a wide variety of birds. At 3 feet high, the crimson and black hornbill is dwarfed by the 5-foot-tall marabou stork. Aptly named hamerkops possess a hammer-shaped head, and the call of the blacksmith plover resembles a metallic clang. Pied kingfishers and little bee-eaters dart about, as playful spot-necked otters twist and splash in the lagoon.
The visiting government official theme continues as we peruse Camp Moremi's guest book and discover that the president of Barbados was a recent guest. During our stay we met a German vice ambassador and an American developmental agency worker based in Angola.
There are few places left on earth where the wildlife is so diverse and prolific, where the natural environment can be witnessed in such a pristine state.
Beholding nature at its fullness is powerful. Such an experience takes us out of the industrial and technological era to a time when creation was tied to prosaic life and instilled a sense of awe. If heads of state choose to visit Botswana, there must be a compelling reason. If presented with the opportunity, go. You will be both impressed and changed.