---
FAST FACTS HAWAII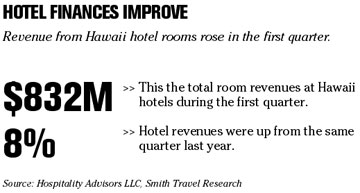 ---
NATION
Honda to drop hybrid, offer another in 2009
DETROIT » The Honda Insight, the first gasoline-electric hybrid vehicle to be sold in the United States and the most fuel-efficient car in America, will be discontinued later this year,
American Honda
said yesterday.
Honda is dropping the Insight, a quirky two-seater that gets an estimated 66 miles a gallon with a manual transmission and can go 670 miles on a tank of gas, because it is preparing to introduce a new hybrid vehicle in 2009. Honda also sells hybrid versions of its small Civic and midsize Accord.
Honda started selling the Insight in 1999, a few months before the Toyota Prius went on sale in the United States. Honda sold 666 Insights last year, while sales of the Prius reached 107,897.
Hybrid vehicle sales more than doubled last year, but still make up just over 1 percent of the market. Automakers sold about 200,000 in the United States last year. By contrast, they sold fewer than 8,000 in the year 2000.
The Insight, which is built low to the ground and has an aluminum body that some have likened to an upside-down bathtub, failed to achieve the popularity of the Prius, a four-door model with a more conventional, though slightly futuristic, appearance.
Court rejects tobacco verdict
PORTLAND, Ore. » A landmark jury award of $100 million in damages against
Philip Morris
was thrown out yesterday by an appeals court, which ordered a new trial to reconsider damages against the tobacco manufacturer.
The narrow 5-4 ruling by the Oregon Court of Appeals upheld the jury's verdict on fraud and negligence against Philip Morris, and left open only the question of how much money the company should pay to the estate of a former smoker.
The jury had awarded $150 million to the family of Michelle Schwarz of Salem, but a judge later reduced that amount to $100 million. Schwarz died of lung cancer in 1999 at age 53.
HealthSouth reaches deal with feds
NEW YORK >>
HealthSouth Corp.
said yesterday it has reached a non-prosecution agreement with the Department of Justice.
The agreement removes the threat of an indictment of the company by the United States government for the accounting fraud committed by former management members, the health services company said in a statement last night.
In a Monday filing with the Securities and Exchange Commission, HealthSouth noted that the Birmingham, Ala., company is required to pay the remaining balance of its $325 million settlement to the United States in quarterly installments ending in the fourth quarter of 2007.
Fifteen former HealthSouth executives have pleaded guilty in the accounting scam. Among them were five finance chiefs who testified that former CEO Richard Scrushy participated in the fraud. Scrushy was acquitted in June 2005 of charges that he directed the massive fraud that nearly drove HealthSouth to bankruptcy.
Home Depot to buy back stock
ATLANTA >>
Home Depot Inc.
, the world's largest home-improvement retailer, plans to buy back as much as $2 billion of its stock, representing about 2.5 percent of outstanding shares.
The purchase would increase the company's share buyback program to $14 billion from $12 billion, Atlanta-based Home Depot said yesterday. At yesterday's closing price, Home Depot would be able to repurchase 52.6 million of its 2.1 billion outstanding shares, Bloomberg data show. The shares have fallen 6.1 percent this year.
Tuesday, the stock fell the most in three years after first-quarter sales missed analyst forecasts.
Airline fee increase of $1.3B rejected
WASHINGTON » A U.S. House panel rejected a $1.3 billion increase in airline security fees for the second straight year.
The House Appropriations Committee approved $32.08 billion, excluding the Bush-proposed fees, for the U.S. Homeland Security Department. The agency screens airline passengers and their bags.
The U.S. agency has been trying to have a larger share of its budget covered by fees so Bush can use more general tax revenue for other programs or to reduce the deficit.
Airlines say they must absorb the cost of fees because there's too little pricing power to pass it on to customers. Major U.S. airlines have lost more than $40 billion since 2000.
Protesters arrested at Halliburton meeting
DUNCAN, Okla. » Sixteen people protesting
Halliburton Co.
's role as a military contractor were arrested yesterday outside a building where shareholders discussed spinning off the subsidiary that provides meals, clean laundry and other services to U.S. troops in Iraq.
Halliburton announced plans last month to sell just under 20 percent of KBR, which has diluted the company's financial results and drawn criticism of its multibillion contracts in Iraq.
Yahoo executives woo stock analysts
SAN FRANCISCO » Hoping to win back recently disillusioned investors,
Yahoo Inc.
assured stock market analysts yesterday that it's poised to make more money off the Internet advertising boom and tighten its grip on the Web's largest audience.
Yahoo's top executives shared details about changes aimed at its weaknesses in the lucrative field of distributing ads next to search results.
But Yahoo's improvements in this area aren't likely to boost the company's profits this year, said Chief Financial Officer Susan Decker.