---
Kapolei library hosts poster exhibit
"Produce for Victory: Posters on the American Home Front, 1941-1945," a Smithsonian Institution traveling exhibition, will be on display at the Kapolei Public Library through June 17.
The exhibit features World War II-era posters that promoted patriotism and industrial output to support the troops. These programs will be held in connection with the exhibit:
Saturday: 1 p.m., author Dee Buckingham will discuss her upcoming book about how the war changed the lives of Hawaii's women
Next Wednesday: 7 p.m., "Hawaii During World War II: The Movies and Music of the 1940's," presented by film historian Steven Fredrick
June 3: 10 a.m., "The Sound of Swing @ your library," lecture/demo featuring Bailey Matsuda and Bobby Nishida
June 13: 6:30 p.m., "An Era of Change: Oral Histories of Civilians in World War II Hawaii," dramatic readings
June 17: 1 p.m., "Life in an Internment Camp" presentation
Call 693-7050.
HIGH SCHOOL HULA COMPETITION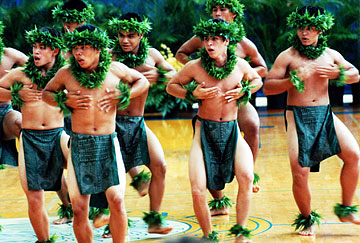 [ MORSELS ]
A bigger burger
In this super-sized world, a burger -- even one called a Whopper -- just isn't big enough.
For that real tummy-bustin' sensation, you need to double up, or so goes the logic at Burger King, which introduces the Texas Double Whopper this week. The sandwich boasts two meat patties, bacon, Amercan cheese and jalapeño peppers.
Free lunchtime samples will be offered at Burger King outlets in Waianae tomorrow, Ewa Beach Friday, Mililani Saturday and Pearl City Sunday.
Culinary classes
Kapiolani Community College offers these classes in May. Both include instruction and hands-on cooking. Call 734-9211.
Basic Knife Skills: Chef Grant Sato teaches how to choose, maintain, sharpen and use a knife like a professional. Class covers basic cutting techniques. 6 to 9 p.m. May 22. Cost is $45.
Flavors of the Middle East Cuisine: Magdy Elzoheiry teaches how to make a complete meal of Egyptian gambari (a shrimp and mint dish), Tunisian potato salad and Moroccon grilled fish brochettes. 8 a.m. to noon May 27. Cost is $50.