Gunman seemed intent on death
A man killed by police ignored orders to put his weapons down, several witnesses say
Friends of a Waianae man who police fatally shot during a standoff Saturday say the 47-year-old was having family problems and had warned them he was going to do something drastic.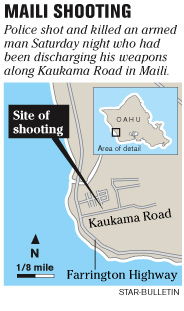 Tracy Peters was shot at least twice at about 8:15 p.m. Saturday on Kaukama Road in Maili after pointing two handguns at police officers. He was pronounced dead at the scene, witnesses and police said.
"That day, he just was telling everybody goodbye," said Stephen Miyose, who rushed to the Kaukama Road standoff on Saturday with his uncle.
Miyose also said that Peters told friends Saturday, "The next time you see me, I'm going to be in a casket."
Another friend, who could see the standoff from her home on Waapuhi Street, said she cannot understand why Peters refused to surrender.
The woman, who asked that her name not be used, also said Peters was provoking the officers, shouting, "Rats, meet me in the middle of the street."
Miyose and police said family members and friends were yelling at Peters from behind police tape lines to give up. Among those who saw him get shot was his son, who is in his 20s, Miyose said.
Miyose and another friend, who also asked not to be named, raised concerns yesterday over why the police did not allow family members nearer to the scene in hopes of talking Peters down.
Miyose said Peters' son had asked to speak to his father but was denied. Peters' son and other family members could not be reached last night.
The standoff started at about 6:45 p.m., after police responded to a report of a man shooting a shotgun into the air. Police said Peters was shooting the shotgun near his black sedan, with the door ajar.
Repeatedly, Peters would get back in his car, coast downhill on Kaukama Road toward Farrington Highway and then get out to fire his gun.
Capt. Frank Fujii said Peters came to a stop about 300 feet from Farrington Highway, put down his shotgun and pulled two handguns from his waistband.
When he pointed the handguns at officers, a 15-year veteran of the police Special Services Division shot him.
Speaking to reporters late Saturday, Fujii said that Peters had already put lives in danger.
"He was shooting at people already," he said, adding that an officer had been grazed by a shotgun pellet. "He had discharged his weapon multiple times."
Fujii also said that police officers told Peters repeatedly to put down his weapon, but the suspect gave no indication he was willing to give in.
Friends say Peters was shot in the head. The officer was put on administrative leave, as is procedure.
Police said Peters had 27 convictions, and had been found guilty of murder in 1977.
Genevieve Avilla, Peters' ex-wife, said Peters had not been on drugs. She spoke to Peters on the phone at 5:20 p.m. Saturday, just an hour before the standoff started.
"He sounded a little agitated," Avilla said late Saturday as she stood at the crime scene. She said when she heard Peters had been shot, she "flipped out."
Avilla's sister, Jewel, also talked to Peters on Saturday and said he looked fine. "He actually seemed happy," she said. "He was smiling."
The shooting comes seven months after a police officer shot a suspect three times -- including twice in the head -- outside Furniture Haven on Queen Street, leaving him in critical condition.
In that incident a man in his 30s lunged at an officer and security guard with a 10-inch knife.
In June 2004, officers shot a 32-year-old fugitive and critically injured a 19-year-old suspect after a standoff at Mayor Wright Homes.
A 44-year-old police officer was also injured in the shootout, sustaining a gunshot wound to his shoulder.