---
FAST FACTS HAWAII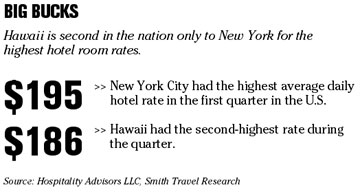 ---
HAWAII
First Hawaiian offers new credit card with rewards
First Hawaiian Bank
, the largest card issuer in Hawaii, is introducing a new Priority Rewards MasterCard that will make it easier for consumers and businesses to earn points redeemable for cash rebates and other local and national rewards.
The new card, which has no annual fee, will allow customers to earn one point for every dollar of purchase. Rewards include cash rebates, gift cards from merchants such as Longs Drug, Foodland, Home Depot and Aloha Petroleum, as well as gift certificates from local restaurants such as Roy's and Zippy's. Customers also can redeem their points for domestic and international travel with no blackout dates.
First Hawaiian will issue both a personal card and a business card with the customer's photo on the reverse side to help prevent fraudulent use.
[HAWAII INC.]
NEW JOBS
The Kahala Hotel & Resort has hired
Sharon Klaschka
as sales director. She was most recently the director of sales at the Fairmont Kea Lani on Maui for the past 14 years. She has over 23 years of Hawaii hotel experience.
PROMOTIONS
»
Nishihama & Kishida CPAs Inc.
has promoted six employees to audit seniors.
John Paul Bautista
,
Alina Cheng
,
Jessica Clarke
,
Shari Lau
,
Ivan Takushi
and
Jenny Yeung
previously served as audit staff.
» Atlantis Adventures has appointed Tadao Tanaka advertising coordinator. He will be responsible for developing promotional materials in support of the company's marketing and sales efforts. He previously served as bilingual guest service agent for the company's Navatek Cruises.
ON THE BOARD
» The Farrington Alumni & Community Foundation has elected the following officers:
David Jeong
, president;
Karen Osaka
, 1st vice president;
Steve Takekawa
, 2nd vice president;
Neal Ikeda
, recording secretary;
Violet Kagawa
, corresponding secretary; and
Grace Lee
, treasurer.
NATION
Universal settles payola case
ALBANY, N.Y. »
Universal Music Group Recordings Inc.
, the world's largest record company, has agreed to pay $12 million to settle a payola case that claimed the company provided vacations, electronics and other bribes to increase radio play for their artists, New York Attorney General Eliot Spitzer said yesterday.
The bribes and gifts were used to gain airplay for songs that included records by Nick Lachey, Ashlee Simpson, Brian McKnight, Big Tymers, and Lindsay Lohan, Spitzer said.
The California-based company agreed to pay the cash to charity along with $100,000 to cover the cost of the investigation and to adopt reforms, Spitzer said. The company didn't admit guilt, but acknowledged "various employees and independent promoters acting on behalf of the company" engaged in the illegal practice, Spitzer said.
Mortgages slip from 4-year high
WASHINGTON » Rates on 30-year mortgages edged down this week, the first decline after six straight increases, according to a nationwide survey.
Mortgage giant Freddie Mac reported yesterday that rates on 30-year fixed-rate mortgages averaged 6.58 percent, down from 6.59 percent last week, which had been the highest level in nearly four years.
It marked the first drop in 30-year rates after six consecutive weekly increases. Analysts attributed the decline to last week's unemployment report, which showed payrolls grew by just 138,000 in April.
Huey Lewis wins access ruling
HELENA, Mont. » Montana's law allowing public access to rivers and streams does not apply to a Bitterroot Valley slough that runs through the property of 1980s rocker Huey Lewis, because the waterway is not a natural stream, a state judge has ruled.
Lewis and other landowners had argued that Mitchell Slough was a private ditch transformed from a muddy waterway to a trout stream at their expense. They had fought to keep fishermen away, contending the slough was not subject to Montana's stream-access law.
District Judge Ted Mizner sided with them on Wednesday in deciding a lawsuit filed by the Bitterroot River Protective Association, which demanded public access to the slough that flows through private farmland south of Stevensville. The Montana Department of Fish, Wildlife and Parks joined the suit, claiming the slough is a channel of the Bitterroot River.
People more aware of need to save
NEW YORK » A growing number of Americans say they're not putting away as much as they should for retirement, a shift in attitude that experts believe could lead to improved saving practices in the future.
A survey released yesterday by Fidelity Investments, the Boston-based retirement services provider, found that 83 percent of workers recognized that they were saving too little for retirement, up from 78 percent a year ago.
Chevron takes stake in biodiesel company
HOUSTON » Big Oil gave a boost to the emerging biodiesel industry yesterday.
Chevron Corp.
said it has taken a 22 percent stake in Texas-based
Galveston Bay Biodiesel
, which is building a large-scale plant on the north side of Galveston Island, across from Pelican Island.
Biodiesel is a clean-burning fuel derived from fats such as vegetable oil.
The $15 million production and distribution facility is scheduled for completion by year-end and would have an annual capacity of 100 million gallons of biodiesel.
In other news ...
Best Buy Co.
, the largest U.S. electronics retailer, agreed to invest $180 million for majority control of China's Five Star Appliance to gain a foothold in the world's most populous nation.
The purchase of China's fourth-biggest consumer electronics retailer would give Best Buy 136 stores in eight provinces.