'SEW A LEI FOR MEMORIAL DAY'
POSTER CONTEST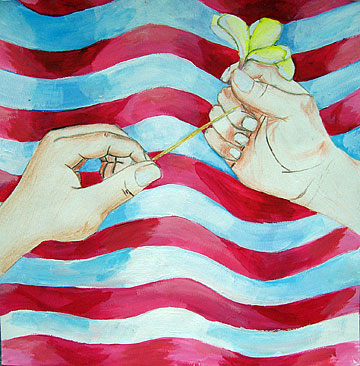 FIRST PLACE, NINTH TO 12TH GRADE:
Jason Lee, 11th grade, Kalani High School
Drawing on inspiration
Nine students are honored for their tributes to veterans
KALANI HIGH SCHOOL junior Jason Lee says his 84-year-old grandfather was part of the inspiration for a winning poster in the city Memorial Day poster contest.
"Memorial Day is a special day for me. My grandpa was a war (World War II) veteran," Lee said. "He's a really giving person. ... Sewing a lei kind of means like giving your respect to someone."
Lee's poster showing hands sewing a plumeria lei on a background of red and white stripes took first place in the high school division of the "Sew a Lei for Memorial Day" poster contest.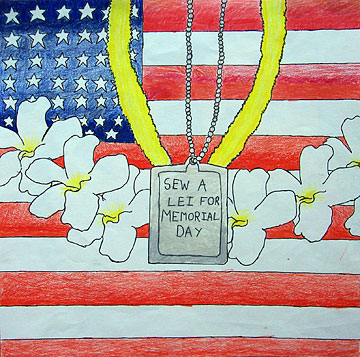 FIRST PLACE, FIFTH-EIGHTH GRADE:
Ivann Velasco, eighth grade, Kalakaua Middle School
He and eight other students were honored during an awards ceremony at City Hall, where the winning posters will be displayed on the third floor through May 30.
The first-place winner for the lower elementary division is Jeraldine Barretto, a fourth-grader at Kalihi Waena Elementary. The top winner in the middle-school division is Ivann Velasco, a Kalakaua Middle School eighth-grader.
The contest drew about 1,134 entries from public and private schools across the state.
Mayor Mufi Hannemann said the contest was open to more students this year, which made the competition even tougher.
"It should make you feel that you are the best of the best," Hannemann told the budding artists.
The first- through third-place winners received two interisland airline tickets, and the first-place winners also won hotel stays.
The first-place winners from each of the three divisions will have their artwork on posters urging the public to donate leis to decorate graves at the National Cemetery of the Pacific for Memorial Day service at 8:30 a.m. May 29.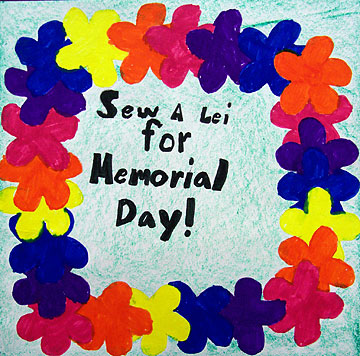 FIRST PLACE, KINDERGARTEN-FOURTH GRADE:
Jeraldine Barretto, fourth grade, Kalihi Waena Elementary School
"We are hoping to get 50,000 lei with your posters," Parks Deputy Director Dana Takahara-Dias told the students.
The city Parks and Recreation Department coordinates Memorial Day events.
The city is still calling for 50,000 fresh leis for the veterans' graves at the national and state veterans' cemeteries for Memorial Day.
Flower and ti leaf leis measuring 20 to 24 inches in length before tying are needed on May 26.
They can be delivered to designated community parks and fire stations, the parks permits office at the Honolulu Municipal Building and at Kapolei Hale Room 309. Floral sprays are also welcome.
Loose plumeria flowers also can be dropped off at these locations on May 25.
For more information on donating leis and where to drop them off, call 692-5106.
POSTER CONTEST DIVISIONAL WINNERS
The top three winners in each division of the city's "Sew a Lei for Memorial Day" Poster Contest:
KINDERGARTEN-FOURTH GRADE DIVISION
First place: Jeraldine Barretto, fourth grade, Kalihi Waena Elementary School
Second place: Ronelle Valera, first grade, Paauilo Elementary and Intermediate School
Third place:Kaylee Tamura, fourth grade, Wilcox Elementary School
FIFTH-EIGHTH GRADE DIVISION
First place: Ivann Velasco, eighth grade, Kalakaua Middle School
First place: Tomomi Woo, seventh grade, Stevenson Middle School
Third place: Kristina Chao, eighth grade, Stevenson Middle School
NINTH-12TH GRADE DIVISION
First place: Jason Lee, 11th grade, Kalani High School
First place:Tara Tamayori, 11th grade, Kalani High School
Third place: Lily Shao, 12th grade, Roosevelt High School