---
FAST FACTS HAWAII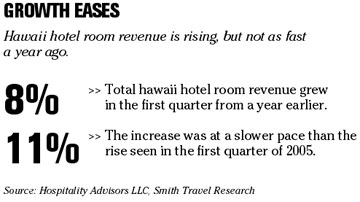 ---
NATION
Whirlpool will cut 4,500 jobs
Whirlpool Corp.
, the world's largest appliance maker, will eliminate 4,500 jobs and close three factories in the first cuts since the $1.68 billion takeover of
Maytag Corp.
As part of the restructuring, Whirlpool will abandon all of Maytag's headquarters, factory and research facilities in Newton, Iowa, which has been home to the appliance company for almost 100 years. Maytag plants will also be closed in Searcy, Ark., and Herrin, Ill., Whirlpool said yesterday.
The job cuts represent almost 6 percent of the combined companies' 80,000 employees.
H&R Block lowers projections
NEW YORK >>
H&R Block Inc.
, the nation's top tax preparer, lowered its 2006 profit projections yesterday for the second time this year due to continued weakness in its mortgage operations.
The Kansas City, Mo.-based company -- saddled with class-action lawsuits, financial restatements and a high-profile investigation by New York Attorney General Eliot Spitzer -- said it now expects full-year earnings to fall below $1.65 per share, the low end of its previous forecast.
Internet agency rejects '.xxx' domain
NEW YORK » Faced with opposition from conservative groups and some pornography Web sites, the Internet's key oversight agency voted yesterday to reject a proposal to create a red-light district on the Internet.
The decision from the Internet Corporation for Assigned Names and Numbers reverses its preliminary approval last June to create a ".xxx" domain name for voluntary use by the adult entertainment industry.
Paul Twomey, ICANN'S chief executive, said the decision largely came down to whether by creating an "xxx" domain ICANN might be put in a position of having to enforce all of the world's laws governing pornography.
He said board members were aware of the controversy but "the heart of the decision today was not driven by a political consideration."
Bankruptcy makes Northwest post loss
Northwest Airlines Corp.
posted a $1.1 billion first-quarter loss, largely on costs associated with its bankruptcy reorganization.
The loss of $12.65 a share widened from a loss of $537 million, or $6.19, in the year-earlier period, the airline said yesterday.
The results included $975 million of restructuring costs. Sales rose 3.3 percent to $2.89 billion. Northwest filed for bankruptcy protection last September and has reduced pay and benefits.