---
FAST FACTS HAWAII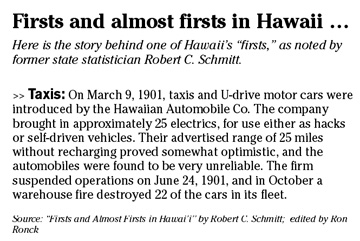 ---
NATION
Time to change your e-mail handle?
Let's recall fondly for a moment the frivolities of youth, those crazy college times for many when life was essentially one long party with periodic bursts of scholarship.
Now consider your electronic monikers from that era. Were you partyhardgirl or BigPimp in your e-mail or instant message handle? If so, that could be a problem now.
The folks at mail.com, a Seattle-based e-mail company, offer some useful tips to ask if you're about to graduate or still use e-mail associated with your college days.
» Does my current e-mail address send employers the wrong message?
» Will my .edu college e-mail address stay live after I graduate?
» Does my e-mail address have any off-color language?
"I'd never refer anyone for a job with the e-mail Beerman@hotmail.com," said Marie Raperto, president of Cantor Executive Search Solutions. "That kind of e-mail address may have been funny at the fraternity, but it'll send a resumé right into the trash can."
Retailers expect $25-$75 for mom
She endured labor for you, so how might you repay Mom? Some small businesses think you'll spend at least $25 on her this Mother's Day, according to a survey.
More than half of the small businesses surveyed expect customers to spend between $25 and $75 on Mother's Day gifts, with another 30 percent predicting that consumers will shell out more than $75 for Mom.
Most businesses expect flowers to be the most popular gift choice this May 14, followed by spa or salon services and then jewelry. Mixed-flower bouquets have been the favored flower choice in recent years, making up 80 percent of all florist purchases.
The 2006 Mother's Day Outlook survey was conducted last month by Constant Contact. Nearly 500 small businesses, representing hospitality, consumer services and retail industries, responded to the survey.
What to consider for your first job
If you're mulling various offers on a first job, or a summer position, it's wise to consider more than the title and compensation, advises Max Messmer, chairman of
Accountemps
and author of "Managing Your Career For Dummies."
Some issues to weigh:
» Will I have a mentor? Will your direct supervisor be supportive of your professional growth? Will this person be your career coach?
» Can I advance? Is there a clear career path for you in the company? Is there a history of promoting from within?
» Are there learning opportunities?
» Is the culture a fit? Is the atmosphere a good match for your personality?
"Education doesn't end with graduation," Messmer said. "The first position out of college should provide learning opportunities that will serve as building blocks for future career success."