WEEKEND APRIL 5/6/7
Making of a Legend
Multiple Grammys prove him worthy of his last name
IT TAKES QUITE a bit of self-confidence to change your last name to Legend.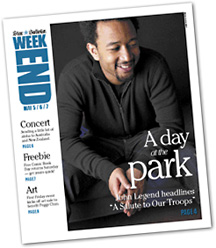 When John Stephens did it in 2004, the switch proved an accurate premise to the neo soul singer's career. After winning three Grammy Awards in February for Best New Artist, Best Male R&B Vocal Performance and Best R&B Album, he'll follow in the footsteps of fellow G.O.O.D. Records recording artist Kanye West with a concert in Honolulu this weekend.
BORN IN OHIO, Legend grew up in a religious household that introduced him to gospel music at a young age. He learned to play the piano at age 5, and became highly involved with his church choir after the family moved to Pennsylvania.
Legend stayed close to home after graduating from high school. He continued to serve as musical director at his church, and enrolled in classes at the University of Pennsylvania.
John Legend
"A Salute to Our Troops"

Place: Kapiolani Park Bandstand

Time: Noon Saturday

Admission: Free

Call: 836-3351
In 1998, while still a college student, he got his first big break playing keyboards on the Lauryn Hill track "Everything is Everything."
It was also during his time at Penn that Legend met a cousin of Kanye West, who introduced the two.
Legend and West began working together, and after independently releasing three solo albums in 2000, 2001 and 2003, Legend started collaborating with some of hip-hop's biggest stars.
Over the last few years, he's provided vocals and instrumental work for the likes of Jay-Z, Alicia Keys, Janet Jackson and the Black Eyed Peas. He also worked closely with West on tracks for 2004's "The College Dropout" and was featured on singles by Dilated Peoples, Slum Village and Common.
But it wasn't until his major-label solo debut, "Get Lifted," hit record stores that mainstream listeners became aware of him.
AFTER DROPPING his first single, "Used to Love U," at the end of 2004, Legend took a risk, following up with "Ordinary People" a few months later.
The song, featuring just his voice over a simple piano track, reached No. 24 on the Billboard Hot 100.
Besides the Grammy wins, Legend has further entrenched himself in the mainstream with a performance at Super Bowl XL and appearances on the Oprah Winfrey and Martha Stewart shows. The past few months have found him in the studio, where he is finishing up work on his sophomore release due later this year.
A Salute to Our Troops
In honor of all Hawaii-based military, USO Hawaii presents "A Salute to Our Troops." Festivities for the whole family will be held Saturday in Waikiki beginning with a parade from Fort DeRussy, along Kalakaua and Monsarrat avenues, to Kapiolani Park. There also will be food booths, exhibits and activities for the keiki. Below is the schedule of events.
» 9:30 to 11:30 a.m.: Parade
» 11:45 a.m.: Emcees Kimo Kahaono and Carole Kai begin the program
» 12:05 p.m.: Concert with the Old Guard Fife and Drum Corps, the Royal Hawaiian Band, Hana Hou and contestants from Hawaii Stars.
» 1:45 p.m.: The main acts take the stage with The Makaha Sons, Kapena and Seminole County.
» 3:30 p.m.: Headliner John Legend
Note: Flyovers by Blackhawk, F-15 and C-17 aircraft are tentatively scheduled in the morning.