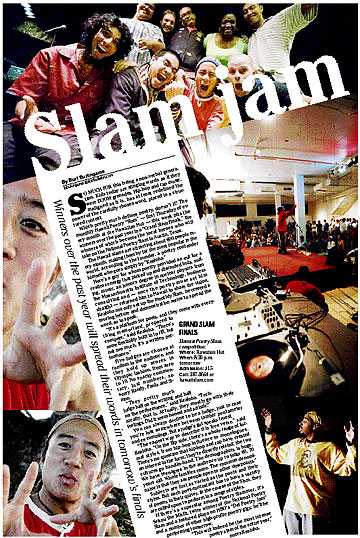 STAR-BULLETIN. / 2004 & JFORRESTPHOTO.COM


Slam participants include, top photo: Cee, front left, Melvin Borja, Kealoha, Josh Echemendia; back row, Paula Fuga, left, Jess Kroll, TravisT, Malena Brooks, Jay Kaneaiakala. A DJ adds to the mix, right center. Poetry slammer Sekou struts his stuff, below right. Kealoha, the man who started it all, below left.
Winners over the past year will spread their words in tomorrow's finals
SO MUCH FOR this being a non-verbal generation. Kids today are slinging words as if they were DOOM grenades. Hip-hop and rap music, maligned as it is, has at least redefined the power of the carefully chosen word, placed in a structured context.
GRAND SLAM FINALS
Hawaii Poetry Slam competition:
Where:Hawaiian Hut
When:8:30 p.m. tomorrow
Admission:$15
Call:387-9664 or hawaiislam.com
Which pretty much defines poetry, doesn't it? The monthly Hawaii Poetry "Slam" -- first Thursday of every month at the Hawaiian Hut -- this week pits the winners over the past year in a "Grand Slam Finals," the winners of which become the local heroes who will take on the National Poetry Slam in Austin, Texas.
The Hawaii slams are attracting about 600 people every month, making them by far the most popular in the world, according to the founder, a poetry contender himself who goes simply by "Kealoha."
Here's a guy for whom poetry provided an out for a restless energy that picked up and discarded hula, surfing, music, an honors degree in nuclear physics from the Massachusetts Institute of Technology, business consulting and -- once the poetry muse set him straight -- returned him to Hawaii to share the vision. Kealoha not only set up the monthly Slam, he created a touring lecture and demonstration series to spread the word, so to speak.
"It's a platform for poets, and they come with everything memorized, prepared to compete," said Kealoha. "There's some flexibility built in to riff, but not too much. It's a written performance."
Five judges are chosen at random in the audience, and they hold up scores in Olympic fashion, from zero to 10. No snarky commentary, just numbers, so sorry Randy, Paula and Simon.
"They pretty much judge half on the writing, and half on the performance," said Kealoha. "Technically, that is. Actually, they mostly go with their feelings. Did it seem honest and artistic?"
You can always decline to be a judge, just in case you're lost somewhere between iambic pentameter and ee cummings. But a judge's gut speaks truest.
"The easiest way to describe it is free verse," said Kealoha. "On the flip side, there's a whole range of formal styles, from hip-hop influence to monologues. There's no question that hip-hop and rap have created an interest in the form; they're directly related; the two cultures go hand-in-hand. The demographics is huge. We have teenagers in the audience up to folks 60, 70 years old. Whole families come. The common denominator is that they are people open to other viewpoints."
Subjects are just as varied as the poets and their styles. But each poet-contestant has to have a variety of poems in their quiver. In the course of the Slam, they are called upon to perform in a range of styles.
If there's a superstar among Poetry Slammer, it's Sekou the Misfit, twice winner of the National Poetry Slam and a featured playa on HBO's "Def Poetry Jam" and a number of other high-profile poetry gigs; he'll be performing tomorrow.
"This will indeed be the most intense poetry slam of the entire year," notes Kealoha.