Beating the tourist rush
Guizhou:

Tourists are sight to see in China where few tread

GUIYANG CITY, China » "You're the biggest group of foreigners ever to come to see the minority villages of Guizhou province," said tour guide Zhen Guixian, 31, in fluent English.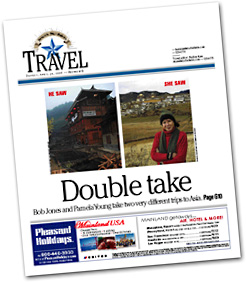 That said, 27 haole, Japanese, Chinese and Hawaiian faces would soon be the talk of remote Miao, Buyi, Dong and Shui villages in the high southwestern China mountains and along tributaries of the Pearl, Yellow and Yangtze rivers.
I call this eye-popping experience a you-must-do-it-
in-your-lifetime trip, like crossing the Sahara, walking a glacier or standing near an erupting Big Island puu.
I don't think anybody who covered the 1,560 miles of twisting roads with me, or walked through the stone and wood villages with their elaborately costumed residents, will forget those nine days.
We'll certainly not forget the odd smells, the animals sharing houses with people and those dank, one-hole toilets that are tough squatting for we of old knees.
Guizhou is tucked where China's southwestern mountains begin to mesh with Vietnam and Laos. Western tourists rarely visit. It's not as well known as neighboring Yunnan and Sichuan. Until recently, many roads that lead to the minority areas were not paved and were more treacherous than they are today, with obstacles of water buffalo, motorcycles, kids, old women walking dead center and piles of dirt and stones for no-advance-warning roadwork.
English is generally unknown, even in the newer rural hotels. Speaking Cantonese or Mandarin is only marginally helpful because the villagers mostly speak a clan language that doesn't exist in written form. Distances between minority groupings and an overnight facility can be great.
A sit-down toilet is a rarity that Westerners learn to cherish. Local buses are crowded and careen around the curves at dangerous speeds. Trains don't go uphill, where only hardy villagers and their water buffalo tread.
But you must go, and soon. I'll explain at the end.
Guiyang City:
There are 1.7 million people in this capital, at an elevation of about 3,500 feet (mountain roads easily crest at 6,000 feet). This subtropical setting feels like Florida in the spring, summer and fall. Tangerines and bananas abound.
Ten years ago Guiyang City was mostly a collection of shabby houses and aging communist-era buildings. Now glass and concrete high-rises crowd in on the city's jewel, the 16th-century Jiaxiu Pavilion, built as a meeting place for young scholars and artists. The downtown is peppered with banks.
The only reason to visit is the airport. An entrance plaque reads "civilized" airport instead of "domestic." English translations tend to suffer a lot here.
You can overnight at some alleged four-star hotels. We used the three-star (their rating) Jiuyuan Hotel, about $40, with no bar, dirty carpets, minimal English but very clean rooms and Western toilets. There's also a "fun room" with for-hire girls, although cards in the rooms warn that calling on them can be dangerous.
The hotel's brochure promises to "serve you as party, married dining and so on." A card warns ADSL network users to "not spread the Web sites content salaciousness, violence etc which can blemish the peace."
You cannot get CNN. The government doesn't allow satellite dishes in the cities, so citizens can watch only approved Chinese programs. There are exceptions for major hotels in Beijing and Shanghai that host mainly foreigners. Dishes are also allowed in rural areas with no broadcast reception, where the population is likely to bypass programs from Hong Kong, London, Paris and New York in favor of Chinese costume dramas.
In Guiyang you can hire the bus, driver and guide services of Tian Ma International Travel (jianghuihua@yahoo.com or www.FolkChina4u.com) to get out of town and start seeing Guizhou's amazing sights. Bring plenty of film or digital memory and batteries.
Caigan old Han village:
About 650 years ago, Ming Emperor Zu Yuanzhang conquered the people of Guizhou and sent 5,000 of his Han troops to an area west of today's Guiyang City. They were the ancestors of today's Tun Pu (or Tunbao or Old Han) people, and Caigan is a stone village whose people have preserved the old language and dixi (field operas), offering performances through the year. If you show up with a few people and offer a small payment, they'll haul out some wooden seats, don their elaborately carved wooden masks and embroidered robes, and entertain you with "Generals of the Yang Family" or "Romance of the Three Kingdoms." It's important to know that black is the color of righteousness. White is evil. Red is bravery.
The opera chief said not many young people are interested in carrying on the performance tradition, so get photos while you can. Beyond photographing the people, there's a long wall and 14 stone watchtowers nearby.
What's lacking is a suitable hotel. You must stay either in Guiyang or the county seat, Anshun.
Dragon Palace Caves:
Seventeen miles from Anshun are the Dragon Palace Caves, an amazing palace of limestone caverns covering 10 miles through 20 mountains eaten by water erosion. A woman paddler steers you on eight-person boats on a small lake through zigzagging caves that have been painstakingly lit with hidden colored lights, so you feel like you're on the boat ride in "Charlie and the Chocolate Factory." But this is just a fillip, a warm-up, if you will, to get you in the mood for the village experiences coming to the southwest.
Xingyi:
The second-largest ethnic group in Guizhou (Miao are No. 1) are the Buyi people, who migrated to the Xingyi area around 200 B.C. Their houses haven't changed much over the years. The walls, door frames and windows are formed from single limestone slabs, and the roofs are flat tiles to catch water and provide natural air conditioning through evaporation.
Buyi discovered how to make gorgeous batik by applying hot beeswax to the patterns, dying the cloth indigo and removing the wax in hot water. The women dress in batik jackets and skirts, and use the fabric for baby carriers, too. Even their bedsheets are batik. The women also wear large white turbans.
We used the three-star Air Express Hotel ($30) as our base after a long bus ride through stunning karst scenery and over mountains filled with tiny villages.
You can wander through Pingzhai and get nothing but smiles of welcome. The hotel is near the Pingzhai Buyi Village, with a lower school on one side of the road and the full village and upper school on the other. The lower-school principal let us photograph classes and gave us a briefing. Retired Honolulu schoolteacher Jean Nishimura decided she'd gather supplies at home to send. If any school wants to join the project, the address to send supplies is Ping Zhai Elementary School, Zhe Rong Township, Xiyi city, Guizhou Province, PRC.
Between Xingyi and the Huangguoshu waterfall are several good stops. One is the laid-back town of Balin, where you can pick a basic lunch stall for typical chili pepper-filled lunch. And there is Zuoqi, a Black Miao village, home to traditional weavers. The women wear black skirts and turbans.
You can pop into any village in the southwest mountains. Honolulu Zoo Director Ken Redman admitted some unease in tromping through villages and houses. "How would we react if some Buyi or Miao came to Honolulu and walked through our yards?" he asked.
Good point.
But at every stop, costumed villagers eagerly invited us to look through their houses. We gave them bread, cookies and toothbrushes, soaps and shampoos from our hotel rooms.
You run some risk buying batik in villages. The quality varies from very good to very bad, and the colors are not intended to last. So we opted for the Fuyuan Wax Printing Museum near Sandu, where Gold Prize artist Hong Fuyuan works, displays and sells. The quality is outstanding. You pay about $15 for pareo-size indigo cloth with intricate designs. There are tiny cloth pieces and enormous wall hangings as well, in both indigo and pastels.
If you go ...
Food and drink
China has 55 minorities, plus the dominant Han, which guides like to refer to as the 56th minority because they are outnumbered in some districts while they generally control all real governance and policies throughout China.
The food is fantastic, plentiful (at least for visitors) and too spicy for my taste. Hardly anything is prepared without chopped chili peppers, and then a bunch of whole peppers is thrown in for good measure.
There are tangerines everywhere and plenty of watermelon. Expect lots of vegetables: cabbage, corn, bok choy, snow peas and eggplant. Pork is the main meat. You'll sometimes see a bit of beef. Chicken's expensive so you get very little of it, and it has nothing to do with the bird-flu fear.
And yes, there's dog. You see it in the market, skinned and roasted. Dog is part of the food culture here, raised for eating. They don't eat their pets.
You don't have to worry too much about eating it unexpectedly. Guides usually caution restaurants not to serve dog to their Western clients.
Breakfasts are all Chinese, with rice, cabbage, rice soup, dumplings, noodles and stir-fried veggies. Bring your own coffee. It's not served outside four-star restaurants in the city. The same goes for orange juice.
With two exceptions, our group ate in guide-approved local restaurants. We ate twice at small mom-and-pop food operations where our guide supervised the cooking to make sure all meat and vegetables were cooked at high heat. But I watched the flies swarming on the pork being chopped for us and our bowls and chopsticks being cleaned in water that had seen better days -- it's best to avoid witnessing any of the kitchen activity. But cases of sickness were rare, and I suspected those few were virus-borne or caused by stress and fatigue, not by food bacteria.
The whole, deep-fried river fish that was served with sweet-and-sour sauce made us ooh and aah. We had creative tofu dishes. About 10 dishes of meat and vegetables at each lunch and dinner, with bottled water, Coke or Pepsi and Sprite.
I don't remember seeing any cats or eating any. Frankly, I didn't have a clue what type of meat I was eating most of the time. We just ate and didn't ask.
Every town has a beer, mostly of the watery variety but generally cold. And there's rice wine. Of grape wine, we mainly saw Wonderful Scent Ruby, Yunnan Red and Tibetan Dry. I find it hard to believe that Tibet is growing grapes.
Hotels
Guiyang City has a couple of four-star hotels. Those outside the city are not even close to Western budget standards, mainly serving Chinese businessmen who don't expect much.
One of the worst hotels is the government-run four-star Huangguoshu at the popular waterfall. It's obvious that there has been no upkeep since it was built. The Huangguoshu has a pool, tennis courts and the loudest, smokiest karaoke room I've ever encountered.
The best local hotel in most towns would rate two stars, tops. These hotels usually (but not always) have Western toilets and TV with a remote that might not work. There might be an air conditioner. Carpets seem to be universally filthy. But all the bathrooms are clean, even if the shower leaks onto the floor and the toilet won't flush.
Rongjiang:
This is the central staging point southeast of Guiyang for exploration of Shui, Basha Miao, Dong and some Black Miao villages. The local best is the Rongjiang Hotel, with adequate rooms on a Motel 6 level. Bathrooms are clean with limitless hot water, but you might get leaky showers or broken light fixtures. Go with the flow. Complaining doesn't get you much more than a polite nod. English isn't spoken here, either.
Rongjiang is a happening storefront town where the downtown is safe to walk at night, and you'll see people in all manner of clan dress on the streets. Wares tend to be utilitarian rather than touristy.
People traveling between Rongjiang and the end-of-the-road Dong Great Stone Village at Zhaoxing like to stop at Tingdong for the morning market. Most villages on the planet host Sunday markets, but in Guizhou they are held every six days, so they're spread between weekdays and weekends. You never know if Tingdong's is on until you get there. If you miss market day heading south, you can probably hit it on a return trip in a day or two.
Scenery is striking in the southeast -- deep river valleys and magnificent terraced rice and rape (source of canola oil) fields. Where the southwest features the drama of stone monuments, the southeast has the soothing lushness of Bali or Sri Lanka.
At the Basha Miao village, you'll see the best examples of intricate hairstyles for women and unisex clothing. They soak their indigo wear in blood and egg white, then beat them with boards. The longer they're beaten, the shinier the cloth becomes. It feels like stiff tarp.
Along the roads south of Rongjiang, you'll spot multitiered wooden drum towers. In the old days they held the huge drums used to summon the populace to meetings or to battle. Now they are status symbols -- the bigger and more ornate, the better.
Zhaoxing: You'll never see anything like this, the largest Dong community in China, with five enormous drum towers and a world-famous roofed bridge. Life here is primitive, with cobbled streets, long wooden benches for resting and construction of wood. One accidental fire would turn this place to ashes, as happened in another village recently. You should spend two days here. Don't expect to see a fire extinguisher in your room!
The only worthwhile accommodation is Lulu's Wooden House Inn, with an eating place on the ground floor and three floors of basic rooms (a bed, a light) and community toilets of the one-hole variety. Community shower, too. I think Lulu's got its name because Zhaoxing was founded by a family named Lu and most people there are named Lu.
It's a matriarchal society, and the paternal grandmother is the most respected person in the family. That goes back to a woman named Xing Ni who led an army that defeated invaders and died on the battlefield. The Dong regularly drink and sing to her memory.
On the third day of their New Year, in October, they pick a young man, dress him as a fancy government official, give him money and parade him through the narrow streets where people dressed as beggars stop the procession and "rob" him. It's all great fun, and the "beggars" spread the money around.
Dong are known throughout China for their beautiful singing voices, and they sang for our group in the village square long into the night.
Then we went to Lulu's to drink rice wine and talk loudly until after midnight. Nobody gets much sleep in Lulu's.
Kaili: About two road hours east of Guiyang City, Kaili is about as deep an immersion in minority culture as most tourists get. There's a toll road the whole way, so they don't have to endure the mountain roads. There are nice hotels and Western toilets. There are stores selling handicrafts. There's even a commercial Long-Skirt Miao village where people will dance for money. If you're coming back from Dong territory in the south, it's a gorgeous winding road trip over the Leigong mountain to get there from Zhaoxing via Rongjiang and Congjiang. And you can shop. Go home with a complete Miao costume for your next Academy Awards party.
The Miao women do gorgeous embroidery, but the time-consuming art form is disappearing.
The Shihui restaurant serves excellent hot-pot fish, a local specialty. We used the three-star Guotai Hotel. There's DSL Internet service in the room, but you can't leave a wake-up call because nobody speaks English. Don't expect too much and you won't be disappointed.
WHY GO sooner rather than later?
The joy of traveling the village routes of Guizhou is that so few tourists do it. You never see other busloads of visitors. Most Chinese limit their visits to Huangguoshu falls, their Niagara. The only foreign group we saw was a few Swedes at Zhaoxing village because the Swedish tour leader had married a local Dong girl. We saw a few Germans and French in Guiyang City and two American girls in Zhaoxing who were traveling by local bus and bumming tractor rides from village to village.
If you go now, you'll see a culture influenced by the Han but not yet subsumed. The Guizhou Tourism Authority is pushing for more visitors with promotional materials in English. New roads are being built all the time to open up the hinterland, mainly for Chinese tourists.
Perhaps the most notable mark that change is coming rapidly: There is a Wal-Mart in Guiyang City.
---