Isle tourism drops 4.6 percent in March
Possible factors include the month-long rain, the Kauai dam break and an Oahu shark attack
After nearly a year of steady growth, Hawaii's visitor industry stumbled in March with a 4.6 percent drop in arrivals and a 5.2 percent drop in total days that visitors spent here.
A deluge of rain; the bursting of the Ka Loko Reservoir, which caused seven deaths on Kauai; and a shark attack on Oahu combined with the placement of the Easter holiday, which pushed most spring-break travelers into April, to create the perfect storm for Hawaii's fragile lead industry.
International arrivals were flat compared with March 2005, but the domestic market dropped 6.3 percent as travelers were bombarded with negative publicity about Hawaii. Also, many mainland families likely postponed spring travel plans to coincide with school holidays.
Oddly enough, only Kauai, which was hard hit by March weather and tragedy, and Lanai posted year-over-year March increases in arrivals. A 60 percent boost in Japanese arrivals was behind the 4 percent boost in Kauai numbers. All other islands, particularly Oahu, showed declines.
Still, the drop is hardly great cause for concern when most hoteliers are reporting record hotel room rates and hardy occupancies despite the drop in arrivals. In total, visitors to the state spent 0.4 percent more last month than they did in March 2005. Average daily spending for March 2006 rose to $170 per person compared with $161 per person during the same month last year.
"We posted occupancies in the mid-80s for March, and frankly, at the end of the day, that's OK," said David Carey, president and chief executive officer of Outrigger Hotels and Resorts.
Though Outrigger saw a decline in March arrivals that mirrored the industry's monthly performance, Carey said guest spending and hotel room rates were up. Poor weather and publicity caused some cancellations, but most of the decline was due to a guest preference to plan spring vacations around Easter, he said.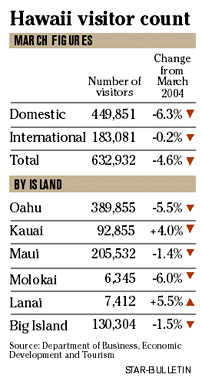 Pleasant Holidays LLC, the state's largest travel wholesaler, saw a drop of about 3 percent to 4 percent in March from the same time last year as rain and other factors took their toll. The company has seen a 21 percent turnaround in April bookings, followed by solid May and June bookings, he said.
"It looks like summer will come out really well," said Ken Phillips, spokesman for Pleasant Holidays.
Hawaii visitor arrivals for the full first quarter fell slightly from 2005, though the domestic market eked out a 0.5 percent gain, setting a record of 1.28 million arrivals. Visitor days inched up by 0.2 percent.
During the same period, international arrivals dropped 2.7 percent. A 7.5 percent drop in the Japanese market was partially offset by a 9.1 percent increase from Canada.
"We are encouraged that first-quarter arrivals set a new record for the domestic market and total visitor days exceeded all previous years," said State Tourism Liaison Marsha Wienert.
Total visitor spending for the first quarter of 2006 rose to $2.9 billion, a 5.2 percent increase from the same period last year.
Although the visitor industry got off to a strong start in 2006, economists and visitor industry leaders expect the recent rain and other complications to likely cause the year to fall short of 2005's records. The state welcomed 7.5 million arrivals and took in $11.5 billion in visitor spending last year.
Bank of Hawaii chief economist Paul Brewbaker, who originally forecast that the visitor industry would grow by 3.5 percent in 2006, said he is considering revising that number down.
Brewbaker and University of Hawaii economist Byron Gangnes along with state economist Pearl Imada-Iboshi told members of the Hawaii Economic Association yesterday that coming off a strong 2005, they did not expect the visitor industry to grow more than 3 percent or so this year.