---
FAST FACTS HAWAII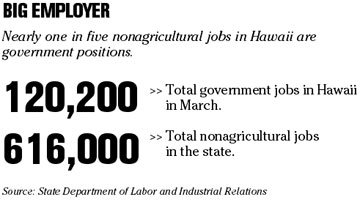 ---
HAWAII
Costco asked to address concerns of residents
The Makakilo/Kapolei/Hono Kai Hale Neighborhood Board has asked
Costco Wholesale Corp.
to address concerns about potential traffic and complaints from a local ironworkers union before the board will offer its support to the proposed warehouse store in Kapolei.
Costco had asked the board to pledge its support, but the board declined to do so until it could address the concerns of local residents, said Maeda Timson, chairwoman of the neighborhood board.
Costco executives did not return calls.
Central Pacific plans buyback
Central Pacific Financial Corp.
said yesterday its board of directors had approved a program to buy back 600,000 shares of its stock on the open market or in private transactions before April 30, 2007.
Central Pacific's repurchase plan represents about 2 percent of the bank's outstanding common stock.
The board also maintained its quarterly dividend at 21 cents. It will be payable June 16 to shareholders of record as of May 19. The stock, which closed up 79 cents yesterday at $37.61, yields an annualized dividend payout of 2.2 percent.
Hawaiian adds Pago Pago flight
PAGO PAGO, American Samoa » Hawaiian Airlines is adding a third weekly flight between Honolulu and Pago Pago to accommodate increased travel demand during the peak summer season.
The company says the extra flight will operate on Wednesdays from June 14 to Aug. 23, with the exception of June 28.
Hawaiian Airlines currently operates two flights to Pago Pago on Thursdays and Sundays.
According to the Honolulu-based carrier's schedule, the new flight will depart Honolulu at 7:35 a.m., arriving in Pago Pago at noon. The return flight departs Pago Pago at 1:50 p.m. and arrives in Honolulu at 8 p.m.
[HAWAII INC.]
PROMOTIONS
» The
Gas Co.
has promoted
Marvin Buenconsejo Jr.
to sales supervisor. He will be responsible for supervising Maui sales activities and personnel. He has 12 years of experience with the company.
» Nishihama & Kishida, CPAs Inc. has promoted Ying Yan Chen, Angela Pavia and Nami Taniguchi to senior tax accountants. Chen and Pavia worked as a bookkeeper and tax intern before joining the firm. Taniguchi had two years of accounting experience before joining.
» Bank of Hawaii has promoted the following four executive vice presidents to senior executive vice president: Peter Biggs, consumer products; John Gray, mortgage banking; Toby Martyn, institutional client management and chief investment officer; and Shelley Thompson, trust and private banking and chief fiduciary officer. All four will join the bank's managing committee.
» Sheraton has promoted Heidi Shimabuku to human resources manager -- risk management in support services. She previously served as an administrative assistant temporarily assigned to the risk management unit.
» Kahala Hotel & Resort has promoted Vernon Hulihee to associate director of sales, international. He will be responsible for the hotel's international markets, with special emphasis on the Asian segment. He has more than 10 years of international sales experience.
---
NATION
Mortgage rates increase again
WASHINGTON » Rates on 30-year mortgages rose for the fifth consecutive week, hitting their highest level in nearly four years, a nationwide survey of rates reported yesterday.
Mortgage giant Freddie Mac said rates on 30-year, fixed-rate mortgages averaged 6.58 percent this week, up from 6.53 percent last week.
The new rate was the highest since 30-year mortgages stood at 6.63 percent the week of June 20, 2002.
The rise in mortgage rates was attributed to last week's surge in oil prices, which saw crude oil futures hit a record of $75.17 last Friday, and signs this week of stronger economic growth. Both of those developments raised worries about rising inflationary pressures.
Microsoft earnings disappoint
Microsoft Corp.
, the world's largest software maker, said third-quarter profit rose 16 percent on orders for database programs. Earnings this year and next may miss some analysts' estimates, sending the shares down.
Net income increased to $3 billion, or 29 cents a share, from $2.56 billion, or 23 cents, a year earlier, the company said yesterday.
Carlson Wagonlit to buy Navigant
Accor SA
, the world's fourth-biggest hotelier, said it agreed to sell its 50 percent stake in Carlson Wagonlit Travel to
Carlson Cos.
and
JPMorgan Chase & Co.
for $465 million. Separately, Carlson Wagonlit agreed to buy
Navigant International Inc.
for $16.50 a share.
JPMorgan's One Equity Partners private-equity affiliate will own a 45 percent stake in Carlson Wagonlit after the sale, Paris-based Accor, the owner of the Red Roof Inn chain, said yesterday. Carlson's holding will rise to 55 percent from 50 percent. Carlson Wagonlit is buying Navigant for 25 percent more than yesterday's closing share price.
WORLD
World airline traffic increases 5.9%
Worldwide international airline passenger traffic increased 5.9 percent in the first quarter as economic growth encouraged tourism and business travel, the International Air Transport Association said.
Freight traffic in the quarter rose 5.2 percent from a year earlier, the Montreal-based industry group said yesterday. Passenger traffic in March increased 5.7 percent while freight traffic last month rose 6.2 percent, IATA said.
The growth "reflects strong economic prospects in fast developing India and China, a stronger outlook for U.S. economic expansion and improving prospects for Europe," IATA Chief Executive Giovanni Bisignani said.
Sony's turnaround shows some progress
TOKYO »
Sony
's new chief executive scored passing marks on his first annual report card yesterday, as the Japanese company posted better-than-expected net profit of $1.1 billion in the last fiscal year.
In Sony's first annual results since the chief executive, Sir Howard Stringer, took the helm last June, the company's turnaround efforts showed signs of progress, analysts said. While Sony's core electronics division remained in the red, the company reported higher sales of digital camcorders, personal computers and its new line of flat-panel televisions.
But analysts warned that the promising results did not diminish the two biggest challenges still facing Stringer: restoring Sony's battered brand image and producing hit products.