Cooking up community awareness
The autism awareness cookbook sold out of its first 1,000-print run
ELEVEN-YEAR-OLD Vici Allen has learned a lot from her forays into cooking. She knows she needs to pull back her hair, wash her hands and apply her knowledge of math when she measures ingredients.
But for Vici, who has autism, tasks that come easily to others are a challenge. Because she has difficulty with fine-motor control, her skills trainer, Carrie Tufaga, guides Vici when she cuts a tomato, a task that takes several minutes and includes gentle reminders to move fingers aside and cut away from herself.
Vici's mother, Joyce Allen, keeps Vici on task with enthusiastic questions: "What do we do next? I don't know what to do!"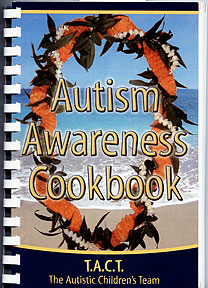 'AUTISM AWARENESS COOKBOOK'
»
Price:
$14, plus $4 postage for one to two books
»
Call:
Kathy Sano, 263-8818
»
E-mail:
guypatty@hawaii.rr.com
Vici answers in rapid half-sentences, usually one to three words at a stretch, often followed by the name of a favorite character on the Disney Channel. Joyce plays along. With practiced ease, Joyce manages to weave the abstract allusions into this afternoon's undertaking: taco salad. Communication is another important element in the process.
Cooking has played a meaningful role in Vici's therapy, which is why Joyce encourages her to try recipes such as taco salad and frozen yogurt pie from the "Autism Awareness Cookbook." Released locally to celebrate April's National Autism Awareness month, the cookbook sold out of its first 1,000-print run, and is entering its second.
The venture started with a $10,000 grant from the Weinberg Foundation to help raise funds for The Autistic Children's Team (TACT), a nonprofit organization that hosts activities to support and empower parents of autistic children. But it evolved into much more.
"We wanted to do something about autism in the community," said Kathy Sano, who directed the project. But she and her daughter realized how limited the audience might be. So they decided to gather Hawaii homestyle recipes from residents, and combine them with essential information about autism for parents, caregivers and friends. Now when people give the book as a gift, it stimulates discussions about the neurological disorder.
Sano's passion for the enterprise has multiple origins. She lives with her daughter, son-in-law and two grandchildren, ages 9 and 11. Both youngsters have autism, and they can never be left unsupervised.
"If you come to our house, you'd think it's a fortress," she said. "Our doors are all locked, barred and chained so the kids have to go through multiple steps to get outside."
They might wander off, or simply stand in the middle of a busy street and stare at the sky, never sensing danger -- even if a driver honks his horn.
Her husband, Joji Sano, was inspired to co-found TACT and spend many hours researching the disability. But Joji was diagnosed with lung cancer in 2000 and died less than a month later. Both Kathy and her daughter, Patty Nahale, wanted to keep his memory alive and "do something lasting and good," said Sano. The cookbook is dedicated to him.
INFORMATION IN the cookbook -- culled from medical sources -- states that autism affects an estimated one in 500 children. As many as 1.5 million Americans have been diagnosed with some form of the neurological disorder, which interferes with normal development and communication. It is often detected within the first two to three years of life.
Youngsters may exhibit significant challenges relating to others, language deficits and odd, repetitive behaviors. Play skills don't develop, and many prefer to remain isolated. Daily routines are essential, and most children do not adjust well to alterations within those routines, or to unstructured time in general. Because autism and its related illnesses are spectrum disorders, deficiencies may range from mild to severe.
Also in the text -- which is as much serious reference manual as it is festive cookbook -- is a list of attributes associated with autism, agencies that offer help, a daunting catalogue of commonly used acronyms and hints for coping. There's also a touching essay by Emily Perl Kingsley explaining what it's like to raise a child with a disability, and the losses and rewards that accompany a journey for which few parents are prepared. "What used to be important is not important any more," explained Nahale.
Sano's commitment to creating and promoting the book has kept her busier than most 76-year-olds. She gathered fellow retired schoolteachers, and asked them to test recipes and return to meetings with full reports. Proofreading and bookkeeping duties have kept her up until 2 a.m. many nights. The rest of her time is spent helping her daughter and son-in-law care and advocate for Amber, 11, and Kealoha, 9.
"My mom worked really, really hard," said Nahale. "She spent a year of her life on this, and had a timeline for everything."
Her efforts appear to have benefited many. All parents hope their autistic children will become as self-sufficient as possible -- a long and arduous process filled with repetition. Cooking can be an excellent therapeutic vehicle.
For Vici, completing the task on her own instills pride. And she receives effusive praise from her family at meal time.
"Focusing on life skills is the most critical," said Joyce Allen, "because parents aren't going to be around forever. This is not just one of those cookbooks that's for fundraising. It gives important information about autism. And if it helps just one person, it's worth it."
THIS RECIPE from the "Autism Awareness Cookbook" is credited to Dyan Kiyuna, a clinical psychologist:
Mango Papaya Bread
1 cup mashed ripe mango
1 cup mashed ripe papaya
3 eggs
1-1/2 cups sugar
3/4 cup salad oil
1 teaspoon vanilla
2 cups flour
2 teaspoons baking soda
2 teaspoons cinnamon
1/2 teaspoon salt
1/2 cup shredded coconut
1/2 cup raisins
1/2 cup walnuts, finely chopped
Preheat oven to 350 degrees. Mash together mango and papaya.
Beat together eggs and sugar. Add oil and vanilla and continue beating.
In another bowl, sift together flour, baking soda, cinnamon and salt. Add this dry mixture alternately with mashed fruit to egg mixture. Fold in coconut, raisins and walnuts. Pour batter into a greased and floured loaf pan. Bake 1 hour and 15 minutes, or until done.
Nutritional information unavailable.