---
ART ON SALE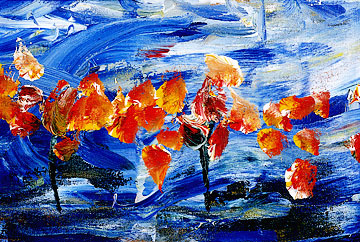 ---
Be an ambassador
The Visitor Aloha Society of Hawaii is sponsoring a volunteer training session for those interested in helping tourists who fall victim to crime.
Training for prospective Ambassadors of Aloha will take place from 9 a.m. to noon Saturday at the Hawaii Convention Center. Volunteers who speak Japanese, Chinese, Korean, French, German or Spanish are especially needed.
Training is free; refreshments will be served. Call Jessica Lani Rich, 926-8274.
Days of history
If preserving history is your thing, next week is your week. The Historic Preservation Awareness Celebration takes place Monday through Wednesday. Key events:
Monday: Historic Preservation Awareness Day. Gov. Linda Lingle will sign a proclamation and legislation establishing Hawaii's Heritage Caucus; 2 p.m.; Governor's Chambers.
Tuesday: Heritage Walk is a self-guided tour of the Capital Cultural District. Registration begins at 8:15 a.m., with the walk from 9 to 11:30 a.m. Meet at the State Capitol Rotunda, Queen Liliuokalani entrance.
Wednesday: Historic Preservation Awareness Fair, 11 a.m. to 3 p.m., with exhibits in State Capitol third-floor corridors and conference rooms.
Speakers include William Chapman, director of the Historic Preservation Program on "Pressing Needs for Historic Preservation in Hawai'i Today" (11 a.m.); Nanette Napoleon Purnell, author and photographer of O'ahu Cemetery Burial Ground & Historical Site, on "Historic Preservation of Cemeteries" (12:30 p.m.).
A potluck lunch is from 11:45 a.m. to 12:30 p.m.
Carnivale!
The Hawaii Theatre Center celebrates Carnivale with a fundraising gala May 5 at the Kahala hotel.
The event will feature live and silent auctions, offering such items as a trip to Pasadena to help decorate a Rose Bowl Parade float, then see the football game; a cruise from Amsterdam to Barcelona; and diamond jewelry from Bvlgari.
Entertainment will be by Kit Samson and Sound Advice.
The dinner menu centers on an entrée includes Beef Tenderloin with Chimichuri and Spice-Dusted Jumbo Shrimp.
The event begins at 6:30 p.m. Cost is $500. Call Elaine Evans, 791-1302.
Arthritis walks
The Arthritis Foundation is holding three fundraising walks on Oahu to support education, research and programs.
The one-mile walks will be held at Pearlridge Center May 6, Windward Mall May 7 and Aloha Tower Marketplace May 13.
Registration begins at 7:30 a.m. each day, with the walking taking place at 8:30 a.m. The mall courses include music, dancing, food, prizes and entertainment.
No registration fee is required, but walkers who raise $100 or more will receive the 2006 Arthritis Walk T-shirt.
Fundraising efforts will also support a two-night summer camp with activities from boating and horseback riding to arts and crafts.
Call 596-2900 or register online at www.arthritis.org.
Study in Hiroshima
The Japanese Cultural Center of Hawai'i is accepting applications for a study grant that includes research time in Hiroshima.
The Goto of Hiroshima Foundation $5,000 Study Grant will go to an individual interested in research regarding Hiroshima and Hawaii; or Japanese culture, politics, economics or language in general.
Application deadline is 4:30 p.m. Friday. Call 945-7633, ext. 33 for an application form, or e-mail info@jcch.com.