2 Hawaii Marines die on second war tour
Makeshift explosives in Iraq kill members of the 3rd Battalion
Two Kaneohe-based Marines who had been deployed only a month ago to Iraq for a second tour of wartime duty were killed in separate incidents last week in Al Anbar province, the Pentagon said yesterday.
Cpl. Eric R. Lueken, 23, of Dubois, Ind., was killed Saturday, and Staff Sgt. Jason C. Ramseyer, 28, from Lenoir, N.C., was killed Thursday.
Both men were assigned to the 3rd Battalion, 3rd Marine Regiment, stationed at Kaneohe. Lueken reported to Hawaii in May 2004, and Ramseyer in November 2003.
Since 2004, 54 Marines and three sailors based out of Kaneohe have been killed in the Middle East.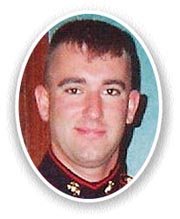 Cpl. Eric Lueken:
Age 23, from Dubois, Ind.
Lueken, a field radio operator who joined the Marines in 2003, was in a convoy when an improvised bomb exploded, mortally wounding him, said 2nd Lt. Binford Strickland at Kaneohe.
According to family members, Ramseyer, the father of two toddler girls and a boy, was working as a bodyguard for a commander. On foot patrol, he examined an object lying in the road. The device, a remote-controlled bomb, exploded, killing him, Strickland said.
"We've lost a family member, but the Marine Corps has lost a top Marine and the Corps was blessed to have his services," said Tommy Hooks, the stepfather of Ramseyer's widow, Mandy. Hooks was in Kailua yesterday afternoon to help bring Mandy Ramseyer and her children to North Carolina, where funeral services will be held.
Hooks said Ramseyer was so determined to be a Marine, he joined before he graduated from West Caldwell High School in Lenoir, N.C.
"He was a Marine's Marine. The Marines was his life," Hooks said.
Ramseyer, who joined in June 1996, held a second-degree black belt in the Marines' Martial Arts Program and served as an instructor in hand-to-hand combat.
Hooks said that he wants Ramseyer's children "to remember that their daddy was a hero."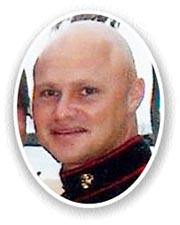 Staff Sgt. Jason Ramseyer:
Age 28, from Lenoir, N.C.
Ramseyer's mother, Cindy Hicks, could not be reached for comment. He is survived by his wife, children, parents and stepfather.
Ramseyer's awards include the Navy and Marine Corps Commendation Medal, three Navy and Marine Corps Achievement Medals, three Combat Action Ribbons, a Navy Meritorious Unit Commendation, three Good Conduct Medals, a National Defense Service Medal, Kosovo Campaign Medal, Afghanistan Campaign Medal, Iraq Campaign Medal, Global War on Terrorism Service Medal, Armed Forces Service Medal, Humanitarian Service Medal, three Sea Service Deployment ribbons and the NATO Medal.
Ramseyer and Lueken were both deployed to Afghanistan in November 2004 and returned last June. They went to Iraq last month.
Lueken's mother, Melinda, reached at her home in Dubois, Ind., said her son "was proud of what he was doing. He loved the Marine Corps. He wanted a challenge and something he could achieve and be proud of instead of just having a job and going to work every day."
Lueken's awards include the Purple Heart, two Combat Action Ribbons, National Defense Service Medal, Iraq Campaign Medal, Afghanistan Campaign Medal, Global War on Terrorism Service Medal and the Sea Service Deployment ribbon.
Lueken said her son "was always ready to go. He knew the risks and that didn't bother him. He just said, 'I'll be home soon, Mom.'"
Lueken is survived by his parents and brother.