TRIUMPHANT!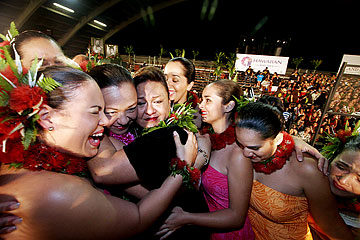 Kohala halau returns top honor to Big Isle
A HALAU from Kohala brought the Merrie Monarch title back to the Big Island last night.
Na Lei O Kaholokii with kumu Nani Lim Yap and Leialoha Amina won the Lokalia Montgomery Perpetual Trophy and was the overall Wahine winner.
Na Lei O Kaholokii wowed the judges; taking second place in the wahine Hula 'Awana competition last night with a performance of "Manu O'o," a classic Big Island love song that tells of the o'o bird and lehua flower.
They came in third in Friday's wahine Hula Kahiko with "Ka Ho'ao O Na Ali'i, O Poli'ahu a me 'Aiwohikupua," from the legend of Poli'ahu, the snow goddess' weding to 'Awohikupua, the chief of Wailua, Kauai.
The Merrie Monarch Festival, the yin-yang of Hawaiian culture past and present, is bookended by the two premier competitions: the kahiko, or traditional hula Friday, and the 'auana, or modern hula held last night.
Although they're evenly weighted by the judges and given separate-but-equal prizes, they are substantially different in the way they are approached by the various halau. In general, the hapa-haole nature of 'auana guarantees that almost anything goes.
In their 'auana dance, the men of Halau Ho'ola Ka Mana O Hawai'i presented an interesting and timely tribute dedicated to families who have loved ones serving in the military.
The Dallas-based halau members dressed in fatigues and camouflage to perform a mele, "Ka Poe Koa Kaulana," written by kumu Keli'i Chang and Paul Apo for military members serving our country.
The hula finished with a salute to the American flag.
Merrie Monarch creator George Na'ope originally decreed that only hula prevalent during the monarchy of Kalakaua could be performed, and that included clothing and materials present at that time, limiting contestants to ti leaves, unbleached linen and dyes from local plants. Broadening the category to include "interpretations" of ancient hula rather than reenactments of it is one reason Na'ope no longer judges the competition.
For the dancers, such distinctions can be technical.
"Of course, it's different instruments, kahiko and 'auana," said Aileen Que, from the "Oakland Raiders" halau of the Academy of Hawaiian Arts from California. "Drums versus strings. Once you're on the floor, you do the best you can do; both are pretty strenuous. Kahiko is pretty spiritual and expression plays a great deal in the performance. It's mostly in honor of Pele, so we take it very seriously."
'Auana, on the other hand, "is joyous and you move differently," she said. "And it caters more to love songs."
Melehina Groves and Lehua Lupenui of Halau Mohala 'Ilima from Ka'ohao looked at each other when quizzed about the two forms of hula, and Groves went first: "Once you've been on stage the first time, that's when your nerves hit, and kahiko is always first. So if there's any stress, that's it. Just because kahiko is first up."
"But 'auana IS more lighthearted," added Lupenui.
Friday night's competition showed how far interpretations of ancient hula have come in the last three decades. In the past, contestants were generally safe with purple, browns and greens; now, more colors and spectacularly starched fabrics are visible, and nearly every halau uses gathered elastic waistbands.
This was demonstrated by Na Pualei 'O Likolehua's performance of "O Haumea," synchronized formation dancing, featuring a knee trick that made the skirts balloon suggestively.
At the other extreme, the kane (male) troupes generally wore as little clothing as possible. Halau Ho'ola Ka Mana O Hawai'i performed "Ma'i Kamapua'a" as a thumpingly funny "comic" hula in which Pele describes a rival as a pig while getting particular about body parts.
Ka Pa Hula O Ka Lei Lehua's performance of "Pa Mai Ana Ta Makani/Ho'ohua o Na Pali," in which Pele cajoles a suitor by naming every breeze in every valley on every island, had the dancers swathed accordingly in puffy sky-blue that resembled aerial flotation devices.
The Academy of Hawaiian Arts' performance of "Ke kaua o ka waka nui" was a disco-driving and excitingly modernistic dance, with canoe paddles and grass ponchos as props, limbs akimbo to broadcast their contempt for the enemy. Then they saucily shouldered their paddles and strutted off, heigh-ho, heigh-ho!
On the wahine side, Ka Pa Hula O Ka Lei Lehua's performance of "I Waimea o Ka Lani" used hula costumes with a rainbow of complimentary colors instead of strict uniformity.
Sometimes, costumes, choreography and subject gelled perfectly. In Hula Halau O Kamuela's performance of "Kilauea," they wore blue-black ashy tops and fire-red skirts, symbolizing the flow of lava, then suddenly coalesced into a unified mass -- like liquid rock solidifying -- and snappily challenged the room.
Halau Mohala 'Ilima's performance of "A Mauna Kea 'o Kalani," based on the outer-island tours of Queen Emma, featured waist bags with rocks for clicking in the hands; the sound is like Bobby Darin's jazzy finger-snapping syncopation.
Ka Leo O Laka I Ka Hikina O Ka La performed a tribute, "Ka'ahumanu," with near-nude-colored tops that swelled out into yellow skirts and hooped petticoats -- attractive women with an unerring sense of dynamics.
And Halau Hula Olana's "O Ha'upu Ka I 'Oni Pi'i I Luna" exploded with big, honkin' rattlesticks to create an interesting diagonal element to the visual presentation, plus causing the plywood stage to reverberate like a boom box.
---