| | |
| --- | --- |
| | Newswatch |
---
DRIVE-THRU CHARITY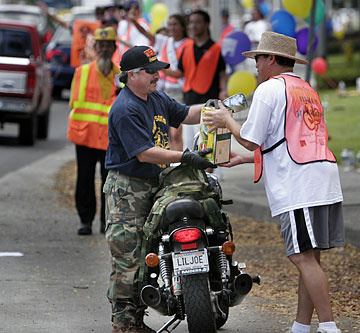 | | |
| --- | --- |
| | Police, Fire, Courts |
---
LEEWARD OAHU
HPD investigates possible foster abuse
Honolulu police are investigating allegations that a 50-year-old Waianae woman abused children in her foster care in 2004 and 2005, Lt. Eric Yiu said.
The investigation began Friday based on complaints from five children -- two girls and three boys -- ranging in age from 8 to 15. The children are no longer living with the suspect, Yiu said.
HONOLULU
Police investigate hospitalized infant
Police are trying to figure out how a 2-month-old girl received multiple bone fractures that sent her to the hospital.
Her injuries were reported at the pediatric intensive care unit of the Kapiolani Medical Center, Lt. Eric Yiu said.
The infant was brought to the emergency room Wednesday by caregivers who said she had difficulty breathing, Yiu said. She remained hospitalized yesterday.
2 hikers get airlifted out of Oahu trails
Two hikers were airlifted out of separate trails yesterday after sustaining leg injuries.
The first happened about 10 a.m. on Waiamao Trail in Palolo Valley. Firefighters airlifted a man, whose age was not available, to Palolo field. From there, the victim was taken by ambulance to the hospital.
An hour later, firefighters airlifted a woman with an ankle injury out of Mauumae Trail above Maunalani Heights.
She was taken to Maunalani Park, and then driven by ambulance to the hospital.
NEIGHBOR ISLANDS
Body found floating in waters off Kahului
The body of a 26-year-old Wailuku man was found floating in the surf off Kahului yesterday morning.
Police said they are withholding the man's identity, pending notification of next of kin. The body was found about 7 a.m., and police do not believe foul play is involved.
Coast Guard gives aid to stalled fishing boat
The Coast Guard was working yesterday to help a longline fishing boat that stalled 143 miles south of the Big Island on Friday.
The 57-foot Julie Irene, with four crew onboard, lost power and steering about 9 p.m. Friday, said Coast Guard spokeswoman Petty Officer Brooksann Epiceno.
The Coast Guard cutter Kiska arrived at the fishing boat at 2:30 yesterday and sent an engineering team aboard to try and restart the engine.
If the Coast Guard can't get the Julie Irene restarted, the Kiska will tow it back to the Big Island, Epiceno said. The tow would take a day or two, she said.